Categories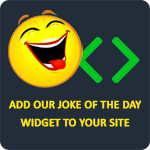 How many men does it take to change a roll of toilet paper? I don't know, it has never happened.
LaughFactory
What is a man's ultimate shame? When he runs into a wall with a hard-on and grabs his nose first!
NKEEFER401
A man saw a lady with big breasts. He asked, "Excuse me, can I bite your breasts for $1000?" She agrees, so they go to a secluded corner. She opens her blouse and the man puts his face in her breasts for 10 minutes." Eventually the lady asks, "Aren't you gonna bite them?" He replies, "No, it's too expensive."
Alliah Anderson
Two drunks are sitting in a bar when one of them turns to the other one and asks, "Hey, isn't that Hortense?" The other drunk chimes in and says, "No, she looks pretty relaxed to me."
Mark My Words
Q: What's the difference between a nun and a woman in a bathtub?
A: One has hope in her soul and one has soap in her hole.
Anonymous