Categories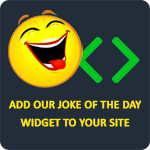 A boy asked his dad, "What's the difference between a woman and a slave?" His father replies, "I don't know, what?" His son says, "No, I was asking a question."
cayres01
How does a man show that he is planning for the future? He buys two cases of beer.
LaughFactory
What did one lesbian vampire say to the other? Same time next month?
FletcherSloan
Q: Why do Asians women have small breasts?
A: Because their parents only allow A's.
Christian Ramos
I have received hundreds of replies to my ad for a husband. They all say the same thing - "Take mine."
alipatak