Categories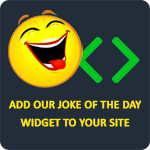 Q: Why do Asians women have small breasts?
A: Because their parents only allow A's.
Christian Ramos
A father and son are out shopping for Christmas presents for their family. The son asks, "What present are my sister and I going to get?" The dad answers, "I got you guys an iPad and iPod." "Wow, thanks," the son replies, "What will you give mom?" The dad says, "Your mom is getting an iRon."
zac bailie
Two drunks are sitting in a bar when one of them turns to the other one and asks, "Hey, isn't that Hortense?" The other drunk chimes in and says, "No, she looks pretty relaxed to me."
Mark My Words
What did one lesbian vampire say to the other? Same time next month?
FletcherSloan
How does a man show that he is planning for the future? He buys two cases of beer.
LaughFactory