Categories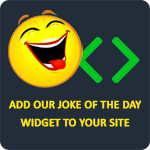 Q: What do you call a bunch of women dancing on the bar?
A: The Periodic Table.
Chris Moonn
A man and a wife were in bed one morning when the wife said, "I had a strange dream last night. I dreamed I was at a penis auction. Long penises were going for $100 and thick penises were going for $300." The husband asked, "What would mine go for?" The wife replied, "They were giving ones like yours away for free." The husband said, "I also had a dream last night about an auction where they were selling juicy vaginas for $500 and tight vaginas for $1,000." "How about mine?" the wife asked and the husband replied, "That was where they were holding the auction."
Anonymous
Q: Why did God give women legs?
A: To walk from the kitchen to the bedroom.
Anonymous
How did the medical community come up with the term PMS? Mad Cow Disease was already taken.
Anonymous
God is a woman. I know this because if God was a man, He would have created the whole population female, and only one man. Then, He would have invited that male to the top of the mountain to look down at all the beautiful females. Then God would have gotten jealous and killed him.
romeroa