Categories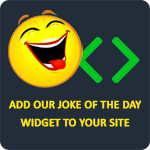 What did one lesbian vampire say to the other? Same time next month?
FletcherSloan
Did you hear about the gay midget? He came out of the cupboard.
gregorcollins
How does a man show that he is planning for the future? He buys two cases of beer.
LaughFactory
I have received hundreds of replies to my ad for a husband. They all say the same thing - "Take mine."
alipatak
A boy asked his dad, "What's the difference between a woman and a slave?" His father replies, "I don't know, what?" His son says, "No, I was asking a question."
cayres01