Categories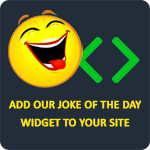 God is a woman. I know this because if God was a man, He would have created the whole population female, and only one man. Then, He would have invited that male to the top of the mountain to look down at all the beautiful females. Then God would have gotten jealous and killed him.
romeroa
How did the medical community come up with the term PMS? Mad Cow Disease was already taken.
Anonymous
PMS jokes aren't funny. Period.
Silenxio Maximeaning Ultimious
Life is like a penis: women make it hard for no reason.
Lorris Simon
What do you do when your wife is staggering? Shoot her again.
kano1981