Categories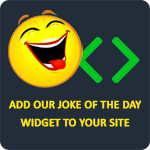 Why not to trust women? It's simple, how can you trust something that bleeds for five days and doesn't die.
Deen1983
Jane: "Where are all the kind, considerate, loving men who can show their feelings?"
Jill: "They already have boyfriends."
Mark My Words
Q: What do you call a bunch of women dancing on the bar?
A: The Periodic Table.
Chris Moonn
I like my women like I like my pizzas: cheap and ready to go.
Emily and Harli
How do you get a dishwasher to dig a hole? Give the woman a shovel!
Scoot32