Categories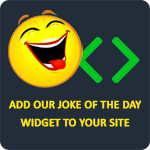 How do you get a dishwasher to dig a hole? Give the woman a shovel!
Scoot32
Q: What do you call a bunch of women dancing on the bar?
A: The Periodic Table.
Chris Moonn
A father and son are out shopping for Christmas presents for their family. The son asks, "What present are my sister and I going to get?" The dad answers, "I got you guys an iPad and iPod." "Wow, thanks," the son replies, "What will you give mom?" The dad says, "Your mom is getting an iRon."
zac bailie
What do you call a marathon if all the runners are transvestites? A drag race.
vingvong61
Q: Why do Asians women have small breasts?
A: Because their parents only allow A's.
Christian Ramos