Categories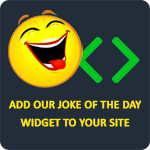 How did the medical community come up with the term "PMS"? "Mad Cow Disease" was already taken.
TheLaughFactory
A man asks, "God, why did you make woman so beautiful?" God responded, "So you would love her." The man asks, "But God, why did you make her so dumb?" God replied, "So she would love you."
ritcra
A tough looking group of hairy bikers are riding when they see a girl about to jump off a bridge, so they stop. The leader, a big burly man, gets off his bike and says, "What are you doing?" "I'm going to commit suicide," she says. While he doesn't want to appear insensitive, he also doesn't want to miss an opportunity, so he asks, "Well, before you jump, why don't you give me a kiss?" She does, and it is a long, deep, lingering kiss. After she's finished, the tough, hairy biker says, "Wow! That was the best kiss I've ever had! That's a real talent you're wasting. You could be famous. Why are you committing suicide?" "My parents don't like me dressing up like a girl…"
Manny
Q: Is Google male or female?
A: Female, because it doesn't let you finish a sentence before making a suggestion.
Montgomery2004
For all the guys who think a woman's place is in the kitchen, remember that's where the knives are kept.
Anonymous