Categories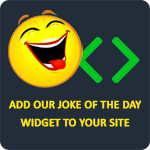 A man is being arrested by a female police officer, who informs him, "Anything you say can and will be held against you." The man replies, "Boobs!"
Chris Gunson
Everyone says the world would be better off if it was run by women. Sure, maybe there wouldn't be violence and territorial conquests fueled by male testosterone. But instead, we'd have a bunch of jealous countries that aren't talking to each other.
nathandavid
A man is sitting at a bar enjoying a cocktail when an exceptionally gorgeous, sexy, young woman enters. The man can't stop staring at her. The young woman notices this and walks directly toward him. Before he could offer his apologies for being so rude, the young woman says to him, "I'll do anything you want me to do, no matter how kinky, for $100, with one condition." Flabbergasted, the man asks what the condition is. The young woman replies, "You have to tell me what you want me to do in just three words." The man considers her proposition for a moment, withdraws his wallet from his pocket, and hands the woman five $20 bills. He looks deeply into her eyes and slowly says, "Paint my house."
Anonymous
How do you know when a woman is about to say something smart? When she starts her sentence with, "A man once told me..."
aiman2005
Three guys and a lady were sitting at the bar talking about their professions. The first guy says, "I'm a YUPPIE. You know, young, urban, professional." The second guy says, "I'm a DINK. You know, double income, no kids." The third guy says, "I'm a RUB. You know, rich urban biker." They turn to the woman and ask, "So what are you?" The woman replies, "I'm a WIFE. You know - Wash, Iron, F***, Etc."
beautiful23