Categories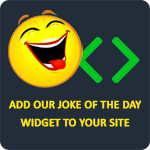 What's six inches long, two inches wide, and drives women wild? Money.
wok1028
What is easier to pick up the heavier it gets? Women.
willy53
When a man opens the car door for his wife, you can be sure of one thing, either the car is new or the wife is.
darmira
Why did God create men? Because vibrators can't mow the lawn.
lbecval
A man driving a car hits a woman. Whose fault is it? The man's. Why was he driving in the kitchen?
shurtugalll