Categories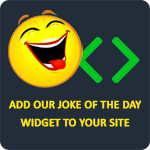 Why did God create men? Because vibrators can't mow the lawn.
lbecval
Men have two emotions, hungry and horny. If you see him without an erection, make him a sandwich.
animotions
Scientists have discovered a food that diminishes a woman's sex drive by 90%. It's called a wedding cake.
LaughFactory
How many men does it take to open a beer? None. It should be opened by the time she brings it.
aiman2005
Women are like roads. The more curves they have, the more dangerous they are.
Anonymous