Categories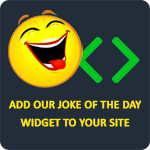 A man driving a car hits a woman. Whose fault is it? The man's. Why was he driving in the kitchen?
shurtugalll
Men have two emotions, hungry and horny. If you see him without an erection, make him a sandwich.
animotions
Women are like roads. The more curves they have, the more dangerous they are.
Anonymous
Why does it take one million sperm to fertilize one egg? They don't stop and ask for directions.
LaughFactory
Scientists have discovered a food that diminishes a woman's sex drive by 90%. It's called a wedding cake.
LaughFactory