Categories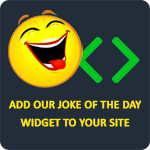 A man and a wife were in bed one morning when the wife said, "I had a strange dream last night. I dreamed I was at a penis auction. Long penises were going for $100 and thick penises were going for $300." The husband asked, "What would mine go for?" The wife replied, "They were giving ones like yours away for free." The husband said, "I also had a dream last night about an auction where they were selling juicy vaginas for $500 and tight vaginas for $1,000." "How about mine?" the wife asked and the husband replied, "That was where they were holding the auction."
Anonymous
A man calls 911 and says, "I think my wife is dead." The operator says, "How do you know?" The man says, "The sex is about the same, but the ironing is piling up!"
Aaron Fechter
Why did God create men? Because vibrators can't mow the lawn.
lbecval
Men have two emotions, hungry and horny. If you see him without an erection, make him a sandwich.
animotions
Women are like roads. The more curves they have, the more dangerous they are.
Anonymous