Categories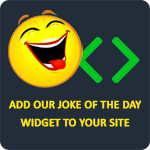 How do you fix a woman's watch? You don't. There is a clock on the oven.
LaughFactory
An old lady was getting on the bus to go to the pet cemetery with her cat's remains. As she got on the bus, she whispered to the bus driver, "I have a dead p*ssy." The driver pointed to the lady sitting behind him and said, "Sit with my wife, you two have a lot in common."
MadameMeza
Why does it take one million sperm to fertilize one egg? They don't stop and ask for directions.
LaughFactory
Why do men die before their wives? They want to.
aiman2005
Doris is sitting in a bar and says to her friend that she wants to have plastic surgery to enlarge her breasts. The bartender tells her, "Hey, you don't need surgery to do that. I know how to do it without surgery." Doris asks, "How do I do it without surgery?" "Just rub toilet paper between them." Fascinated, Doris says, "How does that make them bigger?" "I don't know, but it sure worked for your ass!"
Anonymous