Categories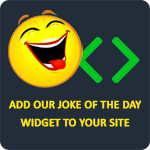 A man and a wife were in bed one morning when the wife said, "I had a strange dream last night. I dreamed I was at a penis auction. Long penises were going for $100 and thick penises were going for $300." The husband asked, "What would mine go for?" The wife replied, "They were giving ones like yours away for free." The husband said, "I also had a dream last night about an auction where they were selling juicy vaginas for $500 and tight vaginas for $1,000." "How about mine?" the wife asked and the husband replied, "That was where they were holding the auction."
Anonymous
An old lady was getting on the bus to go to the pet cemetery with her cat's remains. As she got on the bus, she whispered to the bus driver, "I have a dead p*ssy." The driver pointed to the lady sitting behind him and said, "Sit with my wife, you two have a lot in common."
MadameMeza
PMS jokes aren't funny. Period.
Silenxio Maximeaning Ultimious
Why do men die before their wives? They want to.
aiman2005
How do you fix a woman's watch? You don't. There is a clock on the oven.
LaughFactory