Categories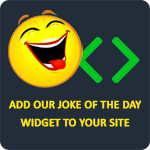 What is a man's ultimate shame? When he runs into a wall with a hard-on and grabs his nose first!
NKEEFER401
The average woman would rather have beauty than brains, because the average man can see better than he can think.
LaughFactory
They say that married men live the longest. It's ironic, since they're the ones most willing to die.
ahudson1982
I have discovered the answer to a question that has been puzzling scientists for hundreds of years. What is the exact difference between a split second and a nanosecond? My girlfriend and I were getting ready to go to a movie when, right as we were about to leave home, my girlfriend asked me the question all guys dread. She asked, "Does this make my butt look big?" If I had said "no" in a nanosecond, we'd have been out the door. Since I took a split second, she had to go to the mall and buy new outfits with jewelry, shoes, and purses to match.
shedpal
How many men does it take to change a roll of toilet paper? I don't know, it has never happened.
LaughFactory