Categories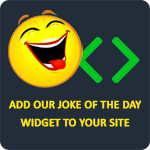 A man calls 911 and says, "I think my wife is dead." The operator says, "How do you know?" The man says, "The sex is about the same, but the ironing is piling up!"
Aaron Fechter
The average woman would rather have beauty than brains, because the average man can see better than he can think.
LaughFactory
They say that married men live the longest. It's ironic, since they're the ones most willing to die.
ahudson1982
How many men does it take to change a roll of toilet paper? I don't know, it has never happened.
LaughFactory
A boy asked his dad, "What's the difference between a woman and a slave?" His father replies, "I don't know, what?" His son says, "No, I was asking a question."
cayres01