Categories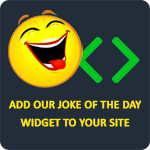 The average woman would rather have beauty than brains, because the average man can see better than he can think.
LaughFactory
How does a man show that he is planning for the future? He buys two cases of beer.
LaughFactory
What is a man's ultimate shame? When he runs into a wall with a hard-on and grabs his nose first!
NKEEFER401
How many men does it take to change a roll of toilet paper? I don't know, it has never happened.
LaughFactory
They say that married men live the longest. It's ironic, since they're the ones most willing to die.
ahudson1982