Categories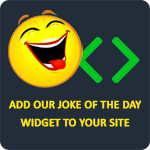 Q: Why are women's feet so small?
A: So they can stand closer to the sink while washing dishes.
R1234567890ya
What is a man's ultimate shame? When he runs into a wall with a hard-on and grabs his nose first!
NKEEFER401
Did you hear about the gay midget? He came out of the cupboard.
gregorcollins
How does a man show that he is planning for the future? He buys two cases of beer.
LaughFactory
What is the mating call of a blond? I'm so drunk. What is the mating call of a brunette? Is that blonde gone yet? What is ther mating call of a redhead? NEXT!
cynthiasnyder2