Categories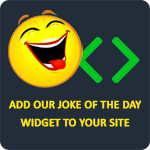 Q: Why do Jewish mothers make great parole officers?
A: They never let anyone finish a sentence!
Bookworm
Doris is sitting in a bar and says to her friend that she wants to have plastic surgery to enlarge her breasts. The bartender tells her, "Hey, you don't need surgery to do that. I know how to do it without surgery." Doris asks, "How do I do it without surgery?" "Just rub toilet paper between them." Fascinated, Doris says, "How does that make them bigger?" "I don't know, but it sure worked for your ass!"
Anonymous
If women aren't supposed to be in the kitchen, then why do they have milk and eggs inside them?!
Anonymous
The average woman would rather have beauty than brains, because the average man can see better than he can think.
LaughFactory
Q: Why does it take 1 million sperm to fertilize one egg?
A: Because like all men, they won't stop to ask directions.
captn crunk