Categories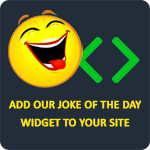 If women aren't supposed to be in the kitchen, then why do they have milk and eggs inside them?!
Anonymous
Q: Why are women's feet so small?
A: So they can stand closer to the sink while washing dishes.
R1234567890ya
They say that married men live the longest. It's ironic, since they're the ones most willing to die.
ahudson1982
What is a man's ultimate shame? When he runs into a wall with a hard-on and grabs his nose first!
NKEEFER401
A boy asked his dad, "What's the difference between a woman and a slave?" His father replies, "I don't know, what?" His son says, "No, I was asking a question."
cayres01