Categories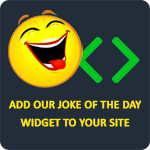 They say that married men live the longest. It's ironic, since they're the ones most willing to die.
ahudson1982
How does a man show that he is planning for the future? He buys two cases of beer.
LaughFactory
What is a man's ultimate shame? When he runs into a wall with a hard-on and grabs his nose first!
NKEEFER401
What is the mating call of a blond? I'm so drunk. What is the mating call of a brunette? Is that blonde gone yet? What is ther mating call of a redhead? NEXT!
cynthiasnyder2
What did one lesbian vampire say to the other? Same time next month?
FletcherSloan