Categories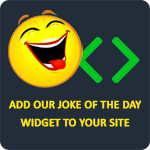 A man and a wife were in bed one morning when the wife said, "I had a strange dream last night. I dreamed I was at a penis auction. Long penises were going for $100 and thick penises were going for $300." The husband asked, "What would mine go for?" The wife replied, "They were giving ones like yours away for free." The husband said, "I also had a dream last night about an auction where they were selling juicy vaginas for $500 and tight vaginas for $1,000." "How about mine?" the wife asked and the husband replied, "That was where they were holding the auction."
Anonymous
If women aren't supposed to be in the kitchen, then why do they have milk and eggs inside them?!
Anonymous
The average woman would rather have beauty than brains, because the average man can see better than he can think.
LaughFactory
They say that married men live the longest. It's ironic, since they're the ones most willing to die.
ahudson1982
Q: Why are women's feet so small?
A: So they can stand closer to the sink while washing dishes.
R1234567890ya