Categories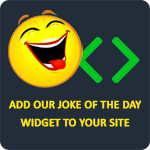 Q: Why are women's feet so small?
A: So they can stand closer to the sink while washing dishes.
R1234567890ya
If women aren't supposed to be in the kitchen, then why do they have milk and eggs inside them?!
Anonymous
What is a man's ultimate shame? When he runs into a wall with a hard-on and grabs his nose first!
NKEEFER401
How does a man show that he is planning for the future? He buys two cases of beer.
LaughFactory
Did you hear about the gay midget? He came out of the cupboard.
gregorcollins