Categories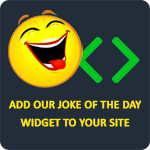 What is a man's ultimate shame? When he runs into a wall with a hard-on and grabs his nose first!
NKEEFER401
A man calls 911 and says, "I think my wife is dead." The operator says, "How do you know?" The man says, "The sex is about the same, but the ironing is piling up!"
Aaron Fechter
Q: Why are women's feet so small?
A: So they can stand closer to the sink while washing dishes.
R1234567890ya
Q: When can women make you a millionaire? A: When you're a billionaire.
TheLaughFactory
A son goes to his father and says, "Hey dad, want to hear a joke?" The father says, "Sure son." The son responds, "The WNBA."
Repor9