Categories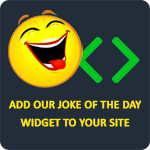 Why does it take one million sperm to fertilize one egg? They don't stop and ask for directions.
LaughFactory
Q: Why does it take 1 million sperm to fertilize one egg?
A: Because like all men, they won't stop to ask directions.
captn crunk
Q: Why do Jewish mothers make great parole officers?
A: They never let anyone finish a sentence!
Bookworm
Officer: "Madam, swimming is prohibited in this lake."
Lady: "Why didn't you tell me when I was removing my clothes?"
Officer: "Well, that's not prohibited."
MUHAMAD UMAIR
Q: What has eight arms and an IQ of 60?
A: Four guys drinking Bud Light and watching a football game!
P.J