Categories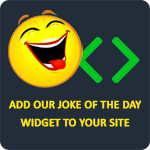 Q: What computer sings the best?
A: A Dell.
Iko
Q: What's Forrest Gump's password?
A: 1forrest1
TheLaughFactory
Q: How can you tell if a blonde used a computer?
A: There's Wite-Out all over the screen.
Paul Aungpe
Q: What did the spider do on the computer?
A: Made a website!
Anonymous
Three guys are sitting in a sauna: a Mexican, an Asian, and a white guy. The Mexican and white guy are showing off their new tech gadgets. The white guy says, "Hey, look what I got: the new Google Glass!" The Mexican & Asian say, "Wow, that's nice, man." Then the Mexican guy says, "Check out my new cellphone; it's a watch!" The white guy and Asian say, "Very cool, dude." The Asian guy has nothing to show these guys, so he gets up and walks away naked to to the bathroom. Then he comes back 5 minutes later from the bathroom still naked with paper hanging out of his butt crack. The Mexican and white guy say, "Hey, you have something hanging out of your ass." The Asian guy says, "Oh look, I'm receiving a Fax!"
A. Shahinian