Categories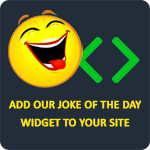 What happens to a frog's car when it breaks down?
It gets toad away.
ZDW
Q: Why was six scared of seven?
A: Because seven "ate" nine.
Anonymous
Q: What is the difference between snowmen and snowwomen?
A: Snowballs.
Anonymous
Q: What do you call a bear with no teeth?
A: A gummy bear.
Anonymous
I never wanted to believe that my Dad was stealing from his job as a road worker. But when I got home, all the signs were there.
Anonymous