Categories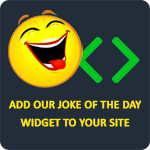 Q: What do an old person, a Mexican man, and a high school student close to graduation have in common?
A: They're all seniors.
LadyHaha
What do cars eat on their toast? Traffic jam.
Anonymous
I met a one-legged woman outside of a club the other day. She was a bouncer.
Back Jertelsen
What's the difference between roast beef and pea soup? Anyone can roast beef but nobody can pee soup!
mgates4
A man is being arrested by a female police officer, who informs him, "Anything you say can and will be held against you." The man replies, "Boobs!"
Chris Gunson