Categories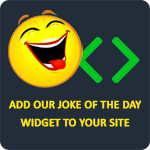 Why did Tigger stick his head in the toilet? He was looking for Pooh!
cbusch
One night a lady came home from her weekly prayer meeting, found she was being robbed, and she shouted out, "Acts 2:38: 'Repent & be baptized & your sins will be forgiven.'" The robber quickly gave up & the lady rang the police. While handcuffing the criminal, a policeman said, "Gee mate, you gave up pretty easily. How come you gave up so quickly?" The robber said, "She said she had an axe and two 38's!"
Nina Jobling
Ever wonder how black people get so tall? It's because their knee grows!
MrJohnson
A string walks into a bar and orders a drink. The bartender turns to him and says, "Sorry, sir, we don't serve strings here." The next day, clinging to a thread, the string returns to that same bar and orders a drink again. The bartender, resolute, again turns and says, "I'm sorry, sir, but like I said, we don't serve strings here. I'm going to have to ask you not to return." Dejected, the string returns home. All night he tosses and turns, wriggles and writhes, and awakes the next morning not at all resembling himself. Catching a glimpse of himself in the mirror, he brightens and jets out his door to that bar. Swaggering in, he orders a drink one more time. The bartender stares at him, squinty eyed, and asks, "I'm sorry, are you a string? You look very familiar." The string locks eyes with the bartender, and states, "No, sir. I'm a frayed knot."
missrose
What do you see when the Pillsbury Doughboy bends over? Doughnuts!
bigdaddy74