Categories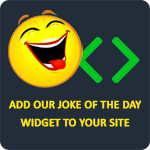 Q: Why did the pig leave the costume party?
A: Because everyone thought he was a boar.
Anonymous
Q: What do an old person, a Mexican man, and a high school student close to graduation have in common?
A: They're all seniors.
LadyHaha
A husband says to his wife, "My Olympic condoms have arrived. I think I'll wear gold tonight." The wife replies, "Why not wear silver and come second for a change?""
Justin19S
Q: Why can't your nose be 12 inches long?
A: Because then it'd be a foot!
TheLaughFactory
What's the difference between roast beef and pea soup? Anyone can roast beef but nobody can pee soup!
mgates4