Categories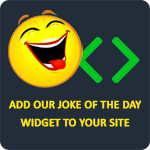 Brunette: "Where were you born?"
Blonde: "California."
Brunette: "Which part?"
Blonde: "All of me."
Laughat28
Q: What do you call a Mexican that lost his car?
A: Carlos.
Steven Casby
Q: What did Obi-Wan say to Luke at the breakfast table?
A: "Use the fork, Luke."
The master
Q: How do fish get high?
A: Seaweed.

claudette
Innkeeper: "The room is $15 a night. It's $5 if you make your own bed."
Guest: "I'll make my own bed."
Innkeeper: "Good. I'll get you some nails and wood."
Fabio