Categories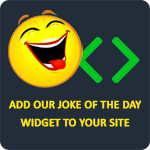 A man speaks frantically into the phone, "My wife is pregnant, and her contractions are only two minutes apart!" "Is this her first child?" the doctor queries. "No, you idiot!" the man shouts. "This is her husband!"
rigocarr86
Brunette: "Where were you born?"
Blonde: "California."
Brunette: "Which part?"
Blonde: "All of me."
Laughat28
Q: What do you call a Mexican that lost his car?
A: Carlos.
Steven Casby
Q: How do fish get high?
A: Seaweed.

claudette
Helium walks into a bar and asks for a drink. The bartender says, "Sorry, we don't serve noble gases here." Helium doesn't react.
Anonymous