Categories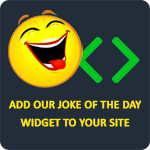 Q: What do an old person, a Mexican man, and a high school student close to graduation have in common?
A: They're all seniors.
LadyHaha
Q: What's the best thing about Switzerland?
A: I don't know, but the flag is a big plus.
TheLaughFactory
Q: What do you call a Mexican that lost his car?
A: Carlos.
Steven Casby
Q: What did the cannibal do after dumping his girlfriend?
A: He wiped his bum.
That Wright
Helium walks into a bar and asks for a drink. The bartender says, "Sorry, we don't serve noble gases here." Helium doesn't react.
Anonymous