Categories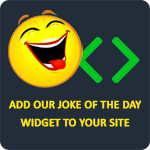 Q: Why can't your nose be 12 inches long?
A: Because then it'd be a foot!
TheLaughFactory
Q: On what kind of ships do students study? A: Scholarships.
Anonymous
Q: Why does Humpty Dumpty love autumn?
A: Because Humpty Dumpty had a great fall.
TheLaughFactory
What's the difference between roast beef and pea soup? Anyone can roast beef but nobody can pee soup!
mgates4
I met a one-legged woman outside of a club the other day. She was a bouncer.
Back Jertelsen