Categories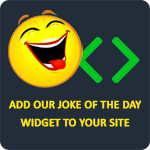 Q: What's the best thing about Switzerland?
A: I don't know, but the flag is a big plus.
TheLaughFactory
Q: What do you call two Mexicans playing basketball?
A: Juan on Juan.
Anonymous
Q: How come oysters never donate to charity?
A: Because they are shellfish.
me
Q: Why is England the wettest country?
A: Because so many kings and queens have been reigning there.
Joke maker
PMS jokes aren't funny. Period.
Silenxio Maximeaning Ultimious