Categories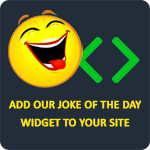 Two Eskimos sitting in a kayak were chilly, so they lit a fire in the craft. Unsurprisingly it sank, proving once again that you can't have your kayak and heat it too.
TheLaughFactory
A joke is like sex. Neither is any good if you don't get it.
coker1286
What do you see when the Pillsbury Doughboy bends over? Doughnuts!
bigdaddy74
How do fish get high? Seaweed.
claudette
Why did the hipster burn his mouth? Because he ate his pizza before it was cool.
lizconrow