Categories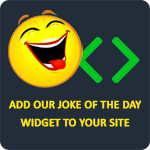 What did Pink Panther say when he stepped on an ant? "Dead ant, dead ant, dead ant, dead ant, dead ant."
timwk
Ever wonder how black people get so tall? It's because their knee grows!
MrJohnson
A man speaks frantically into the phone, "My wife is pregnant, and her contractions are only two minutes apart!" "Is this her first child?" the doctor queries. "No, you idiot!" the man shouts. "This is her husband!"
rigocarr86
What do you see when the Pillsbury Doughboy bends over? Doughnuts!
bigdaddy74
I bet the butcher $50 that he couldn't reach the meat off the top shelf. He said, "No, the steaks are too high."
Anonymous