Categories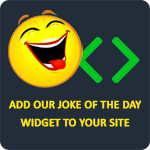 Q: What do an old person, a Mexican man, and a high school student close to graduation have in common?
A: They're all seniors.
LadyHaha
Two drunks are sitting in a bar when one of them turns to the other one and asks, "Hey, isn't that Hortense?" The other drunk chimes in and says, "No, she looks pretty relaxed to me."
Mark My Words
Did you hear about the Italian chef that died? Yeah, he pasta way.
Anonymous
Q: What do you call a midget psychic who just escaped from prison? A: A small medium at large.
TheLaughFactory
Q: Why did the pig leave the costume party?
A: Because everyone thought he was a boar.
Anonymous