Categories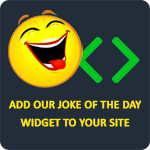 Q: What's the best thing about Switzerland?
A: I don't know, but the flag is a big plus.
TheLaughFactory
Brunette: "Where were you born?"
Blonde: "California."
Brunette: "Which part?"
Blonde: "All of me."
Laughat28
Gandhi walked barefoot most of the time, which produced an impressive set of calluses on his feet. He also ate very little, which made him rather frail and with his odd diet, he suffered from bad breath. This made him a super calloused fragile mystic hexed by halitosis.
TheLaughFactory
Q: What do you call a Mexican that lost his car?
A: Carlos.
Steven Casby
How do you embarrass an archaeologist? Show him a used tampon and ask, "What period is this from?"
jakethasnake92