Categories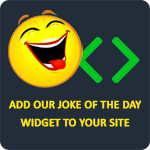 What do you call a piece of cheese that isn't yours? A: Nacho cheese.
Anonymous
How do you make a tissue dance? Put a little boogie in it!
andreeearea
What did a green grape say to a purple grape? Breathe stupid!
saul90716
Never hit a man with glasses. Hit him with a baseball bat.
Anonymous
There was a snake crossing a highway and a truck ran over its ass. The snake went back to get its ass and a truck ran over its head. The moral of the story is, "Don't lose your head over a piece of ass."
burrolasteve