Categories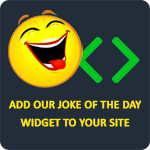 Q: How can you get four suits for a dollar?
A: Buy a deck of cards.
TheLaughFactory
Q: What do you get when you cross a donkey and an onion?
A: A piece of ass that'll bring a tear to your eye.
Anonymous
Q: What do you get if you divide the circumference of a pumpkin by its diameter?
A: Pumpkin Pi.
TheLaughFactory
Q: Can a kangaroo jump higher than the Empire State Building?
A: Of course. The Empire State Building can't jump.
bobby
19 Irishmen go to a cinema. Ticket lady says, "Why are there so many of you here tonight?" Mick replies, "The fillm says 18 and over, miss."
iq81