Categories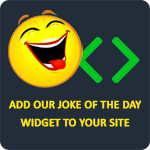 To the optimist, the glass is half full. To the pessimist, the glass is half empty. To the engineer, the glass is twice as big as it needs to be.
amuradi
Q: If April showers bring may flowers, what do mayflowers bring?
A: Pilgrims!
Anonymous
Q: Can a kangaroo jump higher than the Empire State Building?
A: Of course. The Empire State Building can't jump.
bobby
Two drunks are sitting in a bar when one of them turns to the other one and asks, "Hey, isn't that Hortense?" The other drunk chimes in and says, "No, she looks pretty relaxed to me."
Mark My Words
A man is being arrested by a female police officer, who informs him, "Anything you say can and will be held against you." The man replies, "Boobs!"
Chris Gunson