Categories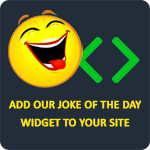 Helium walks into a bar and asks for a drink. The bartender says, "Sorry, we don't serve noble gases here." Helium doesn't react.
Anonymous
Gandhi walked barefoot most of the time, which produced an impressive set of calluses on his feet. He also ate very little, which made him rather frail and with his odd diet, he suffered from bad breath. This made him a super calloused fragile mystic hexed by halitosis.
TheLaughFactory
Two men broke into a drugstore and stole all the Viagra. The police put out an alert to be on the lookout for the two hardened criminals.
Mark My Words
Q: What did the cannibal do after dumping his girlfriend?
A: He wiped his bum.
That Wright
How do you embarrass an archaeologist? Show him a used tampon and ask, "What period is this from?"
jakethasnake92