Categories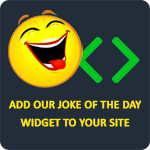 Q: What do you call two Mexicans playing basketball?
A: Juan on Juan.
Anonymous
Q: Why can't you trust an atom?
A: Because they make up everything.
Anonymous
Q: What did the cannibal do after dumping his girlfriend?
A: He wiped his bum.
That Wright
Q: Why did the scarecrow get promoted?
A: Because he was outstanding in his field.
ANGEL EYES
Helium walks into a bar and asks for a drink. The bartender says, "Sorry, we don't serve noble gases here." Helium doesn't react.
Anonymous