Categories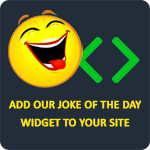 Q: What kind of car does Jesus drive?
A: A Christler.
Legend45
Q: What did the banana say to the doctor?
A: "I'm not peeling well."
TheLaughFactory
This crazy guy walks into a restaurant and tells the waiter, "Lemme get a cheeseburger, not too rare, not too well done, but right in the groove. Lemme get some fries, not too crispy, not too burnt, but right in the groove. And while you're at it, throw in a shake, not too thin, not too thick, but right in groove." The waiter took down the order and came back five minutes later and told the man, "The cook said you can kiss his ass, not to the left, not to the right, but right in the groove."
robboss301
Two fish are in a tank. One turns to the other and says, "Hey, do you know how to drive this thing?"
Anonymous
Two men broke into a drugstore and stole all the Viagra. The police put out an alert to be on the lookout for the two hardened criminals.
Mark My Words