Categories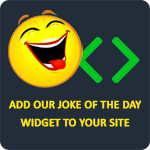 Why did Tigger stick his head in the toilet? He was looking for Pooh!
cbusch
Have you heard about the crime in multi-story parking decks? It's just wrong on so many levels.
Anonymous
Ever wonder how black people get so tall? It's because their knee grows!
MrJohnson
Where do you get virgin wool? From ugly sheep.
Anonymous
Q: How do astronomers organize a party?
A: They planet.
Wenz