Categories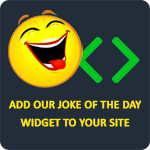 Q: What did the cannibal do after dumping his girlfriend?
A: He wiped his bum.
That Wright
Helium walks into a bar and asks for a drink. The bartender says, "Sorry, we don't serve noble gases here." Helium doesn't react.
Anonymous
Two men broke into a drugstore and stole all the Viagra. The police put out an alert to be on the lookout for the two hardened criminals.
Mark My Words
Q: What kind of car does Jesus drive?
A: A Christler.
Legend45
Q: What did the banana say to the doctor?
A: "I'm not peeling well."
TheLaughFactory