Categories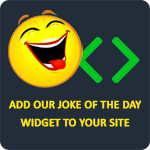 What did Pink Panther say when he stepped on an ant? "Dead ant, dead ant, dead ant, dead ant, dead ant."
timwk
I bet the butcher $50 that he couldn't reach the meat off the top shelf. He said, "No, the steaks are too high."
Anonymous
A joke is like sex. Neither is any good if you don't get it.
coker1286
How do fish get high? Seaweed.
claudette
Two Eskimos sitting in a kayak were chilly, so they lit a fire in the craft. Unsurprisingly it sank, proving once again that you can't have your kayak and heat it too.
TheLaughFactory