Categories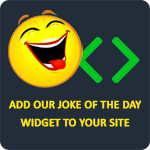 Helium walks into a bar and asks for a drink. The bartender says, "Sorry, we don't serve noble gases here." Helium doesn't react.
Anonymous
Two men broke into a drugstore and stole all the Viagra. The police put out an alert to be on the lookout for the two hardened criminals.
Mark My Words
Q: What did Obi-Wan say to Luke at the breakfast table?
A: "Use the fork, Luke."
The master
Innkeeper: "The room is $15 a night. It's $5 if you make your own bed."
Guest: "I'll make my own bed."
Innkeeper: "Good. I'll get you some nails and wood."
Fabio
Two fish are in a tank. One turns to the other and says, "Hey, do you know how to drive this thing?"
Anonymous