Categories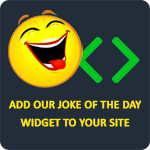 What did the pony say when he had a sore throat? Sorry, I'm a little horse.
lollylicer4
A lady comes home from her doctor's appointment grinning from ear to ear. Her husband asks, "Why are you so happy?" The wife says, "The doctor told me that for a forty-five year old woman, I have the breasts of a eighteen year old." "Oh yeah?" quipped her husband, "What did he say about your forty-five year old ass?" She said, "Your name never came up in the conversation."
Mark My Words
Why did Tigger stick his head in the toilet? He was looking for Pooh!
cbusch
Where do you get virgin wool? From ugly sheep.
Anonymous
Q: What's the difference between a cat and a complex sentence?
A: A cat has claws at the end of its paws and a complex sentence has a pause at the end of its clause.
Anonymous