Categories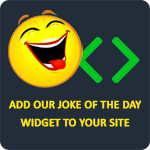 Where do you get virgin wool? From ugly sheep.
Anonymous
Have you heard about the crime in multi-story parking decks? It's just wrong on so many levels.
Anonymous
Ever wonder how black people get so tall? It's because their knee grows!
MrJohnson
Q: What's the difference between a cat and a complex sentence?
A: A cat has claws at the end of its paws and a complex sentence has a pause at the end of its clause.
Anonymous
A man walked into a bar and heard, "Great tie!" He looked around and seeing no one, he heard again, "Beautiful suit!" Wondering what was going on, he saw the bartender walk up and said, "I heard a voice talking about my suit and tie, and that they looked cool, but no one's around. Dude, what's up?" The bartender smiled, "Oh yeah, those are the peanuts. They're complimentary!"
DocHalle