Categories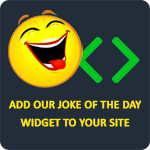 Brunette: "Where were you born?"
Blonde: "California."
Brunette: "Which part?"
Blonde: "All of me."
Laughat28
Q: What's the difference between a guitar and a fish?
A: You can tune a guitar, but you can't tuna fish.
Lauren P.
Little Johnny came home from school and heard the word "b*tch." He asks his mom what the word meant and she responds, "It means priest." The next day little Johnny comes home and hears the word "sh*t" and asks his dad what it means. His dad answers, "It means food on the table." At school, he hears the word "f*cking" and asks his mom what it means. She responds, "It means getting ready." The next day a priest came over for dinner and little Johnny opened the door and says, "Hey son of a b*tch. There's sh*t on the table and my parents are upstairs f*cking!"
gabbylove
Q: How do fish get high?
A: Seaweed.

claudette
Gandhi walked barefoot most of the time, which produced an impressive set of calluses on his feet. He also ate very little, which made him rather frail and with his odd diet, he suffered from bad breath. This made him a super calloused fragile mystic hexed by halitosis.
TheLaughFactory