Categories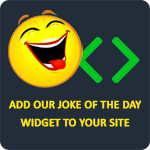 There was a snake crossing a highway and a truck ran over its ass. The snake went back to get its ass and a truck ran over its head. The moral of the story is, "Don't lose your head over a piece of ass."
burrolasteve
Why did the hipster burn his mouth? Because he ate his pizza before it was cool.
lizconrow
Why is gambling illegal in Africa? Because there are too many cheetahs!
skipadabeat
What did a green grape say to a purple grape? Breathe stupid!
saul90716
How do you make a tissue dance? Put a little boogie in it!
andreeearea