Categories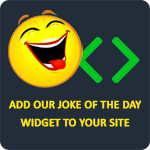 What do you see when the Pillsbury Doughboy bends over? Doughnuts!
bigdaddy74
A joke is like sex. Neither is any good if you don't get it.
coker1286
There was a snake crossing a highway and a truck ran over its ass. The snake went back to get its ass and a truck ran over its head. The moral of the story is, "Don't lose your head over a piece of ass."
burrolasteve
Never hit a man with glasses. Hit him with a baseball bat.
Anonymous
How do fish get high? Seaweed.
claudette