Categories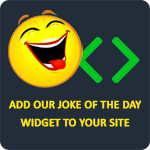 A man walked into a bar and heard, "Great tie!" He looked around and seeing no one, he heard again, "Beautiful suit!" Wondering what was going on, he saw the bartender walk up and said, "I heard a voice talking about my suit and tie, and that they looked cool, but no one's around. Dude, what's up?" The bartender smiled, "Oh yeah, those are the peanuts. They're complimentary!"
DocHalle
What lies at the bottom of the ocean and twitches? A nervous wreck.
laughmyassoffv
What do you see when the Pillsbury Doughboy bends over? Doughnuts!
bigdaddy74
What did Pink Panther say when he stepped on an ant? "Dead ant, dead ant, dead ant, dead ant, dead ant."
timwk
A little girl and her older brother were visiting their grandfather's farm. The older brother decided to play a trick on his younger sister. He told her that he discovered a man-eating chicken. The girl was frightened, and ran inside in fear. Then the older brother heard his little sister scream. He ran inside immediately. She was screaming at their grandfather, who was chowing down on a plate of fried chicken. "What is it?" he asked. The sister turned to him in fear and said," It- it's- IT'S A MAN EATING CHICKEN!!!"
ChickenFingerz2000