Categories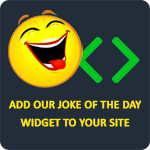 Two men broke into a drugstore and stole all the Viagra. The police put out an alert to be on the lookout for the two hardened criminals.
Mark My Words
Q: How do fish get high?
A: Seaweed.

claudette
Gandhi walked barefoot most of the time, which produced an impressive set of calluses on his feet. He also ate very little, which made him rather frail and with his odd diet, he suffered from bad breath. This made him a super calloused fragile mystic hexed by halitosis.
TheLaughFactory
Q: Why can't you trust an atom?
A: Because they make up everything.
Anonymous
Q: What did Obi-Wan say to Luke at the breakfast table?
A: "Use the fork, Luke."
The master