Categories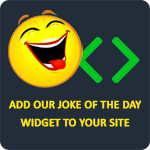 Q: Why does Humpty Dumpty love autumn?
A: Because Humpty Dumpty had a great fall.
TheLaughFactory
I'm thinking of becoming a hitman... I heard they make a killing.
Anonymous
What is the longest word in the English language? SMILES - There is a mile between the first and last letters!
beauty94
Little Johnny's friend calls to invite him over, but little Johnny says, "I can't, I'm grounded." His friend asks, "Why?" and he replies, "My mom called me a son of a bitch, and I said, 'Yup, you got that right.'"
snowmancpt
As I was walking down the street, I noted a man with a large pole in his hand and stopped to ask, "Are you a pole-vaulter?" His response was, "No, I'm German, but how did you know my name was Walter?"
kiranvirdi