Categories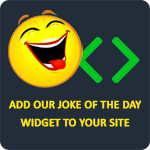 A sailor drops anchor in a port and heads into the nearest pub. Everyone in the pub is whispering and pointing at him because of his odd shaped body; he has a very muscular body, but a very tiny head on his shoulders. As he orders his drink, he tells the bartender, "I'll explain. I get this in every port and town I visit. I caught a mermaid and she granted me three wishes if I would release her back into the sea. So I told her I wanted a yacht and, sure enough, she came through for me. Next, I asked for a million bucks and now I am set for life. Last of all, I asked her if I could have sex with her and her response was, 'I don't know how you can make love to me with your type of body.' So I asked her, 'How about a little head?'"
Mark My Words
Q: What did the banana say to the doctor?
A: "I'm not peeling well."
TheLaughFactory
Two fish are in a tank. One turns to the other and says, "Hey, do you know how to drive this thing?"
Anonymous
This crazy guy walks into a restaurant and tells the waiter, "Lemme get a cheeseburger, not too rare, not too well done, but right in the groove. Lemme get some fries, not too crispy, not too burnt, but right in the groove. And while you're at it, throw in a shake, not too thin, not too thick, but right in groove." The waiter took down the order and came back five minutes later and told the man, "The cook said you can kiss his ass, not to the left, not to the right, but right in the groove."
robboss301
A man was driving and saw a truck stalled on the side of the highway that had ten penguins standing next to it. The man pulled over and asked the truck driver if he needed any help. The truck driver replied, "If you can take these penguins to the zoo while I wait for AAA that will be great!" The man agreed and the penguins hopped into the back of his car. Two hours later, the trucker was back on the road again and decided to check on the penguins. He showed up at the zoo and they weren't there! He headed back into his truck and started driving around the town, looking for any sign of the penguins, the man, or his car. While driving past a movie theater, the truck driver spotted the guy walking out with the ten penguins. The truck driver yelled, "What are you doing? You were supposed to take them to the zoo!" The man replied, "I did and then I had some extra money so I took them to go see a movie."
solotime