Categories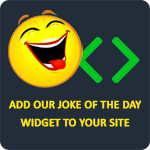 What do cars eat on their toast? Traffic jam.
Anonymous
Q: Why can't your nose be 12 inches long?
A: Because then it'd be a foot!
TheLaughFactory
Q: How can you get four suits for a dollar?
A: Buy a deck of cards.
TheLaughFactory
What's the difference between roast beef and pea soup? Anyone can roast beef but nobody can pee soup!
mgates4
I met a one-legged woman outside of a club the other day. She was a bouncer.
Back Jertelsen