Categories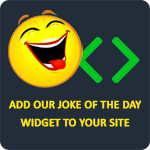 Why are there no televisions in Afghanistan? Because of the Telly-ban!
Anonymous
A mushroom walks into a bar and the bartender says, "Hey, didn't you read the sign? It says 'No mushrooms!'" The mushroom replies, "C'mon man, I'm a fungi!"
ekpeltzer
What do you call a deer with no eyes? I have no I-Deer.
Demcowboys
In what state can you find small Pepsis? Mini-soda (Minnesota).
anthonys22
What does a lawyer wear to work? A law suit.
guyloften