Categories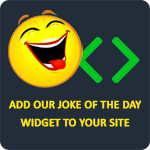 Q: What do you call a Mexican that lost his car?
A: Carlos.
Steven Casby
Q: What did Obi-Wan say to Luke at the breakfast table?
A: "Use the fork, Luke."
The master
Q: Why can't you trust an atom?
A: Because they make up everything.
Anonymous
Two fish are in a tank. One turns to the other and says, "Hey, do you know how to drive this thing?"
Anonymous
How do you embarrass an archaeologist? Show him a used tampon and ask, "What period is this from?"
jakethasnake92