Categories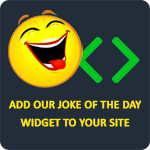 A mushroom walks into a bar and the bartender says, "Hey, didn't you read the sign? It says 'No mushrooms!'" The mushroom replies, "C'mon man, I'm a fungi!"
ekpeltzer
What did the pony say when he had a sore throat? Sorry, I'm a little horse.
lollylicer4
Q: What's the difference between a cat and a complex sentence?
A: A cat has claws at the end of its paws and a complex sentence has a pause at the end of its clause.
Anonymous
Why did Tigger stick his head in the toilet? He was looking for Pooh!
cbusch
Q: What do you call a rabbi with heartburn?
A: An acidic Jew.
TheLaughFactory