Categories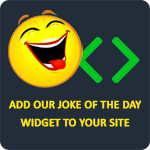 A lady comes home from her doctor's appointment grinning from ear to ear. Her husband asks, "Why are you so happy?" The wife says, "The doctor told me that for a forty-five year old woman, I have the breasts of a eighteen year old." "Oh yeah?" quipped her husband, "What did he say about your forty-five year old ass?" She said, "Your name never came up in the conversation."
Mark My Words
What lies at the bottom of the ocean and twitches? A nervous wreck.
laughmyassoffv
A man walked into a bar and heard, "Great tie!" He looked around and seeing no one, he heard again, "Beautiful suit!" Wondering what was going on, he saw the bartender walk up and said, "I heard a voice talking about my suit and tie, and that they looked cool, but no one's around. Dude, what's up?" The bartender smiled, "Oh yeah, those are the peanuts. They're complimentary!"
DocHalle
A little girl and her older brother were visiting their grandfather's farm. The older brother decided to play a trick on his younger sister. He told her that he discovered a man-eating chicken. The girl was frightened, and ran inside in fear. Then the older brother heard his little sister scream. He ran inside immediately. She was screaming at their grandfather, who was chowing down on a plate of fried chicken. "What is it?" he asked. The sister turned to him in fear and said," It- it's- IT'S A MAN EATING CHICKEN!!!"
ChickenFingerz2000
What do you see when the Pillsbury Doughboy bends over? Doughnuts!
bigdaddy74