Categories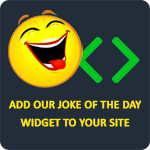 A little girl and her older brother were visiting their grandfather's farm. The older brother decided to play a trick on his younger sister. He told her that he discovered a man-eating chicken. The girl was frightened, and ran inside in fear. Then the older brother heard his little sister scream. He ran inside immediately. She was screaming at their grandfather, who was chowing down on a plate of fried chicken. "What is it?" he asked. The sister turned to him in fear and said," It- it's- IT'S A MAN EATING CHICKEN!!!"
ChickenFingerz2000
Never hit a man with glasses. Hit him with a baseball bat.
Anonymous
What did a green grape say to a purple grape? Breathe stupid!
saul90716
Two Eskimos sitting in a kayak were chilly, so they lit a fire in the craft. Unsurprisingly it sank, proving once again that you can't have your kayak and heat it too.
TheLaughFactory
Q: What do you call a duck that steals?
A: A Robber Duck.
SAM&THEYSEE;+KARMA