Categories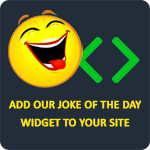 Why did the hipster burn his mouth? Because he ate his pizza before it was cool.
lizconrow
What did a green grape say to a purple grape? Breathe stupid!
saul90716
Becoming a vegetarian is a huge missed steak.
NARWHALICORN
Q: What do you call it when you feed a stick of dynamite to a steer?

A: Abominable! (say it out loud, slowly)
Anonymous
How do you make a tissue dance? Put a little boogie in it!
andreeearea