Categories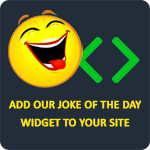 Why is gambling illegal in Africa? Because there are too many cheetahs!
skipadabeat
Becoming a vegetarian is a huge missed steak.
NARWHALICORN
If you ever get cold, just stand in the corner of a room for a while. They're normally around 90 degrees.
Anonymous
Q: What do you call it when you feed a stick of dynamite to a steer?

A: Abominable! (say it out loud, slowly)
Anonymous
A man committed suicide by chopping his head off and left a suicide note in his mouth reading, "I don't need no body."
mzkeez