Categories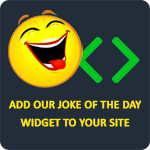 Little Johnny's friend calls to invite him over, but little Johnny says, "I can't, I'm grounded." His friend asks, "Why?" and he replies, "My mom called me a son of a bitch, and I said, 'Yup, you got that right.'"
snowmancpt
I'm thinking of becoming a hitman... I heard they make a killing.
Anonymous
What is the longest word in the English language? SMILES - There is a mile between the first and last letters!
beauty94
19 Irishmen go to a cinema. Ticket lady says, "Why are there so many of you here tonight?" Mick replies, "The fillm says 18 and over, miss."
iq81
Q: What do you call an alligator wearing a vest?
A: An investigator.
Anonymous