Categories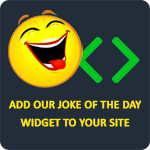 Q: Why did the school kids eat their homework?
A: Because their teacher told them it was a piece of cake.
capcon
Q: My boyfriend is as beautiful as Frank Sinatra and as intelligent as Albert Einstein; what is his name?
A: Frankenstein.
Alejandro Jodorowsky
What do you call four Mexicans in quicksand? Quatro sink-o!
kolchefske
PMS jokes aren't funny. Period.
Silenxio Maximeaning Ultimious
A little kid was out trick-or-treating on Halloween dressed as a pirate. He rang a house's doorbell and the door was opened by a lady. "Oh, how cute! A little pirate! And where are your buccaneers?" she asked. The boy replied, "Under my buckin' hat."
Mark My Words