Categories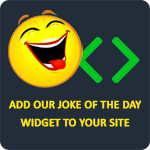 A man speaks frantically into the phone, "My wife is pregnant, and her contractions are only two minutes apart!" "Is this her first child?" the doctor queries. "No, you idiot!" the man shouts. "This is her husband!"
rigocarr86
Q: If April showers bring may flowers, what do mayflowers bring?
A: Pilgrims!
Anonymous
Q: Why did the school kids eat their homework?
A: Because their teacher told them it was a piece of cake.
capcon
"Give it to me! Give it to me!" she yelled, "I'm so wet, give it to me now!" She could scream all she wanted to. I was keeping the umbrella.
Kaziah
Two fish are in a tank. One turns to the other and says, "Hey, do you know how to drive this thing?"
Anonymous