Categories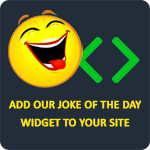 Helium walks into a bar and asks for a drink. The bartender says, "Sorry, we don't serve noble gases here." Helium doesn't react.
Anonymous
Q: What's the difference between a cat and a complex sentence?
A: A cat has claws at the end of its paws and a complex sentence has a pause at the end of its clause.
Anonymous
A little girl and her older brother were visiting their grandfather's farm. The older brother decided to play a trick on his younger sister. He told her that he discovered a man-eating chicken. The girl was frightened, and ran inside in fear. Then the older brother heard his little sister scream. He ran inside immediately. She was screaming at their grandfather, who was chowing down on a plate of fried chicken. "What is it?" he asked. The sister turned to him in fear and said," It- it's- IT'S A MAN EATING CHICKEN!!!"
ChickenFingerz2000
Why did Tigger stick his head in the toilet? He was looking for Pooh!
cbusch
If the right side of the brain controls the left side of the body, then lefties are the only ones in their right mind.
Mark My Words