Categories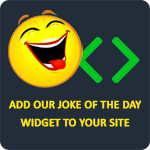 What does a lawyer wear to work? A law suit.
guyloften
A man said to his friend, "Want to hear a joke about butter?" His friend said, "Sure." The man said, "Nah, I butter not tell you. You might spread it."
acrdns
Why did the duck go to jail?
Because He Was Selling QUACK.
Anonymous
What did one wall say to the other wall? Meet ya' at the corner!
tswift12
A pirate walks into a bar and it appears that he has a steering wheel to a ship in front of his trousers. In fact, it looks like his penis is stuck through the center of it. The bartender says, "Hey pirate! You've got your penis stuck in a steering wheel!" The pirate replied, "Arrrr, I know! It drives me nuts!"
Sirhc