Categories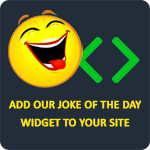 A little girl and her older brother were visiting their grandfather's farm. The older brother decided to play a trick on his younger sister. He told her that he discovered a man-eating chicken. The girl was frightened, and ran inside in fear. Then the older brother heard his little sister scream. He ran inside immediately. She was screaming at their grandfather, who was chowing down on a plate of fried chicken. "What is it?" he asked. The sister turned to him in fear and said," It- it's- IT'S A MAN EATING CHICKEN!!!"
ChickenFingerz2000
Q: Why is the barn so noisy?
A: Because the cows have horns.
Anonymous
Q: What do you call a midget psychic who just escaped from prison?
A: A small medium at large.
TuboSheen
Why did the tomato turn red? Because he saw the salad dressing!
Yusuf
Q: Why did the school kids eat their homework?
A: Because their teacher told them it was a piece of cake.
capcon