Categories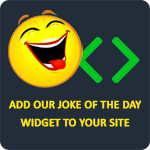 Two fish are in a tank. One turns to the other and says, "Hey, do you know how to drive this thing?"
Anonymous
Q: Why did the school kids eat their homework?
A: Because their teacher told them it was a piece of cake.
capcon
Q: What's the difference between a guitar and a fish?
A: You can tune a guitar, but you can't tuna fish.
Lauren P.
Q: What kind of car does Jesus drive?
A: A Christler.
Legend45
Q: What did the banana say to the doctor?
A: "I'm not peeling well."
TheLaughFactory