Categories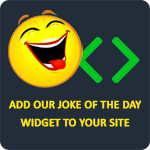 Q: What did Obi-Wan say to Luke at the breakfast table?
A: "Use the fork, Luke."
The master
Innkeeper: "The room is $15 a night. It's $5 if you make your own bed."
Guest: "I'll make my own bed."
Innkeeper: "Good. I'll get you some nails and wood."
Fabio
Q: If April showers bring may flowers, what do mayflowers bring?
A: Pilgrims!
Anonymous
A man speaks frantically into the phone, "My wife is pregnant, and her contractions are only two minutes apart!" "Is this her first child?" the doctor queries. "No, you idiot!" the man shouts. "This is her husband!"
rigocarr86
Q: Why is the barn so noisy?
A: Because the cows have horns.
Anonymous