Categories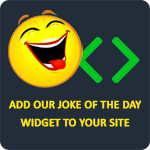 I met a one-legged woman outside of a club the other day. She was a bouncer.
Back Jertelsen
Q: On what kind of ships do students study? A: Scholarships.
Anonymous
Q: What do you get when you cross a donkey and an onion?
A: A piece of ass that'll bring a tear to your eye.
Anonymous
Little Johnny's friend calls to invite him over, but little Johnny says, "I can't, I'm grounded." His friend asks, "Why?" and he replies, "My mom called me a son of a bitch, and I said, 'Yup, you got that right.'"
snowmancpt
Q: What do you get if you divide the circumference of a pumpkin by its diameter?
A: Pumpkin Pi.
TheLaughFactory