Categories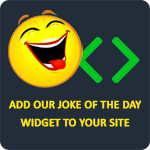 Whoever invented knock knock jokes should get a no bell prize.
Bradley the Best
Q: What kind of car does Jesus drive?
A: A Christler.
Legend45
Q: What did the banana say to the doctor?
A: "I'm not peeling well."
TheLaughFactory
Q: Why did the school kids eat their homework?
A: Because their teacher told them it was a piece of cake.
capcon
If money doesn't grow on trees, why do banks have branches?
chris