Categories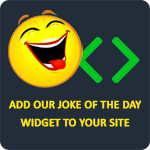 If you ever get cold, just stand in the corner of a room for a while. They're normally around 90 degrees.
Anonymous
How do fish get high? Seaweed.
claudette
Q: Which state has the most questions?
A: Alaska.
joke lover
Becoming a vegetarian is a huge missed steak.
NARWHALICORN
What do you call a piece of cheese that isn't yours? A: Nacho cheese.
Anonymous