Categories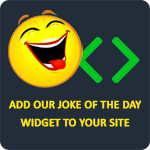 What do you call a piece of cheese that isn't yours? A: Nacho cheese.
Anonymous
Why did the hipster burn his mouth? Because he ate his pizza before it was cool.
lizconrow
If you ever get cold, just stand in the corner of a room for a while. They're normally around 90 degrees.
Anonymous
Why is gambling illegal in Africa? Because there are too many cheetahs!
skipadabeat
Becoming a vegetarian is a huge missed steak.
NARWHALICORN