Categories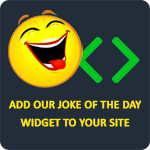 What is the longest word in the English language? SMILES - There is a mile between the first and last letters!
beauty94
A little girl and her older brother were visiting their grandfather's farm. The older brother decided to play a trick on his younger sister. He told her that he discovered a man-eating chicken. The girl was frightened, and ran inside in fear. Then the older brother heard his little sister scream. He ran inside immediately. She was screaming at their grandfather, who was chowing down on a plate of fried chicken. "What is it?" he asked. The sister turned to him in fear and said," It- it's- IT'S A MAN EATING CHICKEN!!!"
ChickenFingerz2000
19 Irishmen go to a cinema. Ticket lady says, "Why are there so many of you here tonight?" Mick replies, "The fillm says 18 and over, miss."
iq81
Q: What do you call an alligator wearing a vest?
A: An investigator.
Anonymous
Q: What's the difference between a cat and a complex sentence?
A: A cat has claws at the end of its paws and a complex sentence has a pause at the end of its clause.
Anonymous