Categories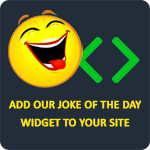 A man committed suicide by chopping his head off and left a suicide note in his mouth reading, "I don't need no body."
mzkeez
Why are there no televisions in Afghanistan? Because of the Telly-ban!
Anonymous
A mushroom walks into a bar and the bartender says, "Hey, didn't you read the sign? It says 'No mushrooms!'" The mushroom replies, "C'mon man, I'm a fungi!"
ekpeltzer
What do you call a Mexican with a rubber toe? Roberto!
anthonyllamas
Q: Why did the music teacher get arrested?
A: He fingered A minor.
Chevy powers