Categories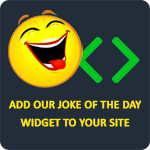 Why is gambling illegal in Africa? Because there are too many cheetahs!
skipadabeat
Two Eskimos sitting in a kayak were chilly, so they lit a fire in the craft. Unsurprisingly it sank, proving once again that you can't have your kayak and heat it too.
TheLaughFactory
What do you call a piece of cheese that isn't yours? A: Nacho cheese.
Anonymous
Why did the hipster burn his mouth? Because he ate his pizza before it was cool.
lizconrow
Q: What do you call it when you feed a stick of dynamite to a steer?

A: Abominable! (say it out loud, slowly)
Anonymous