Categories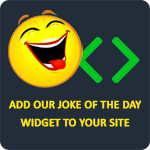 What did Pink Panther say when he stepped on an ant? "Dead ant, dead ant, dead ant, dead ant, dead ant."
timwk
A naked man broke into a church. The police chased him around and finally caught him by the organ.
Mark My Words
Q: Which state has the most questions?
A: Alaska.
joke lover
A joke is like sex. Neither is any good if you don't get it.
coker1286
A man walked into a bar and heard, "Great tie!" He looked around and seeing no one, he heard again, "Beautiful suit!" Wondering what was going on, he saw the bartender walk up and said, "I heard a voice talking about my suit and tie, and that they looked cool, but no one's around. Dude, what's up?" The bartender smiled, "Oh yeah, those are the peanuts. They're complimentary!"
DocHalle