Categories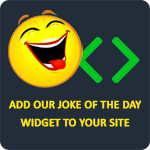 Q: Why shouldn't you make fun of a paleontologist?
A: Because you will get Jurasskicked.
the thingy
If the right side of the brain controls the left side of the body, then lefties are the only ones in their right mind.
Mark My Words
I'm thinking of becoming a hitman... I heard they make a killing.
Anonymous
What is the longest word in the English language? SMILES - There is a mile between the first and last letters!
beauty94
Q: Why did the school kids eat their homework?
A: Because their teacher told them it was a piece of cake.
capcon