Categories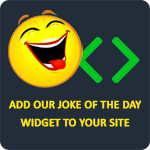 Q: What do you call a rabbi with heartburn?
A: An acidic Jew.
TheLaughFactory
Have you heard about the crime in multi-story parking decks? It's just wrong on so many levels.
Anonymous
A man got hit in the head with a can of Coke, but he was alright because it was a soft drink.
Anonymous
Where do you get virgin wool? From ugly sheep.
Anonymous
Teacher: "What is the largest city?"
Student: "Electricity!"
samarth.b.r