Categories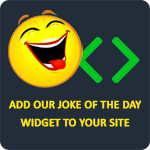 Two fish are in a tank. One turns to the other and says, "Hey, do you know how to drive this thing?"
Anonymous
Q: Why couldn't the leopard play hide and seek?
A: Because he was always spotted.
lovebite
Q: Why is the barn so noisy?
A: Because the cows have horns.
Anonymous
A little girl and her older brother were visiting their grandfather's farm. The older brother decided to play a trick on his younger sister. He told her that he discovered a man-eating chicken. The girl was frightened, and ran inside in fear. Then the older brother heard his little sister scream. He ran inside immediately. She was screaming at their grandfather, who was chowing down on a plate of fried chicken. "What is it?" he asked. The sister turned to him in fear and said," It- it's- IT'S A MAN EATING CHICKEN!!!"
ChickenFingerz2000
Q: What kind of car does Jesus drive?
A: A Christler.
Legend45