Categories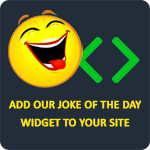 Q: What's the difference between a cat and a complex sentence?
A: A cat has claws at the end of its paws and a complex sentence has a pause at the end of its clause.
Anonymous
Q: What did the janitor yell when he jumped out of the closet?
A: "Supplies!"
LAMEGIRL23
If the right side of the brain controls the left side of the body, then lefties are the only ones in their right mind.
Mark My Words
As I was walking down the street, I noted a man with a large pole in his hand and stopped to ask, "Are you a pole-vaulter?" His response was, "No, I'm German, but how did you know my name was Walter?"
kiranvirdi
A mushroom walks into a bar and the bartender says, "Hey, didn't you read the sign? It says 'No mushrooms!'" The mushroom replies, "C'mon man, I'm a fungi!"
ekpeltzer