Categories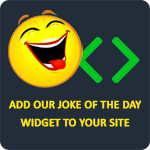 Why did Humpty Dumpty push his girlfriend off the wall?
So he could see her crack!
Anonymous
Q: Why is the barn so noisy?
A: Because the cows have horns.
Anonymous
Q: Why did the scarecrow get promoted?
A: Because he was outstanding in his field.
ANGEL EYES
Q: What do you call a midget psychic who just escaped from prison?
A: A small medium at large.
TuboSheen
A man is telling his neighbor, "I just bought a new hearing aid. It cost me $4000, but it's state of the art. It's perfect." "Really?" answers the neighbor. "What kind is it?" "12:30."
Marceline