Categories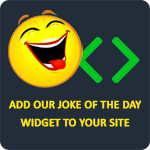 A man said to his friend, "Want to hear a joke about butter?" His friend said, "Sure." The man said, "Nah, I butter not tell you. You might spread it."
acrdns
In what state can you find small Pepsis? Mini-soda (Minnesota).
anthonys22
Why did mustard close its eyes? Because it didn't want to see the salad dressing.
larosajoy
What did one wall say to the other wall? Meet ya' at the corner!
tswift12
What does a lawyer wear to work? A law suit.
guyloften