Categories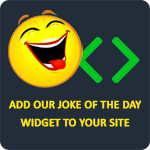 I bet the butcher $50 that he couldn't reach the meat off the top shelf. He said, "No, the steaks are too high."
Anonymous
A joke is like sex. Neither is any good if you don't get it.
coker1286
Q: What's the difference between America and yogurt?
A: If you leave yogurt alone for 200 years, it develops a culture.
MsEverybodylovespie
How do fish get high? Seaweed.
claudette
There was a snake crossing a highway and a truck ran over its ass. The snake went back to get its ass and a truck ran over its head. The moral of the story is, "Don't lose your head over a piece of ass."
burrolasteve