Categories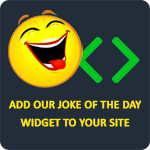 Q: Why did the pig leave the costume party?
A: Because everyone thought he was a boar.
Anonymous
Did you hear about the Italian chef that died? Yeah, he pasta way.
Anonymous
Q: What do you call a woman that sets her bills on fire?
A: Bernadette.
Anonymous
What do cars eat on their toast? Traffic jam.
Anonymous
Q: How can you get four suits for a dollar?
A: Buy a deck of cards.
TheLaughFactory