Categories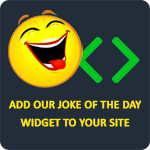 Q: How do you make a witch itch?
A: Take away her "w".
Me
Q: Why can't your nose be 12 inches long?
A: Because then it'd be a foot!
TheLaughFactory
What's the difference between roast beef and pea soup? Anyone can roast beef but nobody can pee soup!
mgates4
I'm in trouble with my next door neighbors. I went over to their house recently to jump on there tramperleen. I had just got on when I heard a voice say, "Hey you, get off my daughter Erleen!"
joe curtis
I met a one-legged woman outside of a club the other day. She was a bouncer.
Back Jertelsen