Categories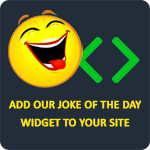 A neutron walks into a bar and says, "I'd like a beer. How much will that be?" The bartender responds, "For you? No charge!"
Anonymous
PMS jokes aren't funny. Period.
Silenxio Maximeaning Ultimious
To the optimist, the glass is half full. To the pessimist, the glass is half empty. To the engineer, the glass is twice as big as it needs to be.
amuradi
Q: Why did the pig leave the costume party?
A: Because everyone thought he was a boar.
Anonymous
What do cars eat on their toast? Traffic jam.
Anonymous