Categories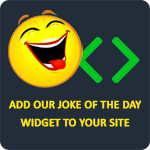 Q: What is the difference between a teacher and a train?
A: One says, "Spit out your gum," and the other says, "Choo choo choo!"
Capricorn37
Q: My boyfriend is as beautiful as Frank Sinatra and as intelligent as Albert Einstein; what is his name?
A: Frankenstein.
Alejandro Jodorowsky
Two drunks are sitting in a bar when one of them turns to the other one and asks, "Hey, isn't that Hortense?" The other drunk chimes in and says, "No, she looks pretty relaxed to me."
Mark My Words
What do you call four Mexicans in quicksand? Quatro sink-o!
kolchefske
The Taco Bell Chihuahua, a Doberman, and a Bulldog are in a bar having a drink, when a great looking female Collie comes up to them and says, "Whoever can say liver and cheese in a sentence can have me."  So the Doberman says, "I love liver and cheese." The Collie replies, "That's not good enough." The Bulldog says, "I hate liver and cheese." She says, "That's not creative enough." Finally, the Chihuahua says, "Liver alone, cheese mine."
jamiedawg17