Categories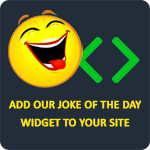 A man is telling his neighbor, "I just bought a new hearing aid. It cost me $4000, but it's state of the art. It's perfect." "Really?" answers the neighbor. "What kind is it?" "12:30."
Marceline
Q: Why did the school kids eat their homework?
A: Because their teacher told them it was a piece of cake.
capcon
Q: What do you call a midget psychic who just escaped from prison?
A: A small medium at large.
TuboSheen
Why did the tomato turn red? Because he saw the salad dressing!
Yusuf
Q: If April showers bring may flowers, what do mayflowers bring?
A: Pilgrims!
Anonymous