Categories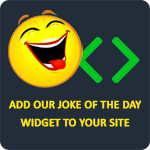 What do you call a piece of cheese that isn't yours? A: Nacho cheese.
Anonymous
Never hit a man with glasses. Hit him with a baseball bat.
Anonymous
Q: What do you call a duck that steals?
A: A Robber Duck.
SAM&THEYSEE;+KARMA
Why did the hipster burn his mouth? Because he ate his pizza before it was cool.
lizconrow
Why is gambling illegal in Africa? Because there are too many cheetahs!
skipadabeat