Categories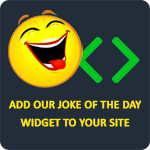 What lies at the bottom of the ocean and twitches? A nervous wreck.
laughmyassoffv
What did the skunk say when he walked into the courtroom? Odor in the court!
jonpingel
How do you catch a Unique rabbit? You 'neak up on it. How do you catch a tame rabbit? Tame way.
tina091979
What did one butt cheek tell the other butt cheek? Don't cross the line.
sanya4
Why did mustard close its eyes? Because it didn't want to see the salad dressing.
larosajoy