Categories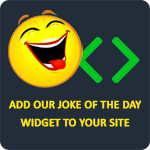 A string walks into a bar and orders a drink. The bartender turns to him and says, "Sorry, sir, we don't serve strings here." The next day, clinging to a thread, the string returns to that same bar and orders a drink again. The bartender, resolute, again turns and says, "I'm sorry, sir, but like I said, we don't serve strings here. I'm going to have to ask you not to return." Dejected, the string returns home. All night he tosses and turns, wriggles and writhes, and awakes the next morning not at all resembling himself. Catching a glimpse of himself in the mirror, he brightens and jets out his door to that bar. Swaggering in, he orders a drink one more time. The bartender stares at him, squinty eyed, and asks, "I'm sorry, are you a string? You look very familiar." The string locks eyes with the bartender, and states, "No, sir. I'm a frayed knot."
missrose
Q: Why did the pig leave the costume party?
A: Because everyone thought he was a boar.
Anonymous
To the optimist, the glass is half full. To the pessimist, the glass is half empty. To the engineer, the glass is twice as big as it needs to be.
amuradi
What do cars eat on their toast? Traffic jam.
Anonymous
Q: What do you call a woman that sets her bills on fire?
A: Bernadette.
Anonymous