Categories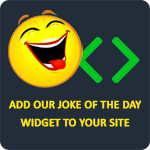 Why did the duck go to jail?
Because He Was Selling QUACK.
Anonymous
A pirate walks into a bar and it appears that he has a steering wheel to a ship in front of his trousers. In fact, it looks like his penis is stuck through the center of it. The bartender says, "Hey pirate! You've got your penis stuck in a steering wheel!" The pirate replied, "Arrrr, I know! It drives me nuts!"
Sirhc
Q: Did you hear about the kidnapping at school? A: It's okay. He woke up.
Pat
A mushroom walks into a bar and the bartender says, "Hey, didn't you read the sign? It says 'No mushrooms!'" The mushroom replies, "C'mon man, I'm a fungi!"
ekpeltzer
Why are there no televisions in Afghanistan? Because of the Telly-ban!
Anonymous