Categories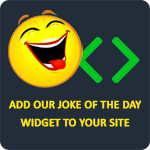 What did Pink Panther say when he stepped on an ant? "Dead ant, dead ant, dead ant, dead ant, dead ant."
timwk
Ever wonder how black people get so tall? It's because their knee grows!
MrJohnson
Q: What's the difference between America and yogurt?
A: If you leave yogurt alone for 200 years, it develops a culture.
MsEverybodylovespie
A joke is like sex. Neither is any good if you don't get it.
coker1286
A naked man broke into a church. The police chased him around and finally caught him by the organ.
Mark My Words