Categories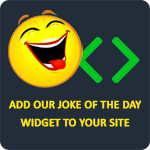 Why did Tigger stick his head in the toilet? He was looking for Pooh!
cbusch
A man got hit in the head with a can of Coke, but he was alright because it was a soft drink.
Anonymous
Q: What do you call a rabbi with heartburn?
A: An acidic Jew.
TheLaughFactory
Q: Why shouldn't you write with a broken pencil?
A: Because it's pointless!
Anonymous
Brunette: "Where were you born?"
Blonde: "California."
Brunette: "Which part?"
Blonde: "All of me."
Laughat28