Categories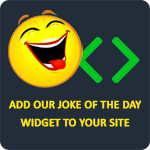 In what state can you find small Pepsis? Mini-soda (Minnesota).
anthonys22
Why did mustard close its eyes? Because it didn't want to see the salad dressing.
larosajoy
What did the skunk say when he walked into the courtroom? Odor in the court!
jonpingel
An English teacher wrote these words on the whiteboard, "Woman without her man is nothing." The teacher then asked the students to punctuate the words correctly. The men wrote, "Woman, without her man, is nothing." The women wrote, "Woman! Without her, man is nothing."
callmemarkster
Q: What do you call a gay cowboy? A: A jolly rancher.
Anonymous