Categories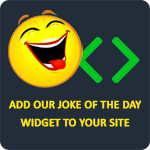 A drunk staggers out of a bar and lets go of a loud belch just as a couple are walking in the door. The man yells at the drunk, "How dare you belch before this woman!" The drunk says, "I'm sorry! I didn't know she wanted to go first."
Mark My Words
Q: How can you get four suits for a dollar?
A: Buy a deck of cards.
TheLaughFactory
A man is telling his neighbor, "I just bought a new hearing aid. It cost me $4000, but it's state of the art. It's perfect." "Really?" answers the neighbor. "What kind is it?" "12:30."
Anonymous
A husband says to his wife, "My Olympic condoms have arrived. I think I'll wear gold tonight." The wife replies, "Why not wear silver and come second for a change?""
Justin19S
Q: How do you make a witch itch?
A: Take away her "w".
Me