Categories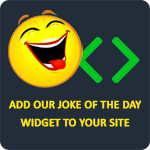 Q: What is the difference between a teacher and a train?
A: One says, "Spit out your gum," and the other says, "Choo choo choo!"
Capricorn37
Q: What do you call a woman that sets her bills on fire?
A: Bernadette.
Anonymous
Did you hear about the Italian chef that died? Yeah, he pasta way.
Anonymous
A drunk staggers out of a bar and lets go of a loud belch just as a couple are walking in the door. The man yells at the drunk, "How dare you belch before this woman!" The drunk says, "I'm sorry! I didn't know she wanted to go first."
Mark My Words
Q: Why shouldn't you write with a broken pencil?
A: Because it's pointless!
Anonymous