Categories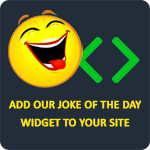 A mushroom walks into a bar and the bartender says, "Hey, didn't you read the sign? It says 'No mushrooms!'" The mushroom replies, "C'mon man, I'm a fungi!"
ekpeltzer
Why are there no televisions in Afghanistan? Because of the Telly-ban!
Anonymous
In what state can you find small Pepsis? Mini-soda (Minnesota).
anthonys22
Q: Why shouldn't you write with a broken pencil?
A: Because it's pointless!
Anonymous
An English teacher wrote these words on the whiteboard, "Woman without her man is nothing." The teacher then asked the students to punctuate the words correctly. The men wrote, "Woman, without her man, is nothing." The women wrote, "Woman! Without her, man is nothing."
callmemarkster