Categories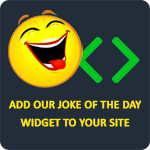 What's the biggest pencil in the world? Pennsylvania.
jess1669
Two men walked into a bar. You would think at least one of them would have ducked!
Nimbix
Why was strawberry sad? Because her mom was in a jam.
torresp68
Two hydrogen atoms are at a party and bump into each other. The first one says, "Hey, grab that electron, it's mine!" "How do you know?" asks the second. "'Cause I'm positive!" the first replies!
kstny
What does a pirate pay for his corn? A bucc-an-neer.
randylesser