Categories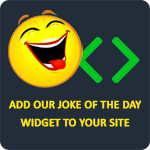 Q: What's the difference between a cat and a complex sentence?
A: A cat has claws at the end of its paws and a complex sentence has a pause at the end of its clause.
Anonymous
19 Irishmen go to a cinema. Ticket lady says, "Why are there so many of you here tonight?" Mick replies, "The fillm says 18 and over, miss."
iq81
Q: What did the janitor yell when he jumped out of the closet?
A: "Supplies!"
LAMEGIRL23
Brunette: "Where were you born?"
Blonde: "California."
Brunette: "Which part?"
Blonde: "All of me."
Laughat28
As I was walking down the street, I noted a man with a large pole in his hand and stopped to ask, "Are you a pole-vaulter?" His response was, "No, I'm German, but how did you know my name was Walter?"
kiranvirdi