Categories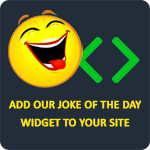 Q: What is the difference between a teacher and a train?
A: One says, "Spit out your gum," and the other says, "Choo choo choo!"
Capricorn37
Why did Humpty Dumpty push his girlfriend off the wall?
So he could see her crack!
Anonymous
Q: Why is the barn so noisy?
A: Because the cows have horns.
Anonymous
Q: What do you call a midget psychic who just escaped from prison?
A: A small medium at large.
TuboSheen
A man is telling his neighbor, "I just bought a new hearing aid. It cost me $4000, but it's state of the art. It's perfect." "Really?" answers the neighbor. "What kind is it?" "12:30."
Marceline