Categories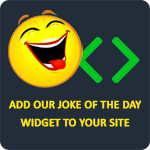 What did a green grape say to a purple grape? Breathe stupid!
saul90716
Becoming a vegetarian is a huge missed steak.
NARWHALICORN
Never hit a man with glasses. Hit him with a baseball bat.
Anonymous
Q: What do you call a duck that steals?
A: A Robber Duck.
SAM&THEYSEE;+KARMA
What do you call a piece of cheese that isn't yours? A: Nacho cheese.
Anonymous