Categories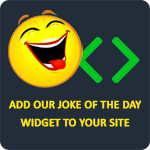 Little Johnny's friend calls to invite him over, but little Johnny says, "I can't, I'm grounded." His friend asks, "Why?" and he replies, "My mom called me a son of a bitch, and I said, 'Yup, you got that right.'"
snowmancpt
Q: On what kind of ships do students study? A: Scholarships.
Anonymous
If the right side of the brain controls the left side of the body, then lefties are the only ones in their right mind.
Mark My Words
Q: What do you call an alligator wearing a vest?
A: An investigator.
Anonymous
Q: What do you get when you cross a donkey and an onion?
A: A piece of ass that'll bring a tear to your eye.
Anonymous