Categories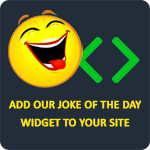 How do you embarrass an archaeologist? Show him a used tampon and ask, "What period is this from?"
jakethasnake92
If money doesn't grow on trees, why do banks have branches?
chris
Q: What has more lives than a cat?
A: A frog because it croaks every night.
Michael
Q: Why is the barn so noisy?
A: Because the cows have horns.
Anonymous
Q: What do you call a woman that sets her bills on fire?
A: Bernadette.
Anonymous