Categories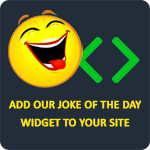 Q: What do you call it when you feed a stick of dynamite to a steer?

A: Abominable! (say it out loud, slowly)
Anonymous
Q: What's the difference between America and yogurt?
A: If you leave yogurt alone for 200 years, it develops a culture.
MsEverybodylovespie
Why did the duck go to jail?
Because He Was Selling QUACK.
Anonymous
A man committed suicide by chopping his head off and left a suicide note in his mouth reading, "I don't need no body."
mzkeez
A pirate walks into a bar and it appears that he has a steering wheel to a ship in front of his trousers. In fact, it looks like his penis is stuck through the center of it. The bartender says, "Hey pirate! You've got your penis stuck in a steering wheel!" The pirate replied, "Arrrr, I know! It drives me nuts!"
Sirhc