Categories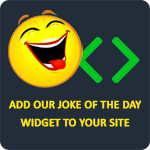 Q: What is the difference between a teacher and a train?
A: One says, "Spit out your gum," and the other says, "Choo choo choo!"
Capricorn37
Why did the tomato turn red? Because he saw the salad dressing!
Yusuf
Q: If April showers bring may flowers, what do mayflowers bring?
A: Pilgrims!
Anonymous
Bob goes to see his friend Pete. He finds Pete in his barn dancing naked around his John Deere. "What are you doing!" asks Bob. Pete stops dancing & says, "My wife has been ignoring me lately so I talked to my psychiatrist and he said I needed to do some thing sexy to a tractor." [to attract her]
Rockyz
Two drunks are sitting in a bar when one of them turns to the other one and asks, "Hey, isn't that Hortense?" The other drunk chimes in and says, "No, she looks pretty relaxed to me."
Mark My Words