Categories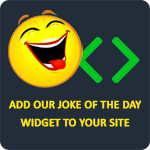 THREE TREES AND A WOODPECKER
Two tall trees, a birch and a beech, are growing in the woods. A small tree begins to grow between them, and the beech says to the birch, "Is that a son of a beech or a son of a birch?" The birch says he cannot tell, but just then a woodpecker lands on the sapling.

The birch says, "Woodpecker, you are a tree expert. Can you tell if that is a son of a beech or a son of a birch?"

The woodpecker takes a taste of the small tree and replies, "It is neither a son of a beech nor a son of a birch, It is, however, the best piece of ash I have ever poked my pecker into."

Now wipe that smile off your face.

Muddy1
Q: What is Mozart doing right now?
A: Decomposing.
Anonymous
Instead of "the John," I call my toilet "the Jim." That way it sounds better when I say I go to the Jim first thing every morning.
Rudy T. Monkey
A teacher asked, "Johnny, can you tell me the name of three great kings who have brought happiness and peace into people's lives?" Little Johnny responded, "Drin-king, smo-king, and f*c-king."
hachouma
A man who is just married is flying to the Florida Keys for a business trip. His new bride is to accompany him the next day. When he gets there, he e-mails his wife to let her know he made it there safely. When he sends the e-mail, he mistypes the address. In Boston, a grieving widow, whose husband has recently passed away, receives the e-mail. She reads it, screams, and faints. Hearing her grandmother's cry, the widow's 18 year old granddaughter runs into the living room to see the computer on, with a message that reads, "Dear love, I just got here. Preparing for your arrival tomorrow. Can't wait to see you. Love, Me. P.S. Sure is hot down here."
gericagijane