Categories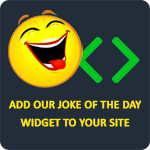 Q: How do astronomers organize a party?
A: They planet.
Wenz
Q: What did the blanket say when it fell of the bed?
A: "Oh sheet!"
gav1467
Q: Why does Humpty Dumpty love autumn?
A: Because Humpty Dumpty had a great fall.
TheLaughFactory
Q: Can a kangaroo jump higher than the Empire State Building?
A: Of course. The Empire State Building can't jump.
bobby
Mother superior tells two new nuns that they have to paint their room without getting any paint on their clothes. One nun suggests to the other, "Hey, let's take all our clothes off, fold them up, and lock the door." So they do this, and begin painting their room. Soon they hear a knock at the door. They ask, "Who is it?" "Blind man!" The nuns look at each other and one nun says, "He's blind, so he can't see. What could it hurt?" They let him in. The blind man walks in and says, "Hey, nice tits. Where do you want me to hang the blinds?"
Anonymous