Categories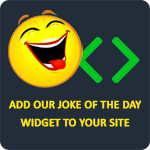 A drunk walks into a bar with jumper cables around his neck. The bartender says, "You can stay but don't try to start anything."
Anonymous
Gandhi walked barefoot most of the time, which produced an impressive set of calluses on his feet. He also ate very little, which made him rather frail and with his odd diet, he suffered from bad breath. This made him a super calloused fragile mystic hexed by halitosis.
TheLaughFactory
A man speaks frantically into the phone, "My wife is pregnant, and her contractions are only two minutes apart!" "Is this her first child?" the doctor queries. "No, you idiot!" the man shouts. "This is her husband!"
rigocarr86
This crazy guy walks into a restaurant and tells the waiter, "Lemme get a cheeseburger, not too rare, not too well done, but right in the groove. Lemme get some fries, not too crispy, not too burnt, but right in the groove. And while you're at it, throw in a shake, not too thin, not too thick, but right in groove." The waiter took down the order and came back five minutes later and told the man, "The cook said you can kiss his ass, not to the left, not to the right, but right in the groove."
robboss301
Q: Did your hear about the man with a broken left arm and broken left leg?
A: Don't worry he's "ALRIGHT" now!
Brucey