Categories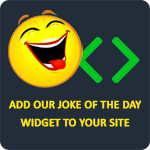 I went to the bank the other day and asked the banker to check my balance, so she pushed me!
Anonymous
THREE TREES AND A WOODPECKER
Two tall trees, a birch and a beech, are growing in the woods. A small tree begins to grow between them, and the beech says to the birch, "Is that a son of a beech or a son of a birch?" The birch says he cannot tell, but just then a woodpecker lands on the sapling.

The birch says, "Woodpecker, you are a tree expert. Can you tell if that is a son of a beech or a son of a birch?"

The woodpecker takes a taste of the small tree and replies, "It is neither a son of a beech nor a son of a birch, It is, however, the best piece of ash I have ever poked my pecker into."

Now wipe that smile off your face.

Muddy1
A man is being arrested by a female police officer, who informs him, "Anything you say can and will be held against you." The man replies, "Boobs!"
Chris Gunson
Q: Did you hear about the kidnapping at school?
A: It's okay. He woke up.
Pat
A man got hit in the head with a can of Coke, but he was alright because it was a soft drink.
Anonymous