Categories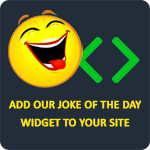 A man is being arrested by a female police officer, who informs him, "Anything you say can and will be held against you." The man replies, "Boobs!"
Chris Gunson
Q: Did you hear about the kidnapping at school?
A: It's okay. He woke up.
Pat
Q: Can a kangaroo jump higher than the Empire State Building?
A: Of course. The Empire State Building can't jump.
bobby
Q: What is Mozart doing right now?
A: Decomposing.
Anonymous
A teacher asked, "Johnny, can you tell me the name of three great kings who have brought happiness and peace into people's lives?" Little Johnny responded, "Drin-king, smo-king, and f*c-king."
hachouma