Categories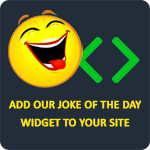 Q: Did your hear about the man with a broken left arm and broken left leg?
A: Don't worry he's "ALRIGHT" now!
Brucey
One night a lady came home from her weekly prayer meeting, found she was being robbed, and she shouted out, "Acts 2:38: 'Repent & be baptized & your sins will be forgiven.'" The robber quickly gave up & the lady rang the police. While handcuffing the criminal, a policeman said, "Gee mate, you gave up pretty easily. How come you gave up so quickly?" The robber said, "She said she had an axe and two 38's!"
Nina Jobling
Q: What nails do carpenters hate to hit?
A: Fingernails.
TheLaughFactory
Q: What did Obi-Wan say to Luke at the breakfast table?
A: "Use the fork, Luke."
The master
What do you call four Mexicans in quicksand? Quatro sink-o!
kolchefske