Categories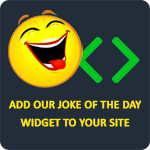 Q: What did the banana say to the doctor?
A: "I'm not peeling well."
TheLaughFactory
I was wondering why the ball kept getting bigger and bigger, and then it hit me.
Anonymous
Why did Humpty Dumpty push his girlfriend off the wall?
So he could see her crack!
Anonymous
A neutron walks into a bar and says, "I'd like a beer. How much will that be?" The bartender responds, "For you? No charge!"
Anonymous
The Taco Bell Chihuahua, a Doberman, and a Bulldog are in a bar having a drink, when a great looking female Collie comes up to them and says, "Whoever can say liver and cheese in a sentence can have me."  So the Doberman says, "I love liver and cheese." The Collie replies, "That's not good enough." The Bulldog says, "I hate liver and cheese." She says, "That's not creative enough." Finally, the Chihuahua says, "Liver alone, cheese mine."
jamiedawg17