Categories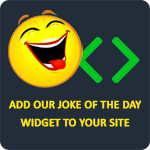 Q: Why does Humpty Dumpty love autumn?
A: Because Humpty Dumpty had a great fall.
TheLaughFactory
Q: Did you hear about the kidnapping at school?
A: It's okay. He woke up.
Pat
If you ever get cold, just stand in the corner of a room for a while. They're normally around 90 degrees.
Anonymous
How do you embarrass an archaeologist? Show him a used tampon and ask, "What period is this from?"
jakethasnake92
Q: What nails do carpenters hate to hit?
A: Fingernails.
TheLaughFactory