Categories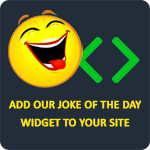 A neutron walks into a bar and says, "I'd like a beer. How much will that be?" The bartender responds, "For you? No charge!"
Anonymous
The Taco Bell Chihuahua, a Doberman, and a Bulldog are in a bar having a drink, when a great looking female Collie comes up to them and says, "Whoever can say liver and cheese in a sentence can have me."  So the Doberman says, "I love liver and cheese." The Collie replies, "That's not good enough." The Bulldog says, "I hate liver and cheese." She says, "That's not creative enough." Finally, the Chihuahua says, "Liver alone, cheese mine."
jamiedawg17
Q: What do you call a Mexican that lost his car?
A: Carlos.
Steven Casby
To the optimist, the glass is half full. To the pessimist, the glass is half empty. To the engineer, the glass is twice as big as it needs to be.
amuradi
A man is telling his neighbor, "I just bought a new hearing aid. It cost me $4000, but it's state of the art. It's perfect." "Really?" answers the neighbor. "What kind is it?" "12:30."
Anonymous