Categories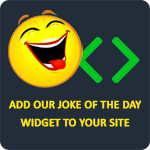 Did you hear about the Italian chef that died? Yeah, he pasta way.
Anonymous
To the optimist, the glass is half full. To the pessimist, the glass is half empty. To the engineer, the glass is twice as big as it needs to be.
amuradi
I was wondering why the ball kept getting bigger and bigger, and then it hit me.
Anonymous
Q: What do you call a midget psychic who just escaped from prison? A: A small medium at large.
TheLaughFactory
A man is telling his neighbor, "I just bought a new hearing aid. It cost me $4000, but it's state of the art. It's perfect." "Really?" answers the neighbor. "What kind is it?" "12:30."
Anonymous