Categories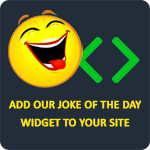 Q: What did the banana say to the doctor?
A: "I'm not peeling well."
TheLaughFactory
What's the difference between roast beef and pea soup? Anyone can roast beef but nobody can pee soup!
mgates4
Q: Why can't your nose be 12 inches long?
A: Because then it'd be a foot!
TheLaughFactory
Q: What do you get if you divide the circumference of a pumpkin by its diameter?
A: Pumpkin Pi.
TheLaughFactory
Q: Did your hear about the man with a broken left arm and broken left leg?
A: Don't worry he's "ALRIGHT" now!
Brucey