Categories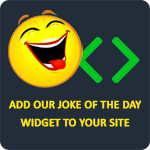 Q: What do you get when you cross a donkey and an onion?
A: A piece of ass that'll bring a tear to your eye.
Anonymous
The Taco Bell Chihuahua, a Doberman, and a Bulldog are in a bar having a drink, when a great looking female Collie comes up to them and says, "Whoever can say liver and cheese in a sentence can have me."  So the Doberman says, "I love liver and cheese." The Collie replies, "That's not good enough." The Bulldog says, "I hate liver and cheese." She says, "That's not creative enough." Finally, the Chihuahua says, "Liver alone, cheese mine."
jamiedawg17
Q: Why can't your nose be 12 inches long?
A: Because then it'd be a foot!
TheLaughFactory
What is the longest word in the English language? SMILES - There is a mile between the first and last letters!
beauty94
What does an old person, a Mexican man, and a high school student close to graduation have in common? They're all seniors.
LadyHaha