Categories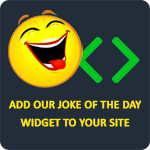 I went to the bank the other day and asked the banker to check my balance, so she pushed me!
Anonymous
If you ever get cold, just stand in the corner of a room for a while. They're normally around 90 degrees.
Anonymous
Why is it that your nose runs, but your feet smell?
Anonymous
If the right side of the brain controls the left side of the body, then lefties are the only ones in their right mind.
Mark My Words
I was wondering why the ball kept getting bigger and bigger, and then it hit me.
Anonymous