Categories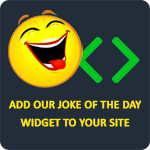 19 Irishmen go to a cinema. Ticket lady says, "Why are there so many of you here tonight?" Mick replies, "The fillm says 18 and over, miss."
iq81
Q: What do you get if you divide the circumference of a pumpkin by its diameter?
A: Pumpkin Pi.
TheLaughFactory
Have you heard about the crime in multi-story parking decks? It's just wrong on so many levels.
Anonymous
What did the pony say when he had a sore throat? Sorry, I'm a little horse.
lollylicer4
Why did Tigger stick his head in the toilet? He was looking for Pooh!
cbusch