Categories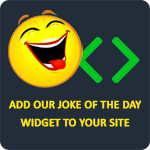 Did you hear about the Italian chef that died? Yeah, he pasta way.
Anonymous
Q: What do you call a midget psychic who just escaped from prison? A: A small medium at large.
TheLaughFactory
A husband says to his wife, "My Olympic condoms have arrived. I think I'll wear gold tonight." The wife replies, "Why not wear silver and come second for a change?""
Justin19S
Q: On what kind of ships do students study? A: Scholarships.
Anonymous
Q: Why can't your nose be 12 inches long?
A: Because then it'd be a foot!
TheLaughFactory