Categories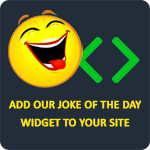 Q: How do trees access the internet?
A: They log in.
Kimberly Mauldin
Gandhi walked barefoot most of the time, which produced an impressive set of calluses on his feet. He also ate very little, which made him rather frail and with his odd diet, he suffered from bad breath. This made him a super calloused fragile mystic hexed by halitosis.
TheLaughFactory
Q: What's the difference between a cat and a complex sentence?
A: A cat has claws at the end of its paws and a complex sentence has a pause at the end of its clause.
Anonymous
Q: Why shouldn't you make fun of a paleontologist?
A: Because you will get Jurasskicked.
the thingy
How do you embarrass an archaeologist? Show him a used tampon and ask, "What period is this from?"
jakethasnake92