Categories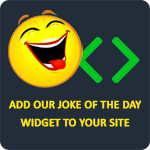 Q: What do computers eat for a snack?
A: Microchips!
Samanthas Awesome Jokes
Q: What starts with E, ends with E, and has only 1 letter in it?
A: Envelope.
hatcher
If the right side of the brain controls the left side of the body, then lefties are the only ones in their right mind.
Mark My Words
A teacher asked, "Johnny, can you tell me the name of three great kings who have brought happiness and peace into people's lives?" Little Johnny responded, "Drin-king, smo-king, and f*c-king."
hachouma
Q: What is Mozart doing right now?
A: Decomposing.
Anonymous