Categories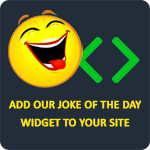 Q: What do you get if you divide the circumference of a pumpkin by its diameter?
A: Pumpkin Pi.
TheLaughFactory
What's the difference between roast beef and pea soup? Anyone can roast beef but nobody can pee soup!
mgates4
Q: What do you get when you cross a donkey and an onion?
A: A piece of ass that'll bring a tear to your eye.
Anonymous
As I was walking down the street, I noted a man with a large pole in his hand and stopped to ask, "Are you a pole-vaulter?" His response was, "No, I'm German, but how did you know my name was Walter?"
kiranvirdi
I'm thinking of becoming a hitman... I heard they make a killing.
Anonymous