Categories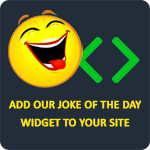 Q: Why did the boy eat his homework?
A: Because his teacher said it was a piece of cake.
Anonymous
Q: What nails do carpenters hate to hit?
A: Fingernails.
TheLaughFactory
Q: What's the difference between a cat and a complex sentence?
A: A cat has claws at the end of its paws and a complex sentence has a pause at the end of its clause.
Anonymous
A man speaks frantically into the phone, "My wife is pregnant, and her contractions are only two minutes apart!" "Is this her first child?" the doctor queries. "No, you idiot!" the man shouts. "This is her husband!"
rigocarr86
Q: What is the lightest thing in the world?
A: A penis because just a thought can lift it.
Anonymous