Categories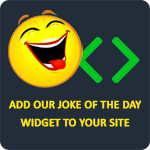 What's the difference between roast beef and pea soup? Anyone can roast beef but nobody can pee soup!
mgates4
Q: What do you get if you divide the circumference of a pumpkin by its diameter?
A: Pumpkin Pi.
TheLaughFactory
Q: What do you get when you cross a donkey and an onion?
A: A piece of ass that'll bring a tear to your eye.
Anonymous
What do cars eat on their toast? Traffic jam.
Anonymous
Q: How can you get four suits for a dollar?
A: Buy a deck of cards.
TheLaughFactory