Categories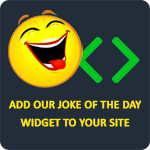 Q: What's the best thing about Switzerland?
A: I don't know, but the flag is a big plus.
TheLaughFactory
A husband says to his wife, "My Olympic condoms have arrived. I think I'll wear gold tonight." The wife replies, "Why not wear silver and come second for a change?""
Justin19S
Q: How do astronomers organize a party?
A: They planet.
Wenz
A teacher asked her students to use the word "beans" in a sentence. "My father grows beans," said one girl. "My mother cooks beans," said a boy. A third student spoke up, "We are all human beans."
XD XD XD XD
Instead of "the John," I call my toilet "the Jim." That way it sounds better when I say I go to the Jim first thing every morning.
Rudy T. Monkey