Categories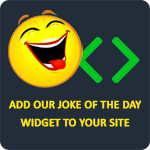 A drunk walks into a bar with jumper cables around his neck. The bartender says, "You can stay but don't try to start anything."
Anonymous
Q: How do trees access the internet?
A: They log in.
Kimberly Mauldin
Q: What is the tallest building in the entire world?
A: The library, because it has so many stories.
Razor
Q: What did the big chimney say to the little chimney?
A: "You're too young to smoke."
Terence Olivier
Q: What's the difference between Usain Bolt and Hitler?
A: Usain Bolt can finish a race.
Broom