Categories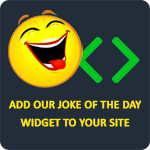 What did the pony say when he had a sore throat? Sorry, I'm a little horse.
lollylicer4
What does an old person, a Mexican man, and a high school student close to graduation have in common? They're all seniors.
LadyHaha
Q: How can you get four suits for a dollar?
A: Buy a deck of cards.
TheLaughFactory
Have you heard about the crime in multi-story parking decks? It's just wrong on so many levels.
Anonymous
Little Johnny's friend calls to invite him over, but little Johnny says, "I can't, I'm grounded." His friend asks, "Why?" and he replies, "My mom called me a son of a bitch, and I said, 'Yup, you got that right.'"
snowmancpt