Categories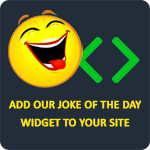 Q: Why can't your nose be 12 inches long?
A: Because then it'd be a foot!
TheLaughFactory
Two men broke into a drugstore and stole all the Viagra. The police put out an alert to be on the lookout for the two hardened criminals.
Mark My Words
Instead of "the John," I call my toilet "the Jim." That way it sounds better when I say I go to the Jim first thing every morning.
Rudy T. Monkey
Q: What do you get if you divide the circumference of a pumpkin by its diameter?
A: Pumpkin Pi.
TheLaughFactory
What's the difference between roast beef and pea soup? Anyone can roast beef but nobody can pee soup!
mgates4