Categories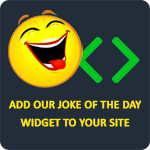 Q: What do you call a Mexican that lost his car?
A: Carlos.
Steven Casby
Two fish are in a tank. One turns to the other and says, "Hey, do you know how to drive this thing?"
Anonymous
Q: What did the banana say to the doctor?
A: "I'm not peeling well."
TheLaughFactory
Q: What's the best thing about Switzerland?
A: I don't know, but the flag is a big plus.
TheLaughFactory
Why did Humpty Dumpty push his girlfriend off the wall?
So he could see her crack!
Anonymous