Categories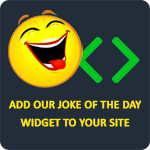 Why did Tigger stick his head in the toilet? He was looking for Pooh!
cbusch
Q: How can you get four suits for a dollar?
A: Buy a deck of cards.
TheLaughFactory
Why did Humpty Dumpty push his girlfriend off the wall?
So he could see her crack!
Anonymous
I'm thinking of becoming a hitman... I heard they make a killing.
Anonymous
Q: Did your hear about the man with a broken left arm and broken left leg?
A: Don't worry he's "ALRIGHT" now!
Brucey