Categories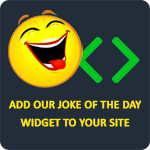 One night a lady came home from her weekly prayer meeting, found she was being robbed, and she shouted out, "Acts 2:38: 'Repent & be baptized & your sins will be forgiven.'" The robber quickly gave up & the lady rang the police. While handcuffing the criminal, a policeman said, "Gee mate, you gave up pretty easily. How come you gave up so quickly?" The robber said, "She said she had an axe and two 38's!"
Nina Jobling
Q: How do trees access the internet?
A: They log in.
Kimberly Mauldin
Q: What is the tallest building in the entire world?
A: The library, because it has so many stories.
Razor
Q: What do an old person, a Mexican man, and a high school student close to graduation have in common?
A: They're all seniors.
LadyHaha
Two men broke into a drugstore and stole all the Viagra. The police put out an alert to be on the lookout for the two hardened criminals.
Mark My Words