Categories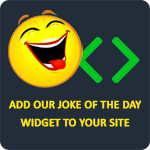 Q: How do trees access the internet?
A: They log in.
Kimberly Mauldin
Q: What did the big chimney say to the little chimney?
A: "You're too young to smoke."
Terence Olivier
Q: What nails do carpenters hate to hit?
A: Fingernails.
TheLaughFactory
Q: What's the difference between a cat and a complex sentence?
A: A cat has claws at the end of its paws and a complex sentence has a pause at the end of its clause.
Anonymous
Q: What is the lightest thing in the world?
A: A penis because just a thought can lift it.
Anonymous