Categories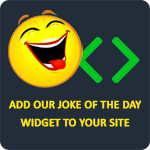 Q: What do an old person, a Mexican man, and a high school student close to graduation have in common?
A: They're all seniors.
LadyHaha
Q: Why is England the wettest country?
A: Because so many kings and queens have been reigning there.
Joke maker
Q: What do you call two Mexicans playing basketball?
A: Juan on Juan.
Anonymous
Q: What's the best thing about Switzerland?
A: I don't know, but the flag is a big plus.
TheLaughFactory
A man speaks frantically into the phone, "My wife is pregnant, and her contractions are only two minutes apart!" "Is this her first child?" the doctor queries. "No, you idiot!" the man shouts. "This is her husband!"
rigocarr86