Categories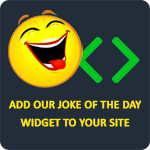 What does an old person, a Mexican man, and a high school student close to graduation have in common? They're all seniors.
LadyHaha
Have you heard about the crime in multi-story parking decks? It's just wrong on so many levels.
Anonymous
Little Johnny's friend calls to invite him over, but little Johnny says, "I can't, I'm grounded." His friend asks, "Why?" and he replies, "My mom called me a son of a bitch, and I said, 'Yup, you got that right.'"
snowmancpt
One night a lady came home from her weekly prayer meeting, found she was being robbed, and she shouted out, "Acts 2:38: 'Repent & be baptized & your sins will be forgiven.'" The robber quickly gave up & the lady rang the police. While handcuffing the criminal, a policeman said, "Gee mate, you gave up pretty easily. How come you gave up so quickly?" The robber said, "She said she had an axe and two 38's!"
Nina Jobling
What do cars eat on their toast? Traffic jam.
Anonymous