Categories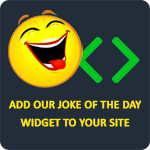 A neutron walks into a bar and says, "I'd like a beer. How much will that be?" The bartender responds, "For you? No charge!"
Anonymous
A little kid was out trick-or-treating on Halloween dressed as a pirate. He rang a house's doorbell and the door was opened by a lady. "Oh, how cute! A little pirate! And where are your buccaneers?" she asked. The boy replied, "Under my buckin' hat."
Mark My Words
Mother superior tells two new nuns that they have to paint their room without getting any paint on their clothes. One nun suggests to the other, "Hey, let's take all our clothes off, fold them up, and lock the door." So they do this, and begin painting their room. Soon they hear a knock at the door. They ask, "Who is it?" "Blind man!" The nuns look at each other and one nun says, "He's blind, so he can't see. What could it hurt?" They let him in. The blind man walks in and says, "Hey, nice tits. Where do you want me to hang the blinds?"
Anonymous
A man was driving and saw a truck stalled on the side of the highway that had ten penguins standing next to it. The man pulled over and asked the truck driver if he needed any help. The truck driver replied, "If you can take these penguins to the zoo while I wait for AAA that will be great!" The man agreed and the penguins hopped into the back of his car. Two hours later, the trucker was back on the road again and decided to check on the penguins. He showed up at the zoo and they weren't there! He headed back into his truck and started driving around the town, looking for any sign of the penguins, the man, or his car. While driving past a movie theater, the truck driver spotted the guy walking out with the ten penguins. The truck driver yelled, "What are you doing? You were supposed to take them to the zoo!" The man replied, "I did and then I had some extra money so I took them to go see a movie."
solotime
To the optimist, the glass is half full. To the pessimist, the glass is half empty. To the engineer, the glass is twice as big as it needs to be.
amuradi