Categories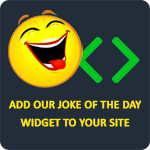 Two men broke into a drugstore and stole all the Viagra. The police put out an alert to be on the lookout for the two hardened criminals.
Mark My Words
What do cars eat on their toast? Traffic jam.
Anonymous
Q: How can you get four suits for a dollar?
A: Buy a deck of cards.
TheLaughFactory
A teacher asked her students to use the word "beans" in a sentence. "My father grows beans," said one girl. "My mother cooks beans," said a boy. A third student spoke up, "We are all human beans."
XD XD XD XD
19 Irishmen go to a cinema. Ticket lady says, "Why are there so many of you here tonight?" Mick replies, "The fillm says 18 and over, miss."
iq81