Categories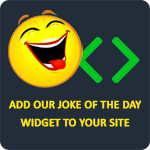 Q: Why is England the wettest country?
A: Because so many kings and queens have been reigning there.
Joke maker
Q: What did Obi-Wan say to Luke at the breakfast table?
A: "Use the fork, Luke."
The master
How do you embarrass an archaeologist? Show him a used tampon and ask, "What period is this from?"
jakethasnake92
Q: What do you call two Mexicans playing basketball?
A: Juan on Juan.
Anonymous
Q: What is the lightest thing in the world?
A: A penis because just a thought can lift it.
Anonymous