Categories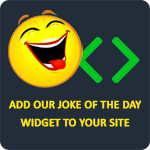 19 Irishmen go to a cinema. Ticket lady says, "Why are there so many of you here tonight?" Mick replies, "The fillm says 18 and over, miss."
iq81
Instead of "the John," I call my toilet "the Jim." That way it sounds better when I say I go to the Jim first thing every morning.
Rudy T. Monkey
What is the longest word in the English language? SMILES - There is a mile between the first and last letters!
beauty94
I'm thinking of becoming a hitman... I heard they make a killing.
Anonymous
A mushroom walks into a bar and the bartender says, "Hey, didn't you read the sign? It says 'No mushrooms!'" The mushroom replies, "C'mon man, I'm a fungi!"
ekpeltzer