Categories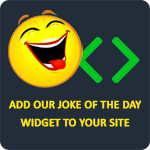 Did you hear about the Italian chef that died? Yeah, he pasta way.
Anonymous
Q: What do you call a midget psychic who just escaped from prison? A: A small medium at large.
TheLaughFactory
Two drunks are sitting in a bar when one of them turns to the other one and asks, "Hey, isn't that Hortense?" The other drunk chimes in and says, "No, she looks pretty relaxed to me."
Mark My Words
A man is telling his neighbor, "I just bought a new hearing aid. It cost me $4000, but it's state of the art. It's perfect." "Really?" answers the neighbor. "What kind is it?" "12:30."
Anonymous
Mother superior tells two new nuns that they have to paint their room without getting any paint on their clothes. One nun suggests to the other, "Hey, let's take all our clothes off, fold them up, and lock the door." So they do this, and begin painting their room. Soon they hear a knock at the door. They ask, "Who is it?" "Blind man!" The nuns look at each other and one nun says, "He's blind, so he can't see. What could it hurt?" They let him in. The blind man walks in and says, "Hey, nice tits. Where do you want me to hang the blinds?"
Anonymous