Categories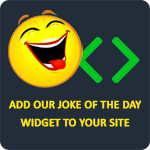 Ever wonder how black people get so tall? It's because their knee grows!
MrJohnson
A string walks into a bar and orders a drink. The bartender turns to him and says, "Sorry, sir, we don't serve strings here." The next day, clinging to a thread, the string returns to that same bar and orders a drink again. The bartender, resolute, again turns and says, "I'm sorry, sir, but like I said, we don't serve strings here. I'm going to have to ask you not to return." Dejected, the string returns home. All night he tosses and turns, wriggles and writhes, and awakes the next morning not at all resembling himself. Catching a glimpse of himself in the mirror, he brightens and jets out his door to that bar. Swaggering in, he orders a drink one more time. The bartender stares at him, squinty eyed, and asks, "I'm sorry, are you a string? You look very familiar." The string locks eyes with the bartender, and states, "No, sir. I'm a frayed knot."
missrose
What did Pink Panther say when he stepped on an ant? "Dead ant, dead ant, dead ant, dead ant, dead ant."
timwk
Little Johnny's friend calls to invite him over, but little Johnny says, "I can't, I'm grounded." His friend asks, "Why?" and he replies, "My mom called me a son of a bitch, and I said, 'Yup, you got that right.'"
snowmancpt
I bet the butcher $50 that he couldn't reach the meat off the top shelf. He said, "No, the steaks are too high."
Anonymous