Categories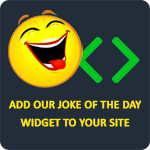 Q: What do an old person, a Mexican man, and a high school student close to graduation have in common?
A: They're all seniors.
LadyHaha
Q: What do you call two Mexicans playing basketball?
A: Juan on Juan.
Anonymous
Did you hear about the guy whose whole left side was cut off? He's all right now.
LOLLYPOP
Q: Why is England the wettest country?
A: Because so many kings and queens have been reigning there.
Joke maker
Q: What's the best thing about Switzerland?
A: I don't know, but the flag is a big plus.
TheLaughFactory