40 Acres and A Mule
By Paul Mooney
Jun 28, 2016
Black is a very negative thing in America.
For Instance, if the stock market was going to crash, they have Black Monday. You hear someone in court say, "It was the darkest day of my life." They run over a family and say they "blacked out." It's a funeral, "I have to wear black." Please pick up the white courtesy telephone. As opposed to what? The black rude phone?
The white zone is for loading and unloading only. What is the black one for? Shoplifting?
As a black person living in America I find it interesting that during slavery we worked from sun-up to sundown and they could never think of enough for us to do. There were so many jobs and now that we are free, there are no jobs. There is something wrong with this picture.
When we were slaves we lived in their houses, we dressed their kids, we cooked their food, we warmed their beds. There was no central heating…but now that we are free, they don't want us in their neighborhoods. There is something wrong with this picture. Agreed?
So that means if slavery comes back to America tomorrow white people will be on their porch steps saying, "Welcome home." We will all be working.
When Lincoln freed the slaves, they were promised forty acres of land and a mule. My final message to black people is to write your congressman and register yourself to claim the forty acres and mule you were promised. American Indians got their reservations; Japanese got their compensation for World War ll.
We Blacks are still waiting.
This article was originally published in April of 1994 and is part of our Legacy series. Take a look back and laugh with some of the greatest voices in comedy history. 
In This Story PAUL MOONEY,BLACK IN AMERICA,MINORITIES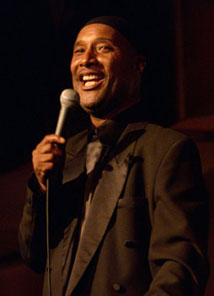 Paul Mooney
Paul Mooney was born in Louisiana and later grew up in Oakland, California. He always found himself writing comedy and telling jokes, which would later help Mooney land his first professional work as a writer for Richard Pryor. Mooney wrote some of Pryor's routines for his appearance on Saturday Night Live, co-wrote his material for Richard Pryor Live on the Sunset Strip, Bicentennial N*gger, ...Is It Something I Said? album, and Pryor's film Jo Jo Dancer, Your Life Is Calling. As the head writer for The Richard Pryor Show, he gave many young stand up comics such as Robin Williams, Sandra Bernhard, Marsha Warfield, John Witherspoon, and Tim Reid their first break into show business.
Recommended