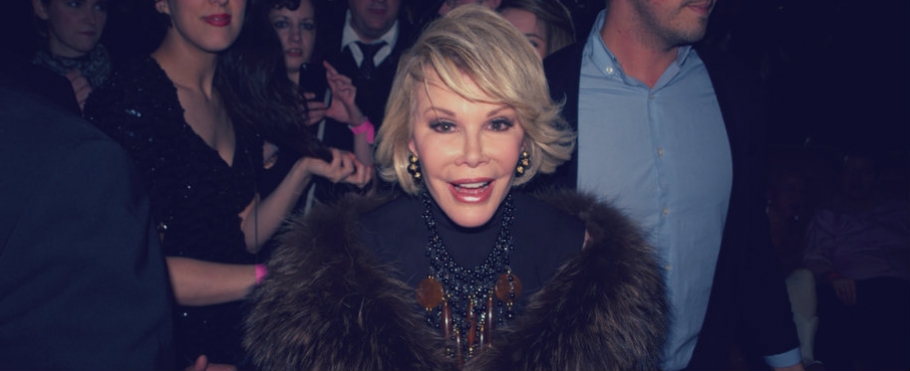 Credit: david_shankbone via flickr
Interview with the World's Funniest Broad: Joan Rivers
By Jamie Masada
Jul 05, 2016
Go back to a time that Laugh Factory founder Jamie Masada sat down with Joan Rivers at Spago's Restaurant in Hollywood. Here's Joan as we remember her -- down to earth and funny. Always funny. 
The Laugh Factory Magazine: I hope you don't mind being interviewed by an exotic foreigner.
Joan Rivers: I'm delighted. Are you a comedian also?
LFM: Yes. As a matter of fact, I'm a foreign exchange comedian. What advice would you have for a new comedian, such as myself, when he works a club?
Rivers: Make sure the check is good, leave them laughing, and always paper the toilet seat.
LFM: When you first began your career, did you have any problems with hecklers in the clubs?
Rivers: At first, my act was so terrible, I was heckled by mutes.
LFM: Where did you get your sense of humor? Is it due to rough childhood?
Rivers: My parents hated me. My mother bought me my first bath toy -- a radio. My father's nicest compliment was, "At least you've stopped shedding."
LFM: Do you have any groupies?
Rivers: Yes. He's around 85 but he thinks young. He has given me a sense of self-worth, not to mention this ring...and herpes.
LFM: I think your new album is extremely funny; it had me rolling on the floor. One thing you say on the album is that Princess Grace's two daughters are tramps. Why do you say that?
Rivers: Read the Enquirer. I read the Enquirer and Enquirer tells me these girls are sleeping around. I listen and I believe in what the Enquirer tells me.
LFM: What other famous tramps do you know?
Rivers: Heidi Abromowitz, who is my good, good friend. She buys Vaseline in decorator colors.
LFM: You impress me as being quite an attractive woman. How would you rate yourself on a scale of one to ten?
Rivers: Minus six.
LFM: Do you have anything in common with Dolly Parton or Twiggy?
Rivers: A lot in common with both of them: With Twiggy, my top matches, and with Dolly Parton, my bottom matches.
LFM: Do you have any desire to look like Bo Derek?
Rivers: Oh sure, I think every woman would like to look like Bo Derek. A lot of my male friends would like to look like Bo Derek, also.
LFM: Did you see the movie E.T.?
Rivers: Yes.
LFM: Did he remind you of any men you've gone out with?
Rivers: Any men? No, E.T. actually reminded me of Jackie Onassis without makeup.
LFM: Do you think you have to have connections to become a successful comedian?
Rivers: Oh no, no! If Hitler came back with six jokes, he'd make The Tonight Show.
LFM: What's the funniest thing you've ever heard?
Rivers: My husband proposing to me. I was in shock. He wanted desperately to become a citizen; he was in the country illegally and he was being deported. He was proposing me through a police wagon.
LFM: What's the funniest joke you've heard lately?
Rivers: What's the difference between a pig and a fox?
LFM: What?
Rivers: Six drinks.
LFM: One final off-the-wall question: If you ever won an Oscar, what would your speech be?
Rivers: I would take out a piece of paper with 22,000 names, and spend the entire hour thanking everybody until America went crazy.
LFM: Uh, Joan, before I leave, could you give me Heidi Abromowitz's phone number?
********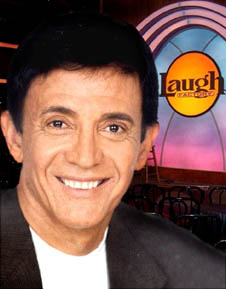 Jamie Masada
Jamie Masada is an American businessman and comedian. He is the founder of the Laugh Factory, which was created three decades ago to help pay comedians their fair share.