Allan Stephan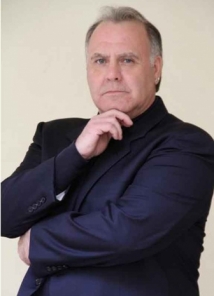 Allan Stephan has made a name for himself on the stand up scene with a brand of conversational humor coupled with finely honed improvisational skills.

A longtime veteran of the comedy club circuit, Stephan has a much deserved reputation as one of the quickest and funniest off-the-cuff comics working today. Stephan has been able to take his best material and work the audience based upon what they want to hear and talk about.

He has headlined every major club in the country, and for six years played to sold-out casinos and arenas with the notorious Outlaws of Comedy starring comedian Sam Kinison.

He's also opened for many famous acts including Harry Belafonte, Tony Bennett, and Smokey Robinson, just to name a few.

Stephan turned to writing in the mid-90s and soon became the executive producer on the hit television show Roseanne and served as co-executive producer on HBO's Arli$$.

He was nominated for a WGA Award in 2007 for the show he co-created, Assume the Position with Mr. Wuhl on HBO. Stephan was also nominated two times for an NAACP Image Award and has been recognized with a Humanitas Certificate for his television writing contributions that enrich the human condition. Stephan's done many pilots and specials along the way including some for MTV, Disney, Nickelodeon, and Sony.

Stephan's humor can best be described as a cross between the down-home manner of your favorite uncle and the acerbic tongue of a Doonesbury or Far Side comic strip.

To quote a recent reviewer, "Stephan's refreshing act turns on audience participation. The way he bounces lines off each person he approaches and integrates members of the audience into his comic patter is remarkable. This constant interaction, coming with ease and agility appears more natural than rehearsed and bonds the performer and audience in more ways than laughter."
SORRY, CONTENT ACCESS RESTRICTED
This video contains TV-MA rated content. To access this video, you must register, provide your birthdate, and opt-in to receiving TV-MA rated content
This video is only available in an uncensored version. To access this video, you must register, provide your birth date, and opt-in to receiving uncensored content.
Cancel