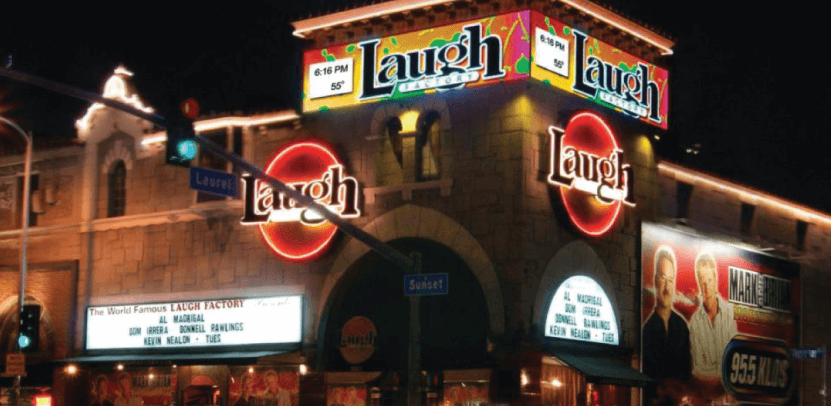 Laugh Factory History
Since 1979
Opening its doors in 1979, the World Famous Laugh Factory has been recognized as "the #1 comedy club in the country" by such high-profile media as USA Today. With southern California locations in Hollywood (its original Sunset Boulevard locale) and Long Beach (opened in 2008), comedy's top stars, as well as today's brightest emerging talent, shine on its legendary stage.
Founder Jamie Masada, the driving force behind the Laugh Factory, is revered as a pioneer and innovator and is an iconic name on the comedy scene. He was and continues to be instrumental in launching the careers of many of today's biggest comics. The New York Daily News called him the "Real King of Comedy." His knowledge and expertise have made him the leading authority on all things comedy and his advice is highly regarded by the entertainment industry's top power brokers.
Among the comedians who have performed at the club are Tim Allen, Louie Anderson, Roseanne Barr, Milton Berle, David Brenner, Nick Cannon, Drew Carey, George Carlin, Jim Carrey, Dave Chappelle, Dane Cook, Rodney Dangerfield, Ellen DeGeneres, Phyliss Diller, Jeff Dunham, Jeff Foxworthy, Redd Foxx, Brad Garrett, Eddie Griffin, Kathy Griffin, Buddy Hackett, Bob Hope, Andy Kaufman, Sam Kinison, Martin Lawrence, Jay Leno, David Letterman, Richard Lewis, Goerge Lopez, Bernie Mac, Bill Maher, Howie Mandel, Carlos Mencia, Larry Miller, Mo'Nique, Paul Mooney, Eddie Murphy, Kevin Pollack, Richard Pryor, Paul_Reiser, Chris Rock, Paul Rodriguez, Ray Romano, Bob Saget, Mort Sahl, Adam Sandler, Jerry Seinfeld, Garry Shandling, Sarah Silverman, Jon Stewart, Wanda Sykes, Chris Tucker, Damon Wayans, Keenan Ivory Wayans, Flip Wilson, Robin Williams, Jonathan Winters, Steven Wright, Henry Youngman and many, many more. In 2006, the Laugh Factory made headlines when Michael Richards launched into an unfortunate racist outburst toward two African American men heckling him during a routine. In response, the club banned comedians from using the "n-word" in their acts. Less than a month later, the first incident under the new rule occurred with Damon Wayans dropping the word 16 times in a 20 minute set. He was fined $320 ($20 for each offense) and banned from performing at the venue for three months.
A former stand up himself, Masada is a sought-after consultant and successful producer of comedy franchises for both film and television. He served as a producer for Damon Wayan's film, Behind the Smile, which was shot on location at the Laugh Factory's Hollywood location, and Disney's RocketMan. Currently in development are the feature films Blackxican, in association with Paul Rodriguez and Paul Mooney, and with Dom Irrera, Goombas of Comedy.
Masada created and is the executive producer of Supreme Court of Comedy, a half-hour, unscripted series he developed which is currently entering its fourth season on DirecTV. Filmed at the Hollywood Club, real-life complaints are heard before comedian and "Chief Justice" Dom Irrera, who hands out hilarious (and surprisingly just) rulings. Guest starring as "Court Counselors" is a who's who of today's top comics.
'Chaim Hollywood, which debuted on The Jewish Channel (TJC) in September 2010, is a comedy series showcasing Judaism's top talent with comedy, music, and talk. Currently in development is Laugh Factory Open Mic for DirecTV and GI Comedy Throwdown, a contemporary take on the traditional USO Comedy Specials.
Masada was also a casting consultant for Fox's In Living Color, a ground-breaking and sometimes controversial series which showcased African American humor, music, and culture. Masada was instrumental in championing the casting of both Jim Carrey (one of the few white cast members) and Jamie Foxx, not only helping to ensure the success of the show, but fast-tracking the two aspiring, young comedians' careers.