Categories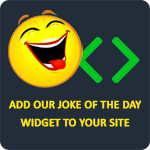 A husband and wife are trying to set up a new password for their computer. The husband puts, "Mypenis," and the wife falls on the ground laughing because on the screen it says, "Error. Not long enough."
Jilbo
Wife: "How would you describe me?"
Husband: "ABCDEFGHIJK."
Wife: "What does that mean?"
Husband: "Adorable, beautiful, cute, delightful, elegant, fashionable, gorgeous, and hot."
Wife: "Aw, thank you, but what about IJK?"
Husband: "I'm just kidding!"
tiya
The teacher asked Jimmy, "Why is your cat at school today Jimmy?" Jimmy replied crying, "Because I heard my daddy tell my mommy, 'I am going to eat that p*ssy once Jimmy leaves for school today!'"
elainekill
Little Sally came home from school with a smile on her face, and told her mother, "Frankie Brown showed me his weenie today at the playground!" Before the mother could raise a concern, Sally went on to say, "It reminded me of a peanut." Relaxing with a hidden smile, Sally's mom asked, "Really small, was it?" Sally replied, "No, salty." Mom fainted.
ezmoney
There was this guy at a bar, just looking at his drink. He stays like that for a half hour. Then a big trouble making truck driver steps next to him, takes the drink from the guy, & just drinks it all down. The poor man starts crying. The truck driver says, "Come on man, I was just joking. Here, I'll buy you another drink. I just can't stand to see a man cry." "No, it's not that," the man replies, wiping his tears, "This day is the worst of my life. First, I oversleep & I go in late to my office. My outraged boss fires me. When I leave the building to go to my car, I find out it was stolen. The police say they can do nothing. I get a cab to go home, & when I get out, I remember I left my wallet. The cab driver just drives away. I go inside my house where I find my wife in bed with the gardener. I leave my home, come to this bar, & just when I was thinking about putting an end to my life, you show up & drink my poison."
Thommy53