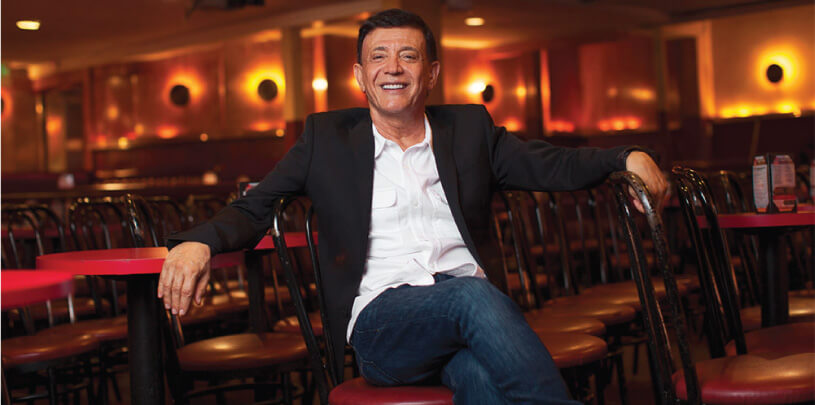 Jamie Masada
FOUNDER AND CEO, LAUGH FACTORY, INC.
Masada's passion for comedy started at age six in Iran when his father, a cantor and accordion player, rewarded him for behaving well by taking him to the window of a local television repair shop to watch The Three Stooges. Although the reception was poor and they couldn't hear the dialog, the youngster was mesmerized as his father improvised. "I laughed until I cried," he recalls. Years later, at a wedding celebration in Israel, a Hollywood producer encountered Masada doing an imitation of The Three Stooges and encouraged his father to send the young talent to America. Confident in his son's abilities, Masada's father pawned his beloved accordion to help raise the necessary funds.
Just 14 years old, Masada arrived in the US in 1977 with little more than the shirt on his back and a sense of humor. Sleeping in a garage, he juggled odd jobs to survive and send money home to his family. However, none of these obstacles deterred him from his passion for comedy. "My father once told me," he recalls, "making people laugh is the greatest mitzvah of all." Although he barely spoke English (Farsi mixed with a little Hebrew), Masada soon began performing at a local comedy venue and was taken under the wings of such comedic geniuses as Richard Pryor, Paul Mooney, and Tom Dreesen.
Two years later, inspired by a dispute over comedy club owners in Los Angeles refusing to pay comedians, and with a $10,000 loan from writer/producer Neal Israel (Bachelor Party, Moving Violations, Police Academy, Real Genius, Finding Neverland), Masada founded the Laugh Factory on the historic Sunset Boulevard building, once occupied by Groucho Marx. Intent on paying performers fairly by "splitting the door," the first comedian to take the stage was Richard Pryor, who not only declined his split (a whopping $3.50), but handed Masada – who was sleeping in the club – a $100 bill on which he wrote, "you need this for your rent, boy."
More than 32 years later, Masada is not only paying the rent at the now legendary club, but is a dedicated philanthropist. With a strong belief that "laughter is the best medicine," Masada works extensively with underprivileged children and the homeless (feeding and entertaining those in need), and is a staunch supporter of struggling artists. Every year since 1979, Masada has opened his club for Thanksgiving and Christmas, dishing up free dinners to the homeless and up-and-coming artists, as well as providing some much needed comedic relief. Additionally, Masada sponsors free services during Judaism's High Holy Days.
In 1985, Masada launched Laugh Factory's Comedy Camp for under-priviledged kids and, to date, has worked with more than 1,000 disadvantaged children, ages 9-16, from lower-income neighborhoods. Meeting for 10 Saturdays each summer, top comedians - including Tim Allen, Jim Carrey, Dave Chappelle, Dane Cook, Jamie Foxx, George Lopez, Jon Lovitz, Richard Pryor, Chris Rock, Paul Rodriguez, Bob Saget, Adam Sandler, Chris Tucker, Damon Wayans, Shawn Wayans, among others - coach the youth, who also enjoy food and field trips. The mentoring and encouragement that kids receive at Comedy Camp instills them with the confidence required in public speaking and to achieve their dreams. "Laughter is healing," says Masada, who refers to them as "my kids," maintaining a relationship with many of them throughout the years, and is a "Hebrew Kris Kringle" during the holidays.
For his humanitarian effors, Masada has been recognized with numerous awards, including the NAACP Freedom Award, The Ellis Island Medal of Honor, and the ACLU Freedom of Speech Award, to name a few. Most recently, in Spring 2011, Masada was presented with an award for being a Comedy Innovator and Humanitarian by Didi Hirsch Mental Health Services.