Categories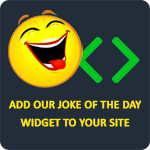 A child asked his father, "How were people born?" So his father said, "Adam and Eve made babies, then their babies became adults and made babies, and so on." The child then went to his mother, asked her the same question and she told him, "We were monkeys then we evolved to become like we are now." The child ran back to his father and said, "You lied to me!" His father replied, "No, your mom was talking about her side of the family."
Anonymous
Q: Why are ghosts bad liars?
A: You can see right through them.
Capricorn37
Yo momma is so fat when she got on the scale it said, "I need your weight not your phone number."
swaggerboy
What did God say when he made the first black man? "Damn, I burnt one."
joe to good
Do not be racist , be like Mario. He's an italian plumber, made by Japanese people, who speaks english, looks like a mexican, jumps like a black man, and grabs coins like a jew!
Andrew