Categories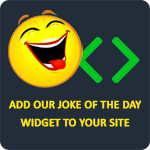 Yo momma is so fat, I took a picture of her last Christmas and it's still printing.
Its More Fun In The Philippines!
Yo momma is so fat when she got on the scale it said, "I need your weight not your phone number."
swaggerboy
A husband got his mother-in-law a cemetery plot for Christmas. It came with a coffin, tomb stone, the works. Next Christmas comes by and the husband gets her nothing. When the mother-in-law asks, "Why didn't you get me a gift?" the husband says, "You haven't used the one I got you last year!"
Squishy1717
Wife: "I look fat. Can you give me a compliment?"
Husband: "You have perfect eyesight."
coloured pencils
10 Facts About You:
1. You're reading this now.
2. You're realizing that this is a stupid fact.
4. You didn't notice I skipped number 3.
5. You're checking now.
6. You're smiling.
7. You're still reading this even though it is stupid.
9. You didn't realize I skipped number 8.
10.You're checking again and smiling because you fell for it again.
11. You're enjoying this.
12. You didn't realize I said 10 facts not 12.
Joke maker