Categories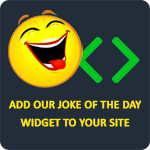 A mother is in the kitchen making dinner for her family when her daughter walks in. "Mother, where do babies come from?" The mother thinks for a few seconds and says, "Well dear, Mommy and Daddy fall in love and get married. One night they go into their bedroom, they kiss and hug, and have sex." The daughter looks puzzled so the mother continues, "That means the daddy puts his penis in the mommy's vagina. That's how you get a baby, honey." The child seems to comprehend. "Oh, I see, but the other night when I came into your room you had daddy's penis in your mouth. What do you get when you do that?" "Jewelry, my dear. Jewelry."
Tatauaje13
Give a man a fish and he will eat for a day. Teach him how to fish and he will sit in a boat and drink beer all day.
TheLaughFactory
Yo momma is so stupid when an intruder broke into her house, she ran downstairs, dialed 9-1-1 on the microwave, and couldn't find the "CALL" button.
Anonymous
Yo momma is so fat that Dora can't even explore her!
Haydenjr1
Yo momma is so hairy, when she went to the movie theater to see Star Wars, everybody screamed and said, "IT'S CHEWBACCA!"
Angel Stalone