Categories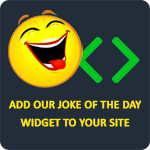 Wife: "I look fat. Can you give me a compliment?"
Husband: "You have perfect eyesight."
coloured pencils
A child asked his father, "How were people born?" So his father said, "Adam and Eve made babies, then their babies became adults and made babies, and so on." The child then went to his mother, asked her the same question and she told him, "We were monkeys then we evolved to become like we are now." The child ran back to his father and said, "You lied to me!" His father replied, "No, your mom was talking about her side of the family."
Anonymous
An elephant and a camel are talking. The elephant asks, "Why do you have boobs on your back?" The camel replies, "Ha! That's a funny question coming from an animal with a penis hanging from his face."
dakota harjo
Yo momma is so fat, I took a picture of her last Christmas and it's still printing.
Its More Fun In The Philippines!
Yo momma is so fat when she got on the scale it said, "I need your weight not your phone number."
swaggerboy