Categories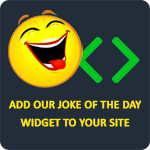 Yo momma is so fat that when she went to the beach a whale swam up and sang, "We are family, even though you're fatter than me."
Anonymous
A boy is selling fish on a corner. To get his customers' attention, he is yelling, "Dam fish for sale! Get your dam fish here!" A pastor hears this and asks, "Why are you calling them 'dam fish.'" The boy responds, "Because I caught these fish at the local dam." The pastor buys a couple fish, takes them home to his wife, and asks her to cook the dam fish. The wife responds surprised, "I didn't know it was acceptable for a preacher to speak that way." He explains to her why they are dam fish. Later at the dinner table, he asks his son to pass the dam fish. He responds, "That's the spirit, Dad! Now pass the f*cking potatoes!"
bandajoey92
A blonde goes into a nearby store and asks a clerk if she can buy the TV in the corner. The clerk looks at her and says that he doesn't serve blondes, so she goes back home and dyes her hair black. The next day she returns to the store and asks the same thing, and again, the clerk said he doesn't serve blondes. Frustrated, the blonde goes home and dyes her hair yet again, to a shade of red. Sure that a clerk would sell her the TV this time, she returns and asks a different clerk this time. To her astonishment, this clerk also says that she doesn't serve blondes. The blonde asks the clerk, "How in the world do you know I am a blonde?" The clerk looks at her disgustedly and says,"That's not a TV, it's a microwave!"
oscarbejarano
Teacher: "Kids,what does the chicken give you?"
Student: "Meat!"
Teacher: "Very good! Now what does the pig give you?"
Student: "Bacon!"
Teacher: "Great! And what does the fat cow give you?"
Student: "Homework!"
Anonymous
Yo mamma is so ugly when she tried to join an ugly contest they said, "Sorry, no professionals."
Anonymous