Categories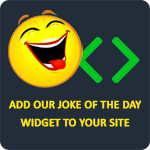 Yo momma's so fat and old when God said, "Let there be light," he asked your mother to move out of the way.
Anonymous
What did God say when he made the first black man? "Damn, I burnt one."
joe to good
Three nuns are talking. The first nun says, "I was cleaning in Father's room the other day and do you know what I found? A bunch of pornographic magazines." "What did you do?" the other nun asks. "Well, of course I threw them in the trash." The second nun says, "Well, I can top that. I was in Father's room putting away the laundry and I found a bunch of condoms!" "Oh my!" gasp the other nuns. "What did you do?" they ask. "I poked holes in all of them!" she replies. The third nun faints.
Anonymous
There was a blonde, a redhead, and a brunette. They were all trapped on an island and the nearest shore was 50 miles away. The redhead swam trying to make it to the other shore she swam 15 miles, drowned, and died. The brunette swam 24 miles, drowned, and died. The blonde swam 25 miles, got tired, and swam back.
Donovan
Q: Why can't a blonde dial 911?
A: She can't find the eleven.
TheLaughFactory