Categories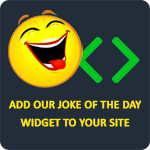 A woman was nagging her husband to cut the grass, to which the husband answered, "What do I look like to you? A landscaper?!" Next time the sink was dripping, she asked him again, "Honey, can you fix the faucet?" The husband replied, "What do I look like to you? A Plumber?!" Two days later, a light bulb went out and she begged him again, "Honey, can you change the light bulb?" His reply was, "What am I? An electrician?!" A few days later, the husband comes home from work to find that the lawn is cut, the faucet is fixed, the light bulb is changed. Very surprised, he says, "Honey, what happened here?" The wife replies, "You know our new next door neighbor? He came over and fixed everything." The husband says, "Honey, how did you pay him?!" "Oh, you know," the wife says, "he told me that I could either bake him a cake or have sex with him." Somewhat relieved the husband asks, "Whew, so what kind of a cake did you bake for him?" The wife replies, "Who do you think I am? Betty Crocker?!"
robrob13
A child asked his father, "How were people born?" So his father said, "Adam and Eve made babies, then their babies became adults and made babies, and so on." The child then went to his mother, asked her the same question and she told him, "We were monkeys then we evolved to become like we are now." The child ran back to his father and said, "You lied to me!" His father replied, "No, your mom was talking about her side of the family."
Anonymous
A man and woman had been married for 30 years, and in those 30 years, they always left the lights off when having sex. He was embarrassed and scared that he couldn't please her, so he always used a big dildo on her. All these years she had no clue. One day, she decided to reach over and flip the light switch on and saw that he was using a dildo. She said "I knew it, asshole, explain the dildo!" He said, "Explain the kids!"
skylertouchet
Do not be racist , be like Mario. He's an italian plumber, made by Japanese people, who speaks english, looks like a mexican, jumps like a black man, and grabs coins like a jew!
Andrew
A blind guy on a bar stool shouts to the bartender, "Wanna hear a blonde joke?" In a hushed voice, the guy next to him says, "Before you tell that joke, you should know something. Our bartender is blonde, the bouncer is blonde. I'm a six foot tall, 200 lb black belt. The guy sitting next to me is six foot two, weighs 225, and he's a rugby player. The fella to your right is six foot five, pushing 300, and he's a wrestler. Each one of us is blonde. Think about it, Mister. Do you still wanna tell that joke?" The blind guy says, "Nah, not if I'm gonna have to explain it five times."
sendmeluck