Categories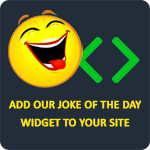 One day in class, the teacher brought a bag full of fruit and said, "Now class, I'm going to reach into the bag and describe a piece of fruit and you tell me which fruit I'm talking about. Alright, the first one is round, plump, and red. Little Johnny raised his hand high but the teacher ignored him and picked Deborah who promptly answered, "Apple." The teacher replied, "No Deborah, it's a beet, but I like your thinking. Now the second one is soft, fuzzy and colored red and brown." Johnny is hopping up and down in his seat trying to get the teacher to call on him but she calls on Billy. "Is it a peach?" Billy asks. "No, it's a potato, but I like your thinking," the teacher replies. "Okay the next one is long, yellow, and fairly hard." Johnny is about to explode as he waves his hand frantically but the teacher calls on Sally who say, "A banana." The teacher responds, "No, it's a squash, but I like your thinking." Johnny is irritated now so he speaks up loudly, "Hey, I've got one for you teacher. Let me put my hand in my pocket. Okay, I've got it. It's round, hard, and it's got a head on it." "Johnny!" she cries, "That's disgusting!" "Nope," answers Johnny, "It's a quarter, but I like your thinking!"
jonmcginty
Do not be racist; be like Mario. He's an Italian plumber, who was made by the Japanese, speaks English, looks like a Mexican, jumps like a black man, and grabs coins like a Jew!
Andrew
There were two cannibals who captured a man. They decided it would be fair if they started eating from opposite ends. After a few minutes, the one who started at the head asked the other one, "How's it going down there?" And the other one replies, "I'm having a ball!"
WhiteFang333
A family is at the dinner table. The son asks the father, "Dad, how many kinds of boobs are there?" The father, surprised, answers, "Well, son, a woman goes through three phases. In her 20s, a woman's breasts are like melons, round and firm. In her 30s and 40s, they are like pears, still nice, hanging a bit. After 50, they are like onions." "Onions?" the son asks. "Yes. You see them and they make you cry." This infuriated his wife and daughter. The daughter asks, "Mom, how many different kinds of willies are there?" The mother smiles and says, "Well, dear, a man goes through three phases also. In his 20s, his willy is like an oak tree, mighty and hard. In his 30s and 40s, it's like a birch, flexible but reliable. After his 50s, it's like a Christmas tree." "A Christmas tree?" the daughter asks. "Yes, dead from the root up and the balls are just for decoration."
astghik
Give a man a fish and he will eat for a day. Teach him how to fish and he will sit in a boat and drink beer all day.
TheLaughFactory