Categories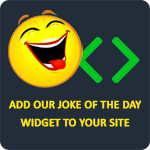 Yo mamma is so ugly when she tried to join an ugly contest they said, "Sorry, no professionals."
Anonymous
What happens to a frog's car when it breaks down?
It gets toad away.
ZDW
A lady goes to the doctor and complains that her husband is losing interest in sex. The doctor gives her a pill, but warns her that it's still experimental. He tells her to slip it into his mashed potatoes at dinner, so that night, she does just that. About a week later, she's back at the doctor, where she says, "Doc, the pill worked great! I put it in the potatoes like you said! It wasn't five minutes later that he jumped up, raked all the food and dishes onto the floor, grabbed me, ripped all my clothes off, and ravaged me right there on the table!" The doctor says, "I'm sorry, we didn't realize the pill was that strong! The foundation will be glad to pay for any damages." "Nah," she says, "that's okay. We're never going back to that restaurant anyway."
Mariah
Why did I get divorced? Well, last week was my birthday. My wife didn't wish me a happy birthday. My parents forgot and so did my kids. I went to work and even my colleagues didn't wish me a happy birthday. As I entered my office, my secretary said, "Happy birthday, boss!" I felt so special. She asked me out for lunch. After lunch, she invited me to her apartment. We went there and she said, "Do you mind if I go into the bedroom for a minute?" "Okay," I said. She came out 5 minutes later with a birthday cake, my wife, my parents, my kids, my friends, & my colleagues all yelling, "SURPRISE!!!" while I was waiting on the sofa... naked.
Anonymous
Ralph is driving home one evening, when he suddenly realizes that it's his daughter's birthday and he hasn't bought her a present. He drives to the mall, runs to the toy store, and says to the shop assistant, "How much is that Barbie in the window?" In a condescending manner, she says, "Which Barbie?" She continues, "We have Barbie Goes to the Gym for $19.95, Barbie Goes to the Ball for $19.95, Barbie Goes Shopping for $19.95, Barbie Goes to the Beach for $19.95, Barbie Goes Nightclubbing for $19.95, and Divorced Barbie for $265.00." Ralph asks, "Why is the Divorced Barbie $265.00 when all the others are only $19.95?" "That's obvious," the saleslady says. "Divorced Barbie comes with Ken's house, Ken's car, Ken's boat, Ken's furniture..."
Andrew