Categories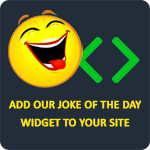 A man kills a deer and takes it home to cook for dinner. Both he and his wife decide that they won't tell the kids what kind of meat it is, but will give them a clue and let them guess. The dad said, "Well it's what Mommy calls me sometimes." The little girl screamed to her brother, "Don't eat it. Its an asshole!
blackray
Yo momma is so fat that when she went to the beach a whale swam up and sang, "We are family, even though you're fatter than me."
Anonymous
What happens to a frog's car when it breaks down?
It gets toad away.
ZDW
Do not be racist , be like Mario. He's an italian plumber, made by Japanese people, who speaks english, looks like a mexican, jumps like a black man, and grabs coins like a jew!
Andrew
When someone yawns, do deaf people think they're screaming?
Anonymous