Categories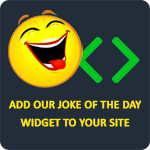 Yo momma is so fat when she got on the scale it said, "I need your weight not your phone number."
swaggerboy
A teacher is teaching a class and she sees that Johnny isn't paying attention, so she asks him, "If there are three ducks sitting on a fence, and you shoot one, how many are left?" Johnny says, "None." The teacher asks, "Why?" Johnny says, "Because the shot scared them all off." The teacher says, "No, two, but I like how you're thinking." Johnny asks the teacher, "If you see three women walking out of an ice cream parlor, one is licking her ice cream, one is sucking her ice cream, and one is biting her ice cream, which one is married?" The teacher says, "The one sucking her ice cream." Johnny says, "No, the one with the wedding ring, but I like how you're thinking!"
rockabillyray
Wife: "I look fat. Can you give me a compliment?"
Husband: "You have perfect eyesight."
coloured pencils
Yo momma is so fat that when she went to the beach a whale swam up and sang, "We are family, even though you're fatter than me."
Anonymous
On Thanksgiving day, a little boy overhears his mom and dad fighting. He hears his mom call his dad a bastard and hears his dad call his mom a bitch. He asks, "Mommy, what does bastard mean?" She answers, "Um, it means boy." Then he asks, "Daddy, what does bitch mean?" He says, "Uh, it means girl." Later that day, the boy sees his father in the bathroom shaving; the dad accidentally cuts himself and says, "Shit." The son asks, "What does shit mean?" The dad says, "It means shaving cream." Then he sees his mom in the kitchen carving the turkey; she accidentally cuts herself and says, "Fuck." The son asks her what that word means and she says, "It means carving." That evening, the family's guests arrive for Thanksgiving dinner. The son opens the door to welcome them and says, "Welcome bitches and bastards! My dad is in the bathroom rubbing shit on face and my mom is in the kitchen fucking the turkey."
JackIsPigs