Categories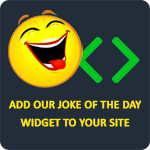 Yo mamma is so ugly when she tried to join an ugly contest they said, "Sorry, no professionals."
Anonymous
Wife: "How would you describe me?"
Husband: "ABCDEFGHIJK."
Wife: "What does that mean?"
Husband: "Adorable, beautiful, cute, delightful, elegant, fashionable, gorgeous, and hot."
Wife: "Aw, thank you, but what about IJK?"
Husband: "I'm just kidding!"
tiya
Whoever invented knock knock jokes should get a no bell prize.
Bradley the Best
A recent worldwide survey showed that out of 2,146,703,436 people, 94% were too lazy to actually read that number.
flolez
A blonde, a redhead, and a brunette were all lost in the desert. They found a lamp and rubbed it. A genie popped out and granted them each one wish. The redhead wished to be back home. Poof! She was back home. The brunette wished to be at home with her family. Poof! She was back home with her family. The blonde said, "Awwww, I wish my friends were here."
Donovan