Categories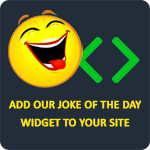 My friend thinks he is smart. He told me an onion is the only food that makes you cry, so I threw a coconut at his face.
funny jokes
Reporter: "Excuse me, may I interview you?"
Man: "Yes!"
Reporter: "Name?"
Man: "Abdul Al-Rhazim."
Reporter: "Sex?"
Man: "Three to five times a week."
Reporter: "No no! I mean male or female?"
Man: "Yes, male, female... sometimes camel."
Reporter: "Holy cow!"
Man: "Yes, cow, sheep... animals in general."
Reporter: "But isn't that hostile?"
Man: "Yes, horse style, dog style, any style."
Reporter: "Oh dear!"
Man: "No, no deer. Deer run too fast. Hard to catch."
Dhunganasaroj3
Do not be racist; be like Mario. He's an Italian plumber, who was made by the Japanese, speaks English, looks like a Mexican, jumps like a black man, and grabs coins like a Jew!
Andrew
A couple are rushing into the hospital because the wife is going into labor. As they walk, a doctor says to them that he has invented a machine that splits the pain between the mother and father. They agree to it and are led into a room where they get hooked up to the machine. The doctor starts it off at 20% split towards the father. The wife says, "Oh, that's actually better." The husband says he can't feel anything. Then the doctor turns it to 50% and the wife says that it doesn't hurt nearly as much. The husband says he sill can't feel anything. The Doctor, now encouraged, turns it up to 100%. The husband still can't feel anything, and the wife is really happy, because there is now no pain for her. The baby is born. The couple go home and find the postman groaning in pain on the doorstep.
MikeyBoi
A black Jewish boy runs home from school one day and asks his father, "Daddy, am I more Jewish or more black?" The dad replies, "Why do you want to know, son?" "Because a kid at school is selling a bike for $50 and I want to know if I should talk him down to $40 or just steal it!"
Anonymous