Categories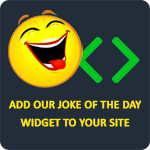 What did God say when he made the first black man? "Damn, I burnt one."
joe to good
A kid walks up to his mom and asks, "Mom, can I go bungee jumping?" The mom says "No, you were born from broken rubber and I don't want you to go out the same way!"
Anonymous
Q: Why can't a blonde dial 911?
A: She can't find the eleven.
TheLaughFactory
There was a blonde, a redhead, and a brunette. They were all trapped on an island and the nearest shore was 50 miles away. The redhead swam trying to make it to the other shore she swam 15 miles, drowned, and died. The brunette swam 24 miles, drowned, and died. The blonde swam 25 miles, got tired, and swam back.
Donovan
A black boy walks into the kitchen where his mother is baking and accidentally pulls the flour over onto his head. He turns to his mother and says, "Look Mama, I'm a white boy!" His mother smacks him and says, "Go tell your Daddy what you just said!" The boy finds his father and says, "Look Daddy, I'm a white boy!" His Daddy bends him over, spanks him, stands the boy back up, and says, "Now, what do you have to say for yourself?" The boy replies, "I've only been a white boy for five minutes and I already hate you black people!"
nghtvisn