Categories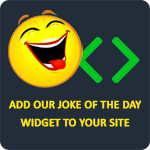 My friend thinks he is smart. He told me an onion is the only food that makes you cry, so I threw a coconut at his face.
funny jokes
Why are asprins white? Because they work!
ScottBackman
How do you blindfold a Chinese person? Put floss over their eyes.
kallen007
Yo momma is so fat her bellybutton gets home 15 minutes before she does.
Anonymous
Yo momma is so stupid she climbed over a glass wall to see what was on the other side.
Anonymous