Categories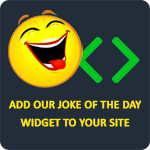 Late one night a burglar broke into a house and while he was sneaking around he heard a voice say, "Jesús is watching you." He looked around and saw nothing. He kept on creeping and again heard, "Jesús is watching you." In a dark corner, he saw a cage with a parrot inside. The burglar asked the parrot, "Was it you who said Jesús is watching me" The parrot replied, "Yes." Relieved, the burglar asked, "What is your name?" The parrot said, "Clarence." The burglar said, "That's a stupid name for a parrot. What idiot named you Clarence?" The parrot answered, "The same idiot that named the rottweiler Jesús."
Mysteryguy9871
How do you blindfold a Chinese person? Put floss over their eyes.
kallen007
Grandma and Grandpa were visiting their kids overnight . When Grandpa found a bottle of Viagra in his son's medicine cabinet, he asked about using one of the pills. The son said, "I don't think you should take one Dad, they're very strong and very expensive." "How much?" asked Grandpa. "$10.00 a pill," answered the son. "I don't care," said Grandpa, "I'd still like to try one, and before we leave in the morning, I'll put the money under the pillow. " Later the next morning, the son found $110 under the pillow. He called Grandpa and said, "I told you each pill was $10, not $110. "I know," said Grandpa. "The hundred is from Grandma!"
nellychokler
Yo momma's so fat, that when she fell, no one was laughing but the ground was cracking up.
LaughFactory
Yo momma is so fat when she got on the scale it said, "I need your weight not your phone number."
swaggerboy