Categories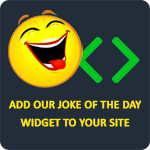 Q: What did the duck say when he bought lipstick?
A: "Put it on my bill."
TheLaughFactory
What happens to a frog's car when it breaks down?
It gets toad away.
ZDW
Do not be racist; be like Mario. He's an Italian plumber, who was made by the Japanese, speaks English, looks like a Mexican, jumps like a black man, and grabs coins like a Jew!
Andrew
A teacher wanted to teach her students about self-esteem, so she asked anyone who thought they were stupid to stand up. One kid stood up and the teacher was surprised. She didn't think anyone would stand up so she asked him, "Why did you stand up?" He answered, "I didn't want to leave you standing up by yourself."
ronald34
Yo momma is so fat when she sat on WalMart, she lowered the prices.
zacky