Categories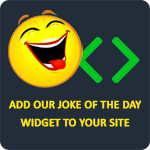 Q: Why do Mexicans eat beans for dinner?
A: So they can take bubble baths.
TheLaughFactory
A bank robber pulls out gun points it at the teller, and says, "Give me all the money or you're geography!" The puzzled teller replies, "Did you mean to say 'or you're history?'" The robber says, "Don't change the subject!"
Darkrose300
How did the medical community come up with the term "PMS"? "Mad Cow Disease" was already taken.
TheLaughFactory
Yo momma's so fat and old when God said, "Let there be light," he asked your mother to move out of the way.
Anonymous
Wife: "How would you describe me?"
Husband: "ABCDEFGHIJK."
Wife: "What does that mean?"
Husband: "Adorable, beautiful, cute, delightful, elegant, fashionable, gorgeous, and hot."
Wife: "Aw, thank you, but what about IJK?"
Husband: "I'm just kidding!"
tiya