Categories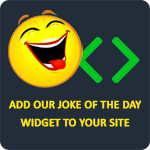 Blonde: "What does IDK stand for?"
Brunette: "I don't know."
Blonde: "OMG, nobody does!"
Anonymous
What happens to a frog's car when it breaks down?
It gets toad away.
ZDW
Two drunks are sitting in a bar when one of them turns to the other one and asks, "Hey, isn't that Hortense?" The other drunk chimes in and says, "No, she looks pretty relaxed to me."
Mark My Words
Q: Why can't a blonde dial 911?
A: She can't find the eleven.
TheLaughFactory
A little girl and boy are fighting about the differences between the sexes, and which one is better. Finally, the boy drops his pants and says, "Here's something I have that you'll never have!" The little girl is pretty upset by this, since it is clearly true, and runs home crying. A while later, she comes running back with a smile on her face. She drops her pants and says, "My mommy says that with one of these, I can have as many of those as I want!"
Anonymous