Categories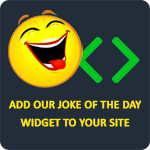 Q: What do you call a nun in a wheelchair? A: Virgin Mobile
Anonymous
A teacher asked her students to use the word "beans" in a sentence. "My father grows beans," said one girl. "My mother cooks beans," said a boy. A third student spoke up, "We are all human beans."
XD XD XD XD
How do you blindfold a Chinese person? Put floss over their eyes.
kallen007
A teacher wanted to teach her students about self-esteem, so she asked anyone who thought they were stupid to stand up. One kid stood up and the teacher was surprised. She didn't think anyone would stand up so she asked him, "Why did you stand up?" He answered, "I didn't want to leave you standing up by yourself."
ronald34
An elderly couple are in church. The wife leans over and whispers to her husband, "I just let out a long, silent fart. What should I do?" The husband replies, "First off, replace the batteries in your hearing aid!"
mtelloibew