Categories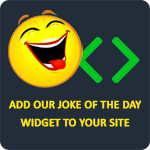 A blonde gets lost and calls for directions. The operator asks which cross streets she's at. The blonde replies, "I'm on the corner of 'Walk' and 'Do Not Walk.' "
moneekers
Why do women make better soldiers? Because they can bleed for a week and not die.
srehak1
Having sex is like playing bridge. If you don't have a good partner, you'd better have a good hand.
Anonymous
A black Jewish boy runs home from school one day and asks his father, "Daddy, am I more Jewish or more black?" The dad replies, "Why do you want to know, son?" "Because a kid at school is selling a bike for $50 and I want to know if I should talk him down to $40 or just steal it!"
Anonymous
My uncle was a racist piano player, all his work sounded awful because he skipped all the black keys.
TonyYancey