Categories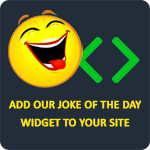 Your momma is so ugly she made One Direction go another direction.
Anonymous
Q: What did the duck say when he bought lipstick?
A: "Put it on my bill."
TheLaughFactory
Why do Mexicans eat beans for dinner? So they can take bubble baths.
TheLaughFactory
Yo momma is so fat that when she went to the beach a whale swam up and sang, "We are family, even though you're fatter than me."
Anonymous
Q: What do a Christmas tree and a priest have in common?
A: Their balls are just for decoration.
TheLaughFactory