Categories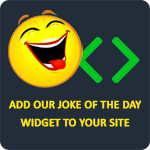 A little girl and boy are fighting about the differences between the sexes, and which one is better. Finally, the boy drops his pants and says, "Here's something I have that you'll never have!" The little girl is pretty upset by this, since it is clearly true, and runs home crying. A while later, she comes running back with a smile on her face. She drops her pants and says, "My mommy says that with one of these, I can have as many of those as I want!"
Anonymous
A few months after his parents were divorced, little Johnny passed by his mom's bedroom and saw her rubbing her body and moaning, "I need a man, I need a man!" Over the next couple of months, he saw her doing this several times. One day, he came home from school and heard her moaning. When he peeked into her bedroom, he saw a man on top of her. Little Johnny ran into his room, took off his clothes, threw himself on his bed, started stroking himself, and moaning, "Ohh, I need a bike! I need a bike!"
kandue0962
Yo momma's so fat and old when God said, "Let there be light," he asked your mother to move out of the way.
Anonymous
A woman goes to a doctor named Dr. Wong. "Doctor, I can't get a date, no one will go out with me." In a very thick Asian accent, Dr. Wong says, "Take off clothes and get on all four hands and knees." She does. "Now crawl to wall." She does so and looks back at him. "I know what wrong." "What is it Doctor! What do I have?" "You have Ed Zachary disease." "Ed Zachary disease? What is that?!" "You face look Ed Zachary like you ass!"
Anonymous
What did God say when he made the first black man? "Damn, I burnt one."
joe to good