Categories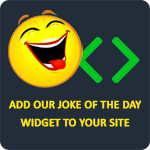 What happens to a frog's car when it breaks down?
It gets toad away.
ZDW
Q: What did the duck say when he bought lipstick?
A: "Put it on my bill."
TheLaughFactory
A boy is selling fish on a corner. To get his customers' attention, he is yelling, "Dam fish for sale! Get your dam fish here!" A pastor hears this and asks, "Why are you calling them 'dam fish.'" The boy responds, "Because I caught these fish at the local dam." The pastor buys a couple fish, takes them home to his wife, and asks her to cook the dam fish. The wife responds surprised, "I didn't know it was acceptable for a preacher to speak that way." He explains to her why they are dam fish. Later at the dinner table, he asks his son to pass the dam fish. He responds, "That's the spirit, Dad! Now pass the f*cking potatoes!"
bandajoey92
Q. What did the elephant say to the naked man? A. "How do you breathe through something so small?"
TheLaughFactory
There was a papa mole, a momma mole, and a baby mole. They lived in a hole out in the country near a farmhouse. Papa mole poked his head out of the hole and said, "Mmmm, I smell sausage!" Momma mole poked her head outside the hole and said, "Mmmm, I smell pancakes!" Baby mole tried to stick his head outside but couldn't because of the two bigger moles. Baby mole said, "The only thing I smell is molasses."
mkelly1283