Categories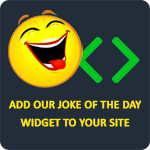 What's invisible and smells like carrots? Rabbit farts.
garychatterton
Q: What happens when you cross a shark with a cow?
A: I don't know but I wouldn't milk it.
Ahadito
What did the farmer get when he crossed a centipede with a Turkey? 100 Drumsticks.
Susan7777
Q: What do you call a cow with two legs?
A: Lean beef.
Anonymous
A bear walks into a bar. He says, "I'll have a gin... ... ... ... and tonic." The bartender says, "Sure, but what about the big pause?" The bear says, "I was born with them."
Anonymous