Categories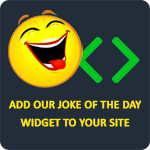 Q: Why do seagulls fly over the sea? A: Because if they flew over the bay they'd be bagels.
Anonymous
Q: Why do birds fly South for the winter?
A: It's too far to walk.
TheLaughFactory
Yo mama so stupid, she tried to save a fish from drowning.
becky.awsum
Q: A cowboy left Montana to go to Texas on Friday and came back on Friday. How did he do it?
A: He named his horse Friday.
Anonymous
What did the farmer get when he crossed a centipede with a Turkey? 100 Drumsticks.
Susan7777