Categories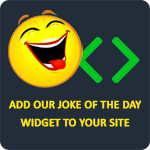 What did the doctor say when a pony came in complaining about a sore throat? "I know what's wrong here; you're just a little hoarse!"
Torybarton
Q: Why are fish easy to weigh?
A: Because they have their own scales.
Rexx
What do you get when you cross an elephant and a rhino? Ell-if-I-no (Hell if I know).
Anonymous
Q: How do you capture a polar bear? A: You dig a hole in the snow and set peas around it. When the bear comes to take a pea you kick it in the ice hole
Fevedaddy
Q: Why don't Batman and Robin go fishing?

A: Because Robin eats all the worms.
My English teacher