Categories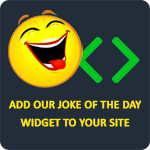 What do you do with a dog that doesn't have any legs? You take him for a drag.
Anonymous
What did the dog say to the hot dog bun? "Are you pure bred?"
tigerfire
Yo mama so stupid, she tried to save a fish from drowning.
becky.awsum
Q: What type of sandals do frogs wear?
A: Open-toad!
polina
Q: If you were forced to go through one of the following doors, which door do you go through with 100 % certainty you'd stay alive: a door with a man with a gun behind it, a door with a tiger who hasn't eaten in 7 years behind it, or a door with an electrical chair behind it?
A: The one with the tiger behind it, because if it hasn't eaten in 7 years it's dead.
Kroft