Categories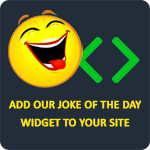 Q: What do you call a rabbit that has fleas?
A: Bugs bunny.
sonic luaghs120
Why are sharks mostly salt water creatures? Because pepper would make them sneeze.
Repor9
Q: Why does a cow wear a bell around its neck?
A: Because its horns don't work.
Krispyk
Q: What did the spider do on the computer?
A: Made a website!
Anonymous
Q: Why does a chicken coop only have two doors?
A: Because if it had four, it would be chicken sedan.
TheLaughFactory