Categories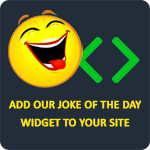 The early bird might get the worm, but the second mouse gets the cheese.
Anonymous
Two caged circus lions break free and corner a clown in his dressing room. One lion says to the other, "Forget it, those things taste funny."
Anonymous
Q: A cowboy left Montana to go to Texas on Friday and came back on Friday. How did he do it?
A: He named his horse Friday.
Anonymous
Q: Why do seagulls fly over the sea? A: Because if they flew over the bay they'd be bagels.
Anonymous
Q: How do you get 500 old cows in a barn?
A: Put up a Bingo sign.
Chocolate Sundaes