Categories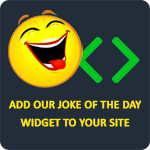 Q: What's the difference between a bird and a fly?
A: A bird can fly but a fly can't bird!
JacyBro Rose
Why did the chicken cross the road? To get to the house. Knock Knock! (Who's there?) The chicken!
farzam
A camel and an elephant meet. The elephant says, "Why are your boobs on your boobs on your back?" The camel responds, "You're one to talk, you have a d*ck on your face!"
goddagsverige
A man goes to a pet shop and buys a talking parrot. He takes the parrot home and tries to teach the parrot how to say a few things, but instead, the parrot just swears at him. After a few hours of trying to teach the bird, the man finally says, "If you don't stop swearing, I'm going to put you in the freezer as punishment." The parrot continues, so finally the man puts the bird in the freezer. About an hour later, the parrot asks the man to please open the door. As the man takes the shivering bird out of the freezer, it says, "I promise to never swear again. Just tell me what that turkey did!"
Anonymous
Two nuns from Ireland come to tour New York City. Before they come, they hear that Americans eat dogs, so they both agree to try it when they arrive. As they're walking around New York, they hear, "Hot Dogs! Get your hot dogs!" They rush over to get one! As the first nun opens hers, her face turns white and she gasps, "What part did you get?!"
mway0030