Categories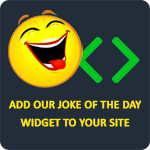 Q: How does a cow sneak off a farm?
A: Right pasteurize.
Anonymous
A snail entered a police station and told an officer, "I just got mugged by two turtles. They beat me up and took all my money!" The officer replied, "Why that's terrible. Did you get a good look at them?" "No sir, it all happened so fast!"
jake9364
A guy hears a knock on his door. He opens the door, sees a snail, then picks it up and chucks it as far as possible. Three years later, he hears a knock on his door, opens the door, and sees the same snail. The snail says, "Hey man, what did you do that for?!"
crazyalexian
Want to hear a dirty joke? The white horse fell in the mud.
tambro
Why did the chicken cross the road? To get to the house. Knock Knock! (Who's there?) The chicken!
farzam