Categories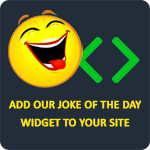 Q: What type of sandals do frogs wear?
A: Open-toad!
polina
Two salesmen were going door to door, and knocked on the door of a woman who was not happy to see them. She told them in no uncertain terms that she did not want to hear their offer and slammed the door in their faces. To her surprise, however, the door did not close and, in fact, bounced back open. She tried again, really put her back into it, and slammed the door again with the same result - the door bounced back open. Convinced these rude salesmen were sticking their foot in the door, she reared back to give it a slam that would teach them a lesson, when one of the men said: "Ma'am, before you do that again, you need to move your cat."
mr.minecraft
It's a sunny morning in the Big Forest and the Bear family is just waking up. Baby Bear goes downstairs and sits in his small chair at the table. He looks into his small bowl. It is empty! "Who's been eating my porridge?" he squeaks. Father Bear arrives at the table and sits in his big chair. He looks into his big bowl. It is also empty! "Who's been eating my porridge?" he roars. Mother Bear sticks her head out the kitchen door and yells, "For Pete's sake, how many times do we have to go through this? It was Mother Bear who go up first. It was Mother Bear who woke everybody else in the house up. It was Mother Bear who unloaded the dishwasher from last night and put everything away. It was Mother Bear who went out into the cold early morning air to fetch the newspaper. It was Mother Bear who set the table. It was Mother Bear who put the cat out, cleaned the litter box and filled the cat's water and food dish. And now that you've decided to come down stairs and grace me with your presence, listen good because I'm only going to say this one more time: I haven't made the f*cking porridge yet!"
MARK WELLS
Q: Why did the fish blush?
A: Because it saw the ocean's bottom.
cj
Q: Why did the pig leave the costume party?
A: Because everyone thought he was a boar.
Anonymous