Categories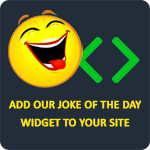 Q: How do you get 500 old cows in a barn?
A: Put up a Bingo sign.
Chocolate Sundaes
Give a man a fish and he will eat for a day. Teach him how to fish and he will sit in a boat and drink beer all day.
TheLaughFactory
Q: What's the importance of capitalization?
A: You can either help your Uncle Jack off a horse or help your uncle jack off a horse.
The Fella Over There With The Hella Good Hair
A baby snake asked it's mom, "Mommy are we poisonous?" The mother snake responded, "Yes honey, but why do you want to know?" The baby snake responded, "Because I just bit myself..."
nimabeni
Teacher: "I asked you to draw a cow and grass, but I only see a cow. Where is grass?"
Student: "The cow ate the grass, sir."
Anonymous