Categories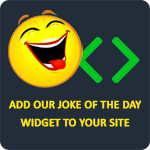 What's invisible and smells like carrots? Rabbit farts.
garychatterton
Q: What happens when you cross a shark with a cow?
A: I don't know but I wouldn't milk it.
Ahadito
Q: How do you get 500 old cows in a barn?
A: Put up a Bingo sign.
Chocolate Sundaes
Give a man a fish and he will eat for a day. Teach him how to fish and he will sit in a boat and drink beer all day.
TheLaughFactory
What did the farmer get when he crossed a centipede with a Turkey? 100 Drumsticks.
Susan7777