Categories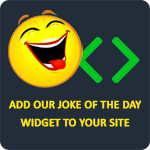 Q: Why do birds fly South for the winter?
A: It's too far to walk.
TheLaughFactory
Q: A cowboy left Montana to go to Texas on Friday and came back on Friday. How did he do it?
A: He named his horse Friday.
Anonymous
Give a man a fish and he will eat for a day. Teach him how to fish and he will sit in a boat and drink beer all day.
TheLaughFactory
Q: How do fish get high?
A: Seaweed.

claudette
Q: What do you call a cow with two legs?
A: Lean beef.
Anonymous