Categories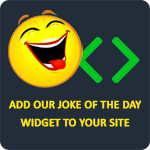 Q: What do you call an alligator wearing a vest?
A: An investigator.
Anonymous
What do you call a dog with no legs? It does not matter, it's not going to come
NENO
Q: Why do centipedes have 100 legs?
A: So they can walk.
Anonymous
A baby snake asked it's mom, "Mommy are we poisonous?" The mother snake responded, "Yes honey, but why do you want to know?" The baby snake responded, "Because I just bit myself..."
nimabeni
Give a man a fish and he will eat for a day. Teach him how to fish and he will sit in a boat and drink beer all day.
TheLaughFactory