Categories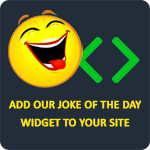 Q: Why couldn't the leopard play hide and seek?
A: Because he was always spotted.
lovebite
Q: Why did the fish blush?
A: Because it saw the ocean's bottom.
cj
Knock, knock.
Who's there?
Cows go.
Cows go who?
No, cows go moo!
Anonymous
Two salesmen were going door to door, and knocked on the door of a woman who was not happy to see them. She told them in no uncertain terms that she did not want to hear their offer and slammed the door in their faces. To her surprise, however, the door did not close and, in fact, bounced back open. She tried again, really put her back into it, and slammed the door again with the same result - the door bounced back open. Convinced these rude salesmen were sticking their foot in the door, she reared back to give it a slam that would teach them a lesson, when one of the men said: "Ma'am, before you do that again, you need to move your cat."
mr.minecraft
It was a baby mosquito's first day to fly out from home. When the mosquito came back home later that day, the father mosquito asked, "How was your journey?" The baby mosquito replied, "It went great. Everyone was clapping for me!"
Swati