Categories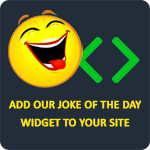 Q: Why are fish easy to weigh?
A: Because they have their own scales.
Rexx
What did the doctor say when a pony came in complaining about a sore throat? "I know what's wrong here; you're just a little hoarse!"
Torybarton
What do you get when you cross an elephant and a rhino? Ell-if-I-no (Hell if I know).
Anonymous
Yo mama so fat the bears have to hide their food from her when she goes camping.
Anonymous
Q: Why did the duck go to jail?
A: Because he got caught selling quack.
Anonymous