Categories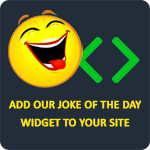 A farmer is walking with a prospective buyer when they see a beautiful pig in the yard, except it has a wooden leg. The buyer asks, "Why the wooden leg?" The farmer replies, "That pig is so smart, I let it drive the kids to school."
"Great, but why the wooden leg?"
"The pig is so smart it has a degree in horticulture and philosophy."
"Amazing! But why the bloody wooden leg?"
"Well when you have a pig that smart you don't eat it all at once!"
Crown Footy
A blind man walks into a store with his seeing eye dog. All of a sudden, he picks up the leash and begins swinging the dog over his head. The manager runs up to the man and asks, "What are you doing?!!" The blind man replies, "Just looking around."
TheLaughFactory
Give a man a fish and he will eat for a day. Teach him how to fish and he will sit in a boat and drink beer all day.
TheLaughFactory
What do you call a dog with no legs? It does not matter, it's not going to come
NENO
It's a sunny morning in the Big Forest and the Bear family is just waking up. Baby Bear goes downstairs and sits in his small chair at the table. He looks into his small bowl. It is empty! "Who's been eating my porridge?" he squeaks. Father Bear arrives at the table and sits in his big chair. He looks into his big bowl. It is also empty! "Who's been eating my porridge?" he roars. Mother Bear sticks her head out the kitchen door and yells, "For Pete's sake, how many times do we have to go through this? It was Mother Bear who go up first. It was Mother Bear who woke everybody else in the house up. It was Mother Bear who unloaded the dishwasher from last night and put everything away. It was Mother Bear who went out into the cold early morning air to fetch the newspaper. It was Mother Bear who set the table. It was Mother Bear who put the cat out, cleaned the litter box and filled the cat's water and food dish. And now that you've decided to come down stairs and grace me with your presence, listen good because I'm only going to say this one more time: I haven't made the f*cking porridge yet!"
MARK WELLS