Categories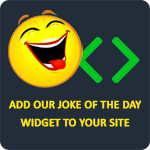 Why is turtle wax so expensive? Because they have such small ears.
joeromero70
A snail entered a police station and told an officer, "I just got mugged by two turtles. They beat me up and took all my money!" The officer replied, "Why that's terrible. Did you get a good look at them?" "No sir, it all happened so fast!"
jake9364
What did the chicken say when it got to the library? "Book book book book book book book..."
kg2012
A baby seal walked into a club.
Dverg1
Q: Why did the bunny go to the hospital? A: For a hoperation.
Anonymous