Categories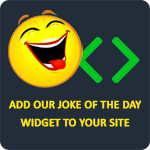 A man's big rottweiler has been losing its vision, so the owner brings the dog to the vet. The veterinarian picks the dog up and says, "I will have to put him down." The owner asks, "Why? Because he's blind?" The vet replies, "No, he's heavy. I need to put him down."
arandownes
A man rushes his limp dog to the veterinarian. The doctor pronounces the dog dead. The agitated man demands a second opinion. The vet goes into the back room and comes out with a cat. The cat sniffs the body and meows. The vet says, "I'm sorry, but the cat thinks that your dog is dead, too." The man is still unwilling to accept that his dog is dead. The vet brings in a black Labrador. The lab sniffs the body and barks. The vet says, "I'm sorry, but the lab thinks your dog is dead, too." The man finally resigns to the diagnosis and asks how much he owes. The vet answers, "$650." "$650 to tell me my dog is dead?" exclaims the man. "Well," the vet replies, "I would only have charged you $50 for my initial diagnosis. The additional $600 is for the cat scan and lab tests."
ebaquino
Q: What do you call a duck that steals?
A: A Robber Duck.
SAM&THEYSEE;+KARMA
Q: What says "Eoo?"
A: A cow with no lips.
joke bank
Q: Why are fish easy to weigh?
A: Because they have their own scales.
Rexx