Categories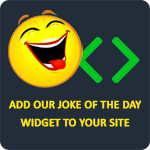 Teacher: "I asked you to draw a cow and grass, but I only see a cow. Where is grass?"
Student: "The cow ate the grass, sir."
Anonymous
What's invisible and smells like carrots? Rabbit farts.
garychatterton
Q: A cowboy left Montana to go to Texas on Friday and came back on Friday. How did he do it?
A: He named his horse Friday.
Anonymous
Q: What happens when you cross a shark with a cow?
A: I don't know but I wouldn't milk it.
Ahadito
It was a baby mosquito's first day to fly out from home. When the mosquito came back home later that day, the father mosquito asked, "How was your journey?" The baby mosquito replied, "It went great. Everyone was clapping for me!"
Swati