Categories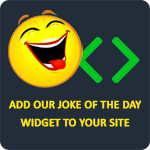 It was a baby mosquito's first day to fly out from home. When the mosquito came back home later that day, the father mosquito asked, "How was your journey?" The baby mosquito replied, "It went great. Everyone was clapping for me!"
Swati
Give a man a fish and he will eat for a day. Teach him how to fish and he will sit in a boat and drink beer all day.
TheLaughFactory
What do you call a dog with no legs? It does not matter, it's not going to come
NENO
What did Santa call his reindeer that couldn't fly? Dinner.
amandadean526
Yo mama so fat the bears have to hide their food from her when she goes camping.
Anonymous