Categories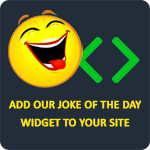 Give a man a fish and he will eat for a day. Teach him how to fish and he will sit in a boat and drink beer all day.
TheLaughFactory
Teacher: "I asked you to draw a cow and grass, but I only see a cow. Where is grass?"
Student: "The cow ate the grass, sir."
Anonymous
Q: Why do birds fly South for the winter?
A: It's too far to walk.
TheLaughFactory
Q: How do fish get high?
A: Seaweed.

claudette
Yo mama so fat the bears have to hide their food from her when she goes camping.
Anonymous