Categories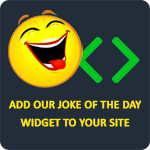 What did Santa call his reindeer that couldn't fly? Dinner.
amandadean526
A farmer is walking with a prospective buyer when they see a beautiful pig in the yard, except it has a wooden leg. The buyer asks, "Why the wooden leg?" The farmer replies, "That pig is so smart, I let it drive the kids to school."
"Great, but why the wooden leg?"
"The pig is so smart it has a degree in horticulture and philosophy."
"Amazing! But why the bloody wooden leg?"
"Well when you have a pig that smart you don't eat it all at once!"
Crown Footy
It was a baby mosquito's first day to fly out from home. When the mosquito came back home later that day, the father mosquito asked, "How was your journey?" The baby mosquito replied, "It went great. Everyone was clapping for me!"
Swati
Give a man a fish and he will eat for a day. Teach him how to fish and he will sit in a boat and drink beer all day.
TheLaughFactory
A baby snake asked it's mom, "Mommy are we poisonous?" The mother snake responded, "Yes honey, but why do you want to know?" The baby snake responded, "Because I just bit myself..."
nimabeni