Categories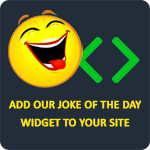 A snail entered a police station and told an officer, "I just got mugged by two turtles. They beat me up and took all my money!" The officer replied, "Why that's terrible. Did you get a good look at them?" "No sir, it all happened so fast!"
jake9364
Why did the dog sit in the shade? Because he didn't want to be a hot dog!
karrie76
Q: Does a dolphin ever do something by accident? A: No, they do everything on porpoise.
Ronika
Q: What did the spider do on the computer?
A: Made a website!
Anonymous
Q: Did you hear about the promiscuous reptile?
A: It got gator AIDS.
Philip S