Categories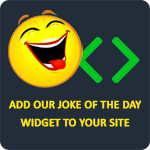 The early bird might get the worm, but the second mouse gets the cheese.
Anonymous
Two caged circus lions break free and corner a clown in his dressing room. One lion says to the other, "Forget it, those things taste funny."
Anonymous
A bear walks into a bar. He says, "I'll have a gin... ... ... ... and tonic." The bartender says, "Sure, but what about the big pause?" The bear says, "I was born with them."
Anonymous
Yo mama so fat the bears have to hide their food from her when she goes camping.
Anonymous
Q: Why do seagulls fly over the sea? A: Because if they flew over the bay they'd be bagels.
Anonymous