Categories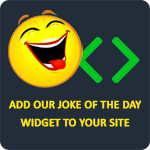 Why did the chicken cross the road? To get to the house. Knock Knock! (Who's there?) The chicken!
farzam
A camel and an elephant meet. The elephant says, "Why are your boobs on your boobs on your back?" The camel responds, "You're one to talk, you have a d*ck on your face!"
goddagsverige
Jason gets off the elevator on the 50th floor and nervously knocks on his blind date's door. She opens it and is very beautiful and charming. "I'll be ready in a few minutes," she says. "Why don't you play with Spot, my dog, while you're waiting? He does wonderful tricks. He rolls over, shakes hands, sits up, and if you make a hoop with your arms, he'll jump through." The dog follows Jason onto the balcony and starts rolling over. John makes a hoop with his arms and Spot jumps through, over the balcony railing. Just then, Jason's date walks out. "Isn't Spot the cutest, happiest dog you've ever seen?" "To tell the the truth, " he replies, "Spot seemed a little depressed to me!"
TerrellMoses
A guy hears a knock on his door. He opens the door, sees a snail, then picks it up and chucks it as far as possible. Three years later, he hears a knock on his door, opens the door, and sees the same snail. The snail says, "Hey man, what did you do that for?!"
crazyalexian
Two nuns from Ireland come to tour New York City. Before they come, they hear that Americans eat dogs, so they both agree to try it when they arrive. As they're walking around New York, they hear, "Hot Dogs! Get your hot dogs!" They rush over to get one! As the first nun opens hers, her face turns white and she gasps, "What part did you get?!"
mway0030