Categories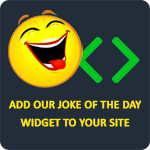 What did the fish say when he ran into a wall? Dam.
ink123
Two flys are out on a date, so they go out on the town and see fresh dog poop on the side of the road. They rush down and start feasting, when one of the flies stops and has the biggest relieved face. The other fly asks, "Are you okay?" The fly responds with a squirmish smile and the other fly smells something funky and says, "Dude, how rude! You fart while I'm eating!"
Dmontiel23
Why are sharks mostly salt water creatures? Because pepper would make them sneeze.
Repor9
What is the scariest type of dinosaur? A Terror-dactyle.
sommer
Why did the gum cross the road? Because it was stuck to the chicken's foot!
emm0921