Categories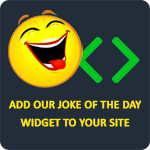 Q: What did the spider do on the computer?
A: Made a website!
Anonymous
What's the difference between deer nuts and beer nuts? Beer nuts are $1.50 and deer nuts are under a buck.
wmancini
Waiter: "Do you want any dessert?"
Teddy Bear: "No Thanks. I'm Stuffed!"
Anonymous
Q: What do you call a rabbit that has fleas?
A: Bugs bunny.
sonic luaghs120
Yo mama so fat the bears have to hide their food from her when she goes camping.
Anonymous