Categories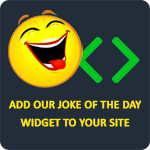 Q: Why are fish easy to weigh?
A: Because they have their own scales.
Rexx
Q: What do you call a T-Rex's bruise? A: A dino-sore.
I Rindfleisch
With sufficient thrust, pigs fly just fine.
Anonymous
A guy hears a knock on his door. He opens the door, sees a snail, then picks it up and chucks it as far as possible. Three years later, he hears a knock on his door, opens the door, and sees the same snail. The snail says, "Hey man, what did you do that for?!"
crazyalexian
Did you know that dolphins are so smart that within a few weeks of captivity, they can train people to stand on the edge of their pool and throw them fish?
Anonymous