Categories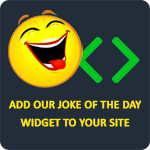 A bear walks into a bar. He says, "I'll have a gin... ... ... ... and tonic." The bartender says, "Sure, but what about the big pause?" The bear says, "I was born with them."
Anonymous
Q: Why do seagulls fly over the sea? A: Because if they flew over the bay they'd be bagels.
Anonymous
Yo mama so fat the bears have to hide their food from her when she goes camping.
Anonymous
Q: How do fish get high?
A: Seaweed.

claudette
Q: What did the spider do on the computer?
A: Made a website!
Anonymous