Categories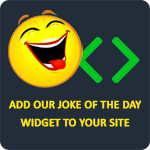 Q: Why are fish easy to weigh?
A: Because they have their own scales.
Rexx
Q: What did the spider do on the computer?
A: Made a website!
Anonymous
What's the difference between deer nuts and beer nuts? Beer nuts are $1.50 and deer nuts are under a buck.
wmancini
Waiter: "Do you want any dessert?"
Teddy Bear: "No Thanks. I'm Stuffed!"
Anonymous
Teacher: "I asked you to draw a cow and grass, but I only see a cow. Where is grass?"
Student: "The cow ate the grass, sir."
Anonymous