Categories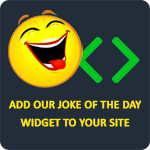 Q: What do you call a cow with two legs?
A: Lean beef.
Anonymous
What did the farmer get when he crossed a centipede with a Turkey? 100 Drumsticks.
Susan7777
Yo mama so fat the bears have to hide their food from her when she goes camping.
Anonymous
Q: What did the spider do on the computer?
A: Made a website!
Anonymous
The early bird might get the worm, but the second mouse gets the cheese.
Anonymous