Categories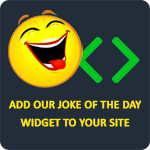 A man goes to a pet shop and buys a talking parrot. He takes the parrot home and tries to teach the parrot how to say a few things, but instead, the parrot just swears at him. After a few hours of trying to teach the bird, the man finally says, "If you don't stop swearing, I'm going to put you in the freezer as punishment." The parrot continues, so finally the man puts the bird in the freezer. About an hour later, the parrot asks the man to please open the door. As the man takes the shivering bird out of the freezer, it says, "I promise to never swear again. Just tell me what that turkey did!"
Anonymous
What's invisible and smells like carrots? Rabbit farts.
garychatterton
Q: A cowboy left Montana to go to Texas on Friday and came back on Friday. How did he do it?
A: He named his horse Friday.
Anonymous
Q: What happens when you cross a shark with a cow?
A: I don't know but I wouldn't milk it.
Ahadito
Q: What do you call a cow with two legs?
A: Lean beef.
Anonymous