Categories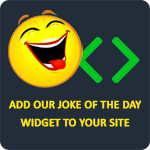 Late one night a burglar broke into a house and while he was sneaking around he heard a voice say, "Jesús is watching you." He looked around and saw nothing. He kept on creeping and again heard, "Jesús is watching you." In a dark corner, he saw a cage with a parrot inside. The burglar asked the parrot, "Was it you who said Jesús is watching me" The parrot replied, "Yes." Relieved, the burglar asked, "What is your name?" The parrot said, "Clarence." The burglar said, "That's a stupid name for a parrot. What idiot named you Clarence?" The parrot answered, "The same idiot that named the rottweiler Jesús."
Mysteryguy9871
A man is fishing and he catches a crocodile. The crocodile tells him, "Please let me go! I'll grant you any wish you desire." The man says, "Okay, I wish my penis could touch the ground." The crocodile then bites his legs off.
Anonymous
A man needed a horse, so he went to a temple and got one. Before he left, the priest told him that it was a special horse. In order to make the horse go, you say, "Thank God," and for it to stop you say, "Amen." So the man left, and a few minutes later he dozed off on his horse. Hours later, he woke up and his horse was racing him towards the edge of a cliff. Just in time, he shouted "Amen!" and the horse stopped a few inches from the edge. "Whew," said the man, "thank God!"
moe112
Two fish are in a tank. One turns to the other and says, "Hey, do you know how to drive this thing?"
Anonymous
What did the dog say to the hot dog bun? "Are you pure bred?"
tigerfire