Categories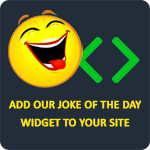 What did the dog say to the hot dog bun? "Are you pure bred?"
tigerfire
Did you know that dolphins are so smart that within a few weeks of captivity, they can train people to stand on the edge of their pool and throw them fish?
Anonymous
Q: Why do bunnies have soft sex?
A: They have cotton balls.
TheLaughFactory
Two fish are in a tank. One turns to the other and says, "Hey, do you know how to drive this thing?"
Anonymous
A priest, a minister, and a rabbi want to see who's best at his job. So they each go into the woods, find a bear, and attempt to convert it. Later they get together. The priest begins: "When I found the bear, I read to him from the Catechism and sprinkled him with holy water. Next week is his first communion." "I found a bear by the stream," says the minister, "and preached God's holy word. The bear was so mesmerized that he let me baptize him." They both look down at the rabbi, who is lying on a gurney in a body cast. "Looking back," he says, "maybe I shouldn't have started with the circumcision."
TheLaughFactory