Categories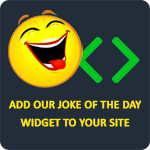 Why did the turkey cross the road? Because he wasn't a chicken.
bob
A boy with a monkey on his shoulder was walking down the road when he passed a policeman who said, "Now, now young lad, I think you had better take that monkey the zoo." The next day, the boy was walking down the road with the monkey on his shoulder again, when he passed the same policeman. The policeman said, "Hey there, I thought I told you to take that money to the zoo!" The boy answered, "I did! Today I'm taking him to the cinema."
Anonymous
Q: What do you call a rabbit that has fleas?
A: Bugs bunny.
sonic luaghs120
Q: What's the difference between a cat and a complex sentence?
A: A cat has claws at the end of its paws and a complex sentence has a pause at the end of its clause.
Anonymous
Why did the chicken cross the playground? To get to the other slide!!
My step dad