Categories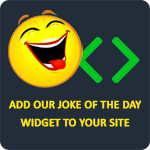 What did the dog say to the hot dog bun? "Are you pure bred?"
tigerfire
Two fish are in a tank. One turns to the other and says, "Hey, do you know how to drive this thing?"
Anonymous
A man goes to a strip club with an alligator. He says, "I bet you that I can put my dick into this alligator's mouth for 1 minute, and when I take it out, it will not be damaged. If I succeed, all of you will buy me drinks. If I fail, I will buy all of you drinks." The other men agree and he puts his dick into the alligator's mouth for 1 minute. After 1 minute, he hits the alligator on the head with a beer bottle, and he opens his mouth. To everyone's surprise, his dick is unharmed. "Now, before you buy me drinks, does anybody else want to try?" After a while, someone in the back finally raises their hand. It's a woman. "I guess I can try," she says, "but you have to promise not to hit me on the head with a beer bottle."
Anonymous
Q: Why do bunnies have soft sex?
A: They have cotton balls.
TheLaughFactory
Two nuns from Ireland come to tour New York City. Before they come, they hear that Americans eat dogs, so they both agree to try it when they arrive. As they're walking around New York, they hear, "Hot Dogs! Get your hot dogs!" They rush over to get one! As the first nun opens hers, her face turns white and she gasps, "What part did you get?!"
mway0030