Categories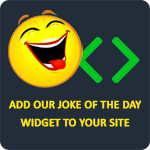 Two guys are walking through a game park & they come across a lion that has not eaten for days. The lion starts chasing the two men. They run as fast as they can and the one guy starts getting tired and decides to say a prayer, "Please turn this lion into a Christian, Lord." He looks to see if the lion is still chasing and he sees the lion on its knees. Happy to see his prayer answered, he turns around and heads towards the lion. As he comes closer to the lion, he hears the it saying a prayer: "Thank you Lord for the food I am about to receive."
Cee
A boy with a monkey on his shoulder was walking down the road when he passed a policeman who said, "Now, now young lad, I think you had better take that monkey the zoo." The next day, the boy was walking down the road with the monkey on his shoulder again, when he passed the same policeman. The policeman said, "Hey there, I thought I told you to take that money to the zoo!" The boy answered, "I did! Today I'm taking him to the cinema."
Anonymous
Teacher: "I asked you to draw a cow and grass, but I only see a cow. Where is grass?"
Student: "The cow ate the grass, sir."
Ponyboy
Teacher: "Name a bird with wings but can't fly."
Student: "A dead bird, sir."
Raiyan Rahman
A priest, a minister, and a rabbi want to see who's best at his job. So they each go into the woods, find a bear, and attempt to convert it. Later they get together. The priest begins: "When I found the bear, I read to him from the Catechism and sprinkled him with holy water. Next week is his first communion." "I found a bear by the stream," says the minister, "and preached God's holy word. The bear was so mesmerized that he let me baptize him." They both look down at the rabbi, who is lying on a gurney in a body cast. "Looking back," he says, "maybe I shouldn't have started with the circumcision."
TheLaughFactory