Categories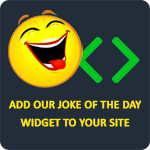 A man goes to a pet shop and buys a talking parrot. He takes the parrot home and tries to teach the parrot how to say a few things, but instead, the parrot just swears at him. After a few hours of trying to teach the bird, the man finally says, "If you don't stop swearing, I'm going to put you in the freezer as punishment." The parrot continues, so finally the man puts the bird in the freezer. About an hour later, the parrot asks the man to please open the door. As the man takes the shivering bird out of the freezer, it says, "I promise to never swear again. Just tell me what that turkey did!"
Anonymous
A 92 year old man is walking through a park and sees a talking frog. He picks up the frog and the frogs says, "If you kiss me, I will turn into a beautiful princess and be yours for a week." The old man puts the frog in his pocket. The frog screams, "Hey if you kiss me, I will turn into a beautiful princess and make love to you for a whole month." The old man looks at the frog and says, "At my age I'd rather have a talking frog."
Anonymous
A baby snake asked it's mom, "Mommy are we poisonous?" The mother snake responded, "Yes honey, but why do you want to know?" The baby snake responded, "Because I just bit myself..."
nimabeni
What's invisible and smells like carrots? Rabbit farts.
garychatterton
A bear walks into a bar. He says, "I'll have a gin... ... ... ... and tonic." The bartender says, "Sure, but what about the big pause?" The bear says, "I was born with them."
Anonymous