Categories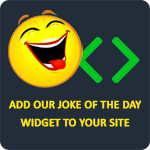 A priest, a minister, and a rabbi want to see who's best at his job. So they each go into the woods, find a bear, and attempt to convert it. Later they get together. The priest begins: "When I found the bear, I read to him from the Catechism and sprinkled him with holy water. Next week is his first communion." "I found a bear by the stream," says the minister, "and preached God's holy word. The bear was so mesmerized that he let me baptize him." They both look down at the rabbi, who is lying on a gurney in a body cast. "Looking back," he says, "maybe I shouldn't have started with the circumcision."
TheLaughFactory
A 92 year old man is walking through a park and sees a talking frog. He picks up the frog and the frogs says, "If you kiss me, I will turn into a beautiful princess and be yours for a week." The old man puts the frog in his pocket. The frog screams, "Hey if you kiss me, I will turn into a beautiful princess and make love to you for a whole month." The old man looks at the frog and says, "At my age I'd rather have a talking frog."
Anonymous
A man was driving and saw a truck stalled on the side of the highway that had ten penguins standing next to it. The man pulled over and asked the truck driver if he needed any help. The truck driver replied, "If you can take these penguins to the zoo while I wait for AAA that will be great!" The man agreed and the penguins hopped into the back of his car. Two hours later, the trucker was back on the road again and decided to check on the penguins. He showed up at the zoo and they weren't there! He headed back into his truck and started driving around the town, looking for any sign of the penguins, the man, or his car. While driving past a movie theater, the truck driver spotted the guy walking out with the ten penguins. The truck driver yelled, "What are you doing? You were supposed to take them to the zoo!" The man replied, "I did and then I had some extra money so I took them to go see a movie."
solotime
A chicken walks into a library, goes up to a librarian and says, "Book book book." The librarian decides that the chicken wants a book so he gives the chicken a book and the chicken walks away. About ten minutes later the chicken comes back with the book, looking a bit agitated, saying, "Book book book." The librarian decides the chicken wants another book so he takes the old book back and gives the chicken another book. The chicken walks out the door. Ten minutes later the chicken comes back again, very agitated, saying, "Book book book!" so quickly it almost sounds like one word. The chicken puts the book on the librarians desk and looks up - waiting for another book. This time the librarian gives the chicken another book and decides that something weird is happening. He follows the chicken out the door and into the park, all the way to the pond. In the pond is a frog sitting on a lily pad. The chicken gives the book to the the frog, who then says, "Reddit, reddit."
Under41
Why did the chicken cross the playground? To get to the other slide!!
My step dad