Categories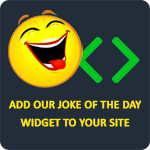 A man goes to a strip club with an alligator. He says, "I bet you that I can put my dick into this alligator's mouth for 1 minute, and when I take it out, it will not be damaged. If I succeed, all of you will buy me drinks. If I fail, I will buy all of you drinks." The other men agree and he puts his dick into the alligator's mouth for 1 minute. After 1 minute, he hits the alligator on the head with a beer bottle, and he opens his mouth. To everyone's surprise, his dick is unharmed. "Now, before you buy me drinks, does anybody else want to try?" After a while, someone in the back finally raises their hand. It's a woman. "I guess I can try," she says, "but you have to promise not to hit me on the head with a beer bottle."
Anonymous
What did the dog say to the hot dog bun? "Are you pure bred?"
tigerfire
Teacher: "Name a bird with wings but can't fly."
Student: "A dead bird, sir."
Raiyan Rahman
Why did the chicken cross the playground? To get to the other slide!!
My step dad
A panda walks into a bar, sits down, and orders a sandwich. He eats, pulls out a gun, and shoots the waiter dead. As the panda stands up to go, the bartender shouts, "Hey! Where are you going? You just shot my waiter and you didn't pay for the food!" The panda yells back, "Hey man, I'm a panda. Look it up!" The bartender opens his dictionary to panda, "A tree climbing mammal of Asian origin, characterized by distinct black and white coloring. Eats, shoots, and leaves."

chinie