Categories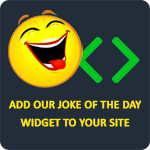 Why did the chicken cross the playground? To get to the other slide!!
My step dad
What's invisible and smells like carrots? Rabbit farts.
garychatterton
A baby snake asked it's mom, "Mommy are we poisonous?" The mother snake responded, "Yes honey, but why do you want to know?" The baby snake responded, "Because I just bit myself..."
nimabeni
The early bird might get the worm, but the second mouse gets the cheese.
Anonymous
Redhead: "You ever smelled moth balls?"
Blonde: "Yes, I think they smell good."
Redhead: "Wow, I can't believe you got your nose between those tiny legs."
Anonymous