Categories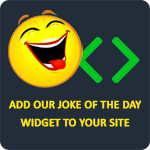 Q: How do fish get high?
A: Seaweed.

claudette
Q: Why do bunnies have soft sex?
A: They have cotton balls.
TheLaughFactory
Q: Why did the dinosaur cross the road?
A: Chickens didn't exist yet.
Riki Relet
Redhead: "You ever smelled moth balls?"
Blonde: "Yes, I think they smell good."
Redhead: "Wow, I can't believe you got your nose between those tiny legs."
Anonymous
Two fish are in a tank. One turns to the other and says, "Hey, do you know how to drive this thing?"
Anonymous