Categories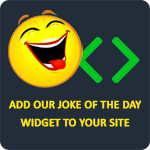 Q: What happens when you cross a shark with a cow?
A: I don't know but I wouldn't milk it.
Ahadito
What did the doctor say when a pony came in complaining about a sore throat? "I know what's wrong here; you're just a little hoarse!"
Torybarton
Q: What says "Eoo?"
A: A cow with no lips.
joke bank
What's the difference between deer nuts and beer nuts? Beer nuts are $1.50 and deer nuts are under a buck.
wmancini
An elephant and a camel are talking. The elephant asks, "Why do you have boobs on your back?" The camel replies, "Ha! That's a funny question coming from an animal with a penis hanging from his face."
dakota harjo