Categories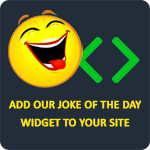 What's invisible and smells like carrots? Rabbit farts.
garychatterton
A bear walks into a bar. He says, "I'll have a gin... ... ... ... and tonic." The bartender says, "Sure, but what about the big pause?" The bear says, "I was born with them."
Anonymous
Q: Why cant you hear a pterodactyl pee? A: Because the "p" is silent.
Anonymous
An elephant and a camel are talking. The elephant asks, "Why do you have boobs on your back?" The camel replies, "Ha! That's a funny question coming from an animal with a penis hanging from his face."
dakota harjo
The early bird might get the worm, but the second mouse gets the cheese.
Anonymous