Categories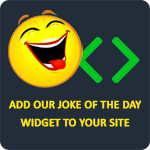 Two fish are in a tank. One turns to the other and says, "Hey, do you know how to drive this thing?"
Anonymous
A man needed a horse, so he went to a temple and got one. Before he left, the priest told him that it was a special horse. In order to make the horse go, you say, "Thank God," and for it to stop you say, "Amen." So the man left, and a few minutes later he dozed off on his horse. Hours later, he woke up and his horse was racing him towards the edge of a cliff. Just in time, he shouted "Amen!" and the horse stopped a few inches from the edge. "Whew," said the man, "thank God!"
moe112
Q: How come oysters never donate to charity?
A: Because they are shellfish.
me
A panda walks into a bar, sits down, and orders a sandwich. He eats, pulls out a gun, and shoots the waiter dead. As the panda stands up to go, the bartender shouts, "Hey! Where are you going? You just shot my waiter and you didn't pay for the food!" The panda yells back, "Hey man, I'm a panda. Look it up!" The bartender opens his dictionary to panda, "A tree climbing mammal of Asian origin, characterized by distinct black and white coloring. Eats, shoots, and leaves."

chinie
What did the elephant say to the naked man? "Cute, cute, but can it pick up peanuts?"
tztmama60