Categories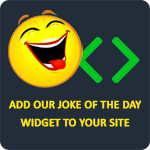 Why did the turkey cross the road? Because he wasn't a chicken.
bob
The energizer bunny was arrested on a charge of battery.
Silenxio Maximeaning Ultimious
Q: Why do bunnies have soft sex?
A: They have cotton balls.
TheLaughFactory
Q: What do you call a rabbit that has fleas?
A: Bugs bunny.
sonic luaghs120
A panda walks into a bar, sits down, and orders a sandwich. He eats, pulls out a gun, and shoots the waiter dead. As the panda stands up to go, the bartender shouts, "Hey! Where are you going? You just shot my waiter and you didn't pay for the food!" The panda yells back, "Hey man, I'm a panda. Look it up!" The bartender opens his dictionary to panda, "A tree climbing mammal of Asian origin, characterized by distinct black and white coloring. Eats, shoots, and leaves."

chinie