Categories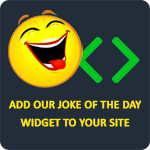 Q: Can a kangaroo jump higher than the Empire State Building?
A: Of course. The Empire State Building can't jump.
bobby
Q: Why cant you hear a pterodactyl pee? A: Because the "p" is silent.
Anonymous
A baby snake asked it's mom, "Mommy are we poisonous?" The mother snake responded, "Yes honey, but why do you want to know?" The baby snake responded, "Because I just bit myself..."
nimabeni
Q: Why did the pig leave the costume party?
A: Because everyone thought he was a boar.
Anonymous
What's invisible and smells like carrots? Rabbit farts.
garychatterton