Categories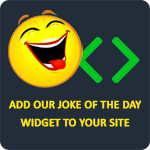 A man needed a horse, so he went to a temple and got one. Before he left, the priest told him that it was a special horse. In order to make the horse go, you say, "Thank God," and for it to stop you say, "Amen." So the man left, and a few minutes later he dozed off on his horse. Hours later, he woke up and his horse was racing him towards the edge of a cliff. Just in time, he shouted "Amen!" and the horse stopped a few inches from the edge. "Whew," said the man, "thank God!"
moe112
A panda walks into a bar, sits down, and orders a sandwich. He eats, pulls out a gun, and shoots the waiter dead. As the panda stands up to go, the bartender shouts, "Hey! Where are you going? You just shot my waiter and you didn't pay for the food!" The panda yells back, "Hey man, I'm a panda. Look it up!" The bartender opens his dictionary to panda, "A tree climbing mammal of Asian origin, characterized by distinct black and white coloring. Eats, shoots, and leaves."

chinie
What did the elephant say to the naked man? "Cute, cute, but can it pick up peanuts?"
tztmama60
A man was driving and saw a truck stalled on the side of the highway that had ten penguins standing next to it. The man pulled over and asked the truck driver if he needed any help. The truck driver replied, "If you can take these penguins to the zoo while I wait for AAA that will be great!" The man agreed and the penguins hopped into the back of his car. Two hours later, the trucker was back on the road again and decided to check on the penguins. He showed up at the zoo and they weren't there! He headed back into his truck and started driving around the town, looking for any sign of the penguins, the man, or his car. While driving past a movie theater, the truck driver spotted the guy walking out with the ten penguins. The truck driver yelled, "What are you doing? You were supposed to take them to the zoo!" The man replied, "I did and then I had some extra money so I took them to go see a movie."
solotime
Did you know that dolphins are so smart that within a few weeks of captivity, they can train people to stand on the edge of their pool and throw them fish?
Anonymous