Categories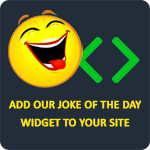 Knock, knock.
Who's there?
Cows go.
Cows go who?
No, cows go moo!
Anonymous
Two nuns from Ireland come to tour New York City. Before they come, they hear that Americans eat dogs, so they both agree to try it when they arrive. As they're walking around New York, they hear, "Hot Dogs! Get your hot dogs!" They rush over to get one! As the first nun opens hers, her face turns white and she gasps, "What part did you get?!"
mway0030
Q: Why did the pig leave the costume party?
A: Because everyone thought he was a boar.
Anonymous
A guy walks into a bar with his pet monkey. He orders a drink and while he's drinking it the monkey is running wild. The monkey jumps up on the pool table and grabs the cue ball, sticks it in his mouth and swallows it whole. The bartender is livid and says to the guy, "Did you see what your monkey just did?" "No. What did that stupid monkey do this time?" says the patron. "Well, he just swallowed the cue ball off the pool table, whole" says the bartender. "Yeah, well I hope it kills him because he's been driving me nuts," says the patron. The guy finishes his drink and leaves. Two weeks later he comes back with the monkey. He orders a drink and the monkey starts running wild around the bar again. While the man is drinking his drink, the monkey finds some peanuts on the bar. He grabs one, sticks it up his butt, then pulls it out and eats it. The bartender is disgusted. "Did you see what your monkey did now?" he asks. "What now?" responds the patron. "Well, he stuck a peanut up his butt, then pulled it out and ate it" says the bartender. "Well, what do you expect?" replied the patron. "Ever since he ate that darn cue ball he measures everything first!"
Cyrus
A husband suspected his wife was cheating on him. He explained his situation to a pet shop owner who replied, "I have a parrot that will let you know daily what goes on in your house. The bird has no legs, so he holds onto his perch with his penis." Reluctantly, the husband brought the bird home. At the end of the first day, the man asked the bird, "Did anything happen today?" The parrot said, "Yes, the milk man came over." The man asked, "What did he do with my wife?" The bird said, "I don't know; I got hard and fell."
luis