Categories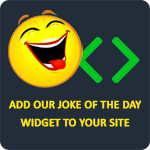 A man goes to a strip club with an alligator. He says, "I bet you that I can put my dick into this alligator's mouth for 1 minute, and when I take it out, it will not be damaged. If I succeed, all of you will buy me drinks. If I fail, I will buy all of you drinks." The other men agree and he puts his dick into the alligator's mouth for 1 minute. After 1 minute, he hits the alligator on the head with a beer bottle, and he opens his mouth. To everyone's surprise, his dick is unharmed. "Now, before you buy me drinks, does anybody else want to try?" After a while, someone in the back finally raises their hand. It's a woman. "I guess I can try," she says, "but you have to promise not to hit me on the head with a beer bottle."
Anonymous
A farmer and his brand new bride are riding home in a wagon pulled by a team of horses, when the older horse stumbles. The farmer says, "That's once." A little further along, the horse stumbles again. The farmer says, "That's twice." When the old horse stumbles again, the farmer quietly reaches under his seat, pulls out a shotgun, and shoots the horse. His brand new bride yells, "That was an awful thing to do!" The farmer says, "That's once."
Anonymous
Q: Why is the barn so noisy?
A: Because the cows have horns.
Anonymous
Why can't Miss Piggy count to 100? Because when she gets to 69 she has a frog in her throat.
coolwatters
A man goes to a pet shop and buys a talking parrot. He takes the parrot home and tries to teach the parrot how to say a few things, but instead, the parrot just swears at him. After a few hours of trying to teach the bird, the man finally says, "If you don't stop swearing, I'm going to put you in the freezer as punishment." The parrot continues, so finally the man puts the bird in the freezer. About an hour later, the parrot asks the man to please open the door. As the man takes the shivering bird out of the freezer, it says, "I promise to never swear again. Just tell me what that turkey did!"
Alphabeat