Categories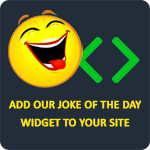 Q: What time is it when a elephant sits on a fence?
A: Time to fix the fence.
Anonymous
Q: A cowboy left Montana to go to Texas on Friday and came back on Friday. How did he do it?
A: He named his horse Friday.
Anonymous
A man's big rottweiler has been losing its vision, so the owner brings the dog to the vet. The veterinarian picks the dog up and says, "I will have to put him down." The owner asks, "Why? Because he's blind?" The vet replies, "No, he's heavy. I need to put him down."
arandownes
Q: What says "Eoo?"
A: A cow with no lips.
joke bank
Why are sharks mostly salt water creatures? Because pepper would make them sneeze.
Repor9