Categories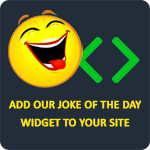 Two fish are in a tank. One turns to the other and says, "Hey, do you know how to drive this thing?"
Anonymous
Redhead: "You ever smelled moth balls?"
Blonde: "Yes, I think they smell good."
Redhead: "Wow, I can't believe you got your nose between those tiny legs."
Anonymous
Q: Why couldn't the leopard play hide and seek?
A: Because he was always spotted.
lovebite
A man needed a horse, so he went to a temple and got one. Before he left, the priest told him that it was a special horse. In order to make the horse go, you say, "Thank God," and for it to stop you say, "Amen." So the man left, and a few minutes later he dozed off on his horse. Hours later, he woke up and his horse was racing him towards the edge of a cliff. Just in time, he shouted "Amen!" and the horse stopped a few inches from the edge. "Whew," said the man, "thank God!"
moe112
Q: Why did the dinosaur cross the road?
A: Chickens didn't exist yet.
Riki Relet