Categories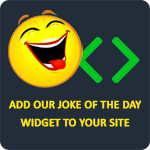 A man walks out on his front porch one day and sees a gorilla in the tree on his front lawn. He calls animal control and about an hour later a man shows up with a ladder, a pit bull, and a shotgun. The animal control employee tells the man, "I'm here to get the gorilla out of your tree. I'm going to use this ladder to climb up the tree and shake the branch the gorilla is on to knock him to the ground. The pit bull is trained to go after anything that falls from the tree and bites their balls which calms the animal down so I can put him in the truck." The man says "Okay, I see what the ladder and the pit bull are for but what is the shotgun for?" The animal control employee says, "Oh, that's for you. In case I fall out of the tree instead of the gorilla, shoot the dog."
Dave
Q: Why do ducks have webbed feet? A: To stamp out fire. Q: Why do elephants have flat feet? A: To stamp out burning ducks.
Anonymous
A circus owner walked into a bar to see everyone crowded around a table watching a little show. On the table was an upside down pot and a duck tap dancing on it. The circus owner was so impressed that he offered to buy the duck from its owner. After some wheeling and dealing, they settled for $10,000 for the duck and the pot. Three days later the circus owner runs back to the bar in anger, "Your duck is a rip-off! I put him on the pot before a whole audience and he didn't dance a single step!" "So?," asked the duck's former owner, "did you remember to light the candle under the pot?"
buja11
Q: What time is it when a elephant sits on a fence?
A: Time to fix the fence.
Anonymous
Q: A cowboy left Montana to go to Texas on Friday and came back on Friday. How did he do it?
A: He named his horse Friday.
Anonymous